Lunch Ideas for Back to School and Fall Routines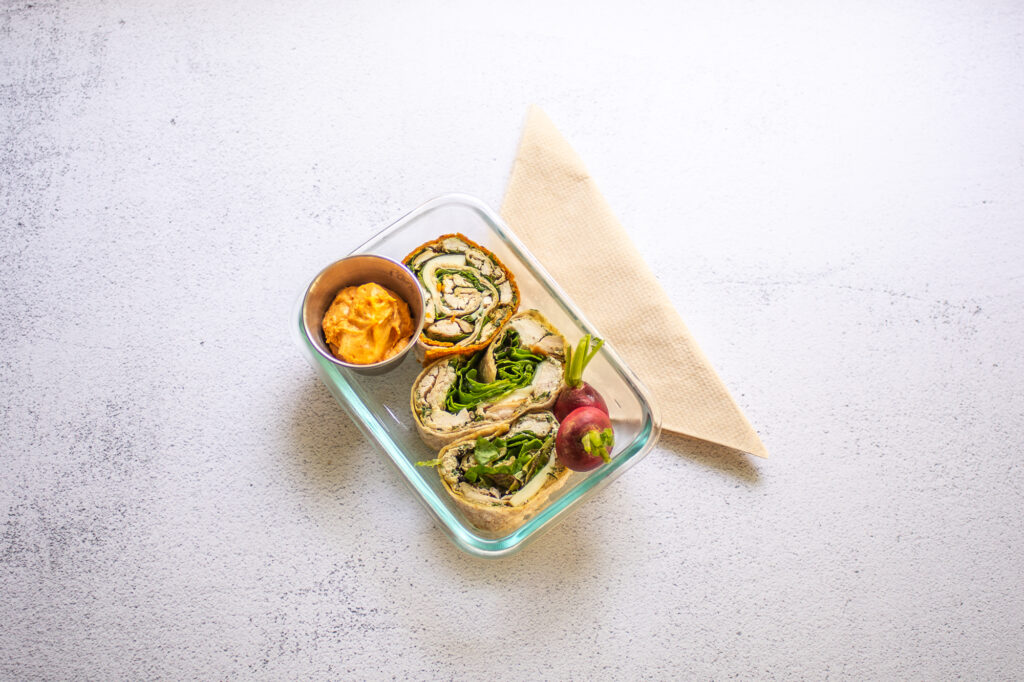 The fall is a great time to get into your new groove: Vacations have wrapped. School's in session. Work is full steam ahead. But when schedules fill up and time is at a premium, making nutritious lunches can feel like one more thing you don't have time for. Here are some lunch ideas for back to school and fall routines to help.
Easy lettuce wraps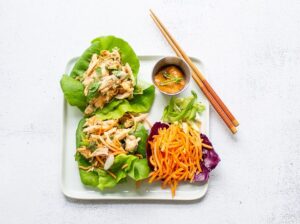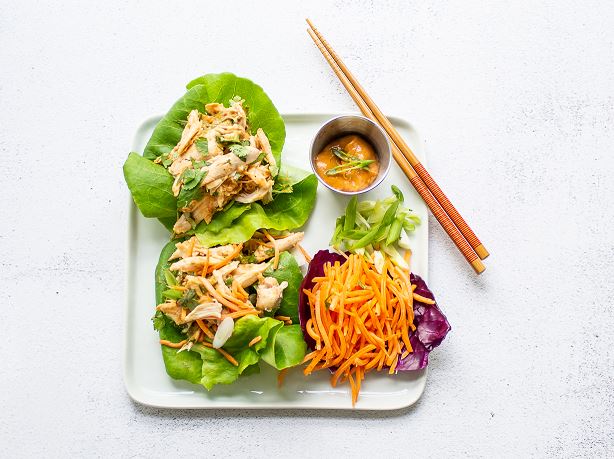 These easy lettuce wraps use large romaine leaves or butter lettuce, rotisserie chicken from the deli (it comes shredded and pre-packaged), and an easy peanut sauce that takes only four ingredients. See the easy lettuce chicken wraps recipe for details.
---
Salad in a jar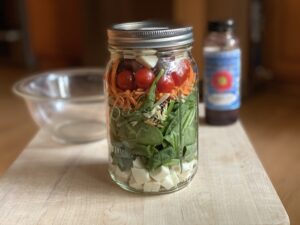 It's been quite a few years since "salads in a jar" were popular. But these classic lunches are quick to assemble, colorful, and an easy way to increase your veggie intake. Plus they're adaptable, letting you mix and match what you have on hand. One combo is:  greens, tomatoes, fresh mozzarella, kalamata olives, with balsamic vinaigrette at the bottom or kept separate. Another combo: spinach, kale slaw mix, julienned carrots, mixed nuts, dried cranberries, Salad Girl blueberry salad dressing. You can add in grains (faro, quinoa, Kernza), hemp hearts or seed, raw vegetables, and other protein options to keep salads interesting.
---
Specialty breads as a base
New, fresh-baked breads from Rose Street Patisserie are now at the co-op! Limited numbers of loaves are delivered each day, so get them while supplies last. They make a wonderful base for sandwiches. Use their milk buns or olive sourdough bread topped with scratch-made tuna or chicken salad from the deli for a delicious, speedy lunch option.
---
Soup in a jar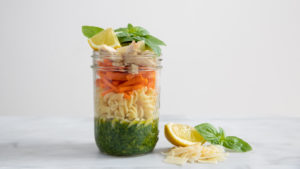 When thinking of lunch ideas, another way to use jars and ingredients in your fridge is to make soup in a jar. Add the cooked ingredients you want in your soup, along with a teaspoon of soup bouillon. When it's lunch time, just add boiling water, stir gently, let sit for 2 minutes, and lunch is ready. See more soup in jar ideas.
---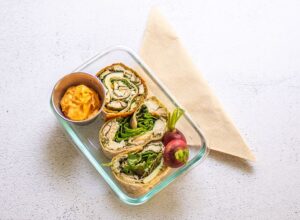 If you have leftover chicken and tortillas, pinwheels are a quick lunch to assemble. Mix together a tablespoon each of cream cheese and pesto, and spread it over a tortilla. Place a handful of greens on top, and lay out a line of chicken, mozzarella, and other sliced veggies if you have them. Tightly roll up the tortilla with the chicken parallel to you and cut into five or six slices. Use a toothpick to hold them together if you're packing your lunch to go.
---
Quebracho empanadas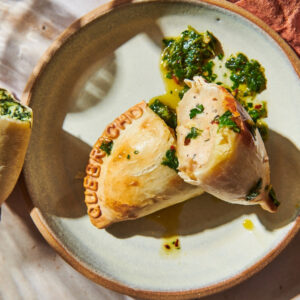 Local maker Belen Rodriguez makes authentic Argentinian empanadas that help make your lunch simple and delicious. Find these empanadas in the frozen section, and either bake ahead of time and eat at room temperature, heat in a toaster oven if your workplace has one, or bake at home if that's where you're working from. Serve on a bed of greens or with fruit or veggies on the side for a quick, flavorful lunch.
---
Warm sandwiches
In the fall, we want warm comfort food. Know what kitchen appliances are available when you're at work so you can heat up parts of your sandwich. Toast your bread or bagel (like local Rise bagels, found in our freezer section) and heat up your favorite meat topping. Then top with scratch-made roasted red pepper hummus from the deli, sliced cucumbers, microgreens, and butter lettuce. Or top with pesto, a slice of fresh mozzarella, and tomato. Mix and match your favorite flavor combos!
---
Greek chickpea hand pies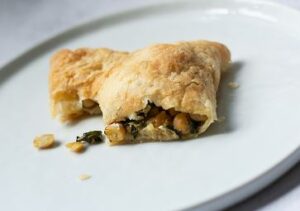 If you have time on the weekend or in the evening, try this recipe for Greek chickpea hand pies and make it for the week or day ahead. The combo of puff pastry, chickpeas sautéed with spinach and herbs, and feta delivers a flavorful, Greek-inspired pocket sandwich that's perfect for lunch.
---
Sweet Nothings smoothies
if you love smoothies but not the process of making them, find Sweet Nothings smoothies in the frozen section. These come in strawberry, peanut butter, chocolate, and blueberry, and make a great addition to or sweet ending for your lunch.
---
Lunch Ideas for School
Let your kids help pack their own lunches, so they're invested in the meal and know what's on their menu. Here are some ideas for easy lunches that pack well.
Breakfast anytime
If your student is a breakfast fan, weekend leftovers can become lunch. Have leftover waffles or pancakes? Use a pizza cutter to cut into strips, heat, and put in a thermos with a small container of syrup for dipping. Leftover eggs can also stay warm in a thermos, ready for lunchtime assembly on top of a biscuit and a slice of cheese. Oatmeal can become a savory lunch, with crumbled bacon, cheese, and veggies.
---
Appetizer Lunch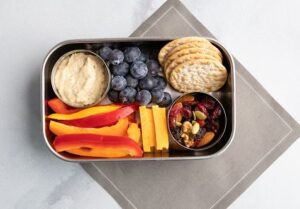 Let your child mix and match appetizer-like components for lunch. For example, you could pack pita or crackers, cheese, cut up meat, hummus, fresh vegetables, and fruit. Kids can dip veggies into hummus, or make a cracker-cheese-meat stack. Next could be an apple slice with cheese, or pita with veggies and hummus. They can experiment with flavors and create their own combos.
---
Thermos options
If you have a good thermos that keeps food hot until lunchtime, your child can really expand their lunch options, with pasta, mac and cheese, soup, stir-fry — the sky's the limit!
See more helpful tips for back to school and fall routines with these helpful morning routine tips.
This article was updated in August, 2022.