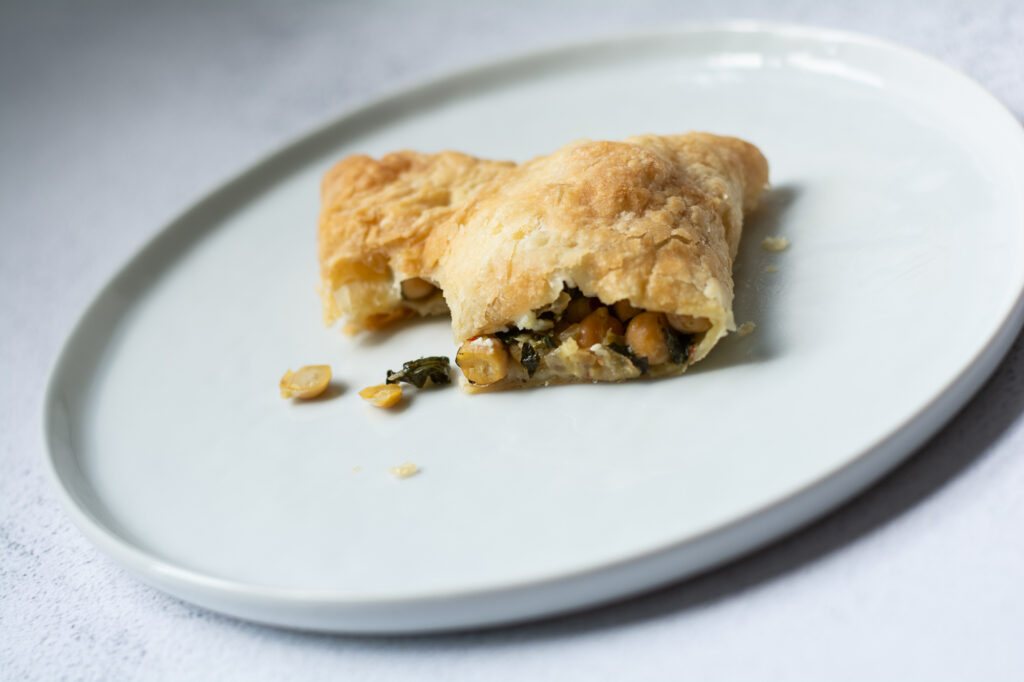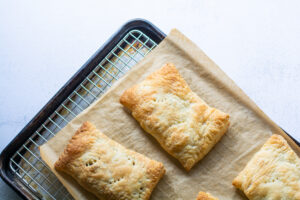 Print
Greek Chickpea Hand Pies
Yield 6 hand pies
Ingredients
1 sheet puff pastry
1 tablespoon olive oil
½ large onion, minced
1-2 cloves garlic, minced
1 teaspoon dried oregano
¼ teaspoon red pepper flakes (optional)
2 cans (about 2+ cups) chickpeas, rinsed and drained
3 oz. baby spinach, roughly chopped
Zest lemon
Kosher salt and fresh cracked black pepper to taste
6 oz. feta cheese, crumbled
Instructions
Preheat the oven to 400° with the oven rack in the middle of the oven. Thaw the puff pastry in the refrigerator (overnight is best).
Heat a skillet over medium-high heat and add olive oil, onions, and a pinch of salt. Saute until soft and starting to brown, about 10 minutes. Add the garlic, oregano, and red pepper flakes and saute for about 30 seconds. Toss in the chickpeas, spinach, lemon zest, a pinch of salt, and pepper to taste. Saute for one minute until the spinach wilts. The mixture should be dry with not much moisture in the pan.
3Let the mixture cool completely (refrigerate)* while you roll out the dough.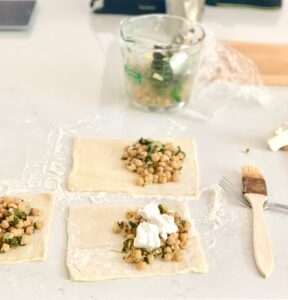 Roll out the puff pastry into a 12" x 18" rectangle on a lightly floured surface and divide it into six rectangular pieces with a pizza cutter or sharp knife. Divide the chickpea filling (about ½ cup) into six and place each portion on half of each pastry rectangle and top with one tablespoon of feta, leaving a ½-inch border.
Brush the border edges with some water and turn the other half of the pastry over the filling to meet the opposite edge. Press down on the border to seal and crimp the edges with the tines of a fork. Place the hand pies on a baking sheet lined with parchment paper. Make a couple of slits in the top of each turnover with a knife or skewer. Place in the refrigerator for about 10 minutes, so the pastry is cold (this step is optional but helps for a good puff).
Bake the hand pies for 15-25 minutes until they are golden brown and puffed. Remove to a wire rack and let them cool for a few minutes before serving.
* This mixture can be made a day ahead of time.
Tip: Keep the pastry as cold as possible. If it warms up and gets sticky, place it in the refrigerator or freezer to firm up.