Easy Lettuce Chicken Wraps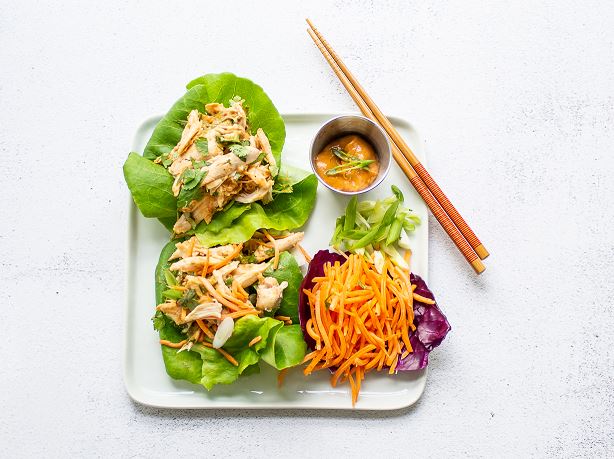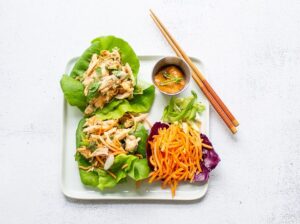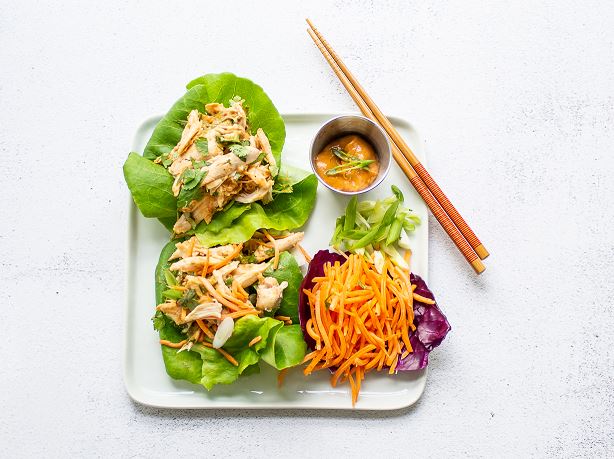 Print
Easy Lettuce Chicken Wraps
Yield 3-4 servings
Four Ingredient Peanut Dipping Sauce*
1 cup peanut butter
1-2 Tablespoons sambal oelek or sriracha (spice it up!)
2 Tablespoons maple syrup
2 Tablespoons soy sauce
Wrap Ingredients
16 oz. rotisserie chicken, shredded into bite-size pieces
2 tablespoons unseasoned rice vinegar
1 cup carrots, shredded
½ cup cilantro, divided
½ cup scallions
12 large butter or romaine lettuce leaves
Kosher salt and fresh cracked black pepper
Instructions
Add all the sauce ingredients* to a small bowl and mix well.
Season the chicken with rice vinegar, salt, and pepper. Add ¼ cup of prepared dipping sauce and one tablespoon chopped cilantro to the chicken. Combine well.
To assemble:
Fill each lettuce leaf with about ¼ cup of the chicken mixture, top with carrots, scallions, and remaining cilantro.
Wrap it up burrito style and eat!
Optional adds:
Cucumber, peppers, leftover veggies, water chestnuts, sautéed shiitake mushrooms.
*For an even easier sauce, use San-J Peanut Sauce.
Fun idea for the kids (and adults too!):
Place each different ingredient into the compartments of a bento box, send along some chopsticks (and lots of napkins), and let the kids assemble their own lunch!
Check out more easy lunch ideas on our blog!