Wild Ramps and How to Use Them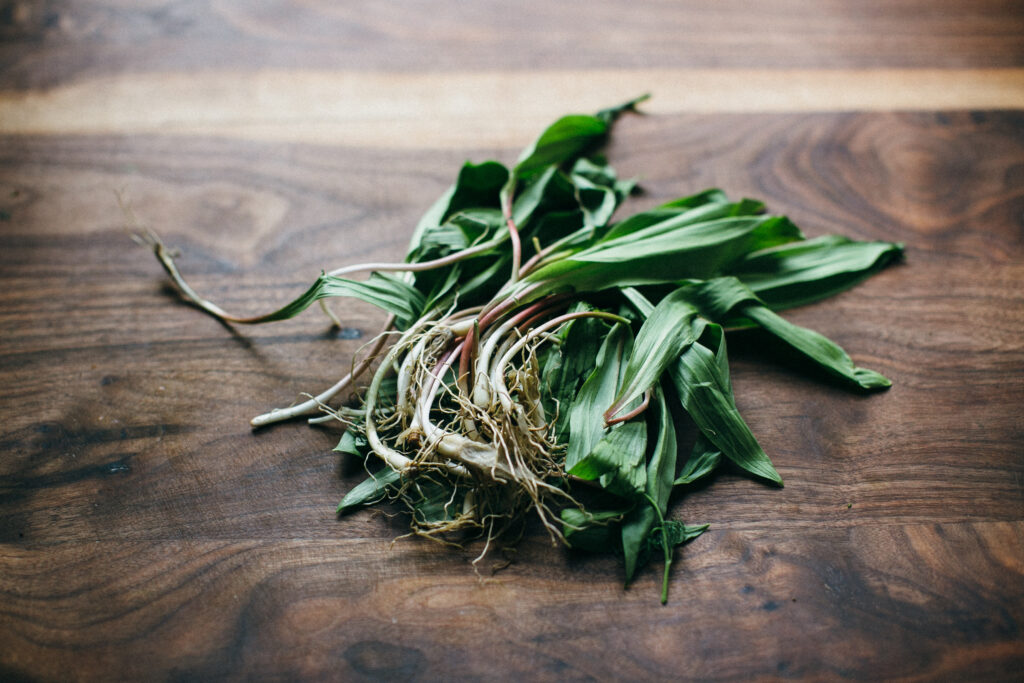 It's springtime, which means the cold is retreating, the sun is staying out longer, and green is making its triumphant return to the landscape! One of the first wild plants to sprout in the Midwest also happens to be one of the most delicious: wild ramps. These oddly named veggies are highly sought after by chefs, foragers, and foodies alike. So, as we officially enter ramp season, here's everything you need to know about wild ramps (and why you should be excited).
What are ramps?
Ramps, also known as wild leeks, sprout very early in the season. In fact, wild ramps are usually one of the first green shoots to emerge, when sunlight first makes it through the leafless tree cover. In Appalachia, native home of American ramps, they were cherished for being the first fresh produce available after the winter diet of root vegetables from the cellar. But this early riser also beds down early, so the season for finding them is short, often just a few weeks. Once the trees have sprouted their foliage, ramp leaves turn yellow from lack of sunlight. Eventually the warmer summer temps force them back into hibernation until the next spring. So grab them while they're available!
Enjoying ramps
Ramps are in the same plant family as garlic and onions, with a flavor that lands somewhere in the middle. Try using them instead of onions or scallions for a garlicky spin on your favorite dishes. Toss the leaves with other greens for salads or roughly chop and sprinkle them over pasta dishes. If you want to enjoy the full flavor, roast or grill ramps and serve them as a side. We love to sauté sliced ramp bulbs in butter and add them to scrambled eggs or omelets. Try wilting the leaves a bit, then tossing them into the eggs for the last minute or so of cooking.
A note on foraging
Wild ramps are delicious and foraging for them in the forest can be an adventure. However, overharvesting is a serious problem. Many states have even declared wild ramps endangered or threatened as a result of overharvesting. Ramps take 3 to 10 years to become established, and once they've been removed it's easy for invasive species to move in, blocking their return. So it's incredibly important to harvest sparingly and with care not to damage the patch or the surrounding landscape.
Additionally, be careful where you forage. If foraging on private land, be absolutely sure you have permission. For public land, visit the website or ask a park employee before foraging. Rules change from park to park and state to state. For example, you can forage in most Minnesota state parks, but not on any land in the Three Rivers park system. In contrast, foraging for ramps anywhere on public land in the state of Michigan is illegal.
If you do decide to forage for wild ramps, make sure to follow these guidelines:
Only harvest the leaves: Leave the bulbs in the ground. This leaves the plant alive and able to regrow. Use a sharp knife (dull will damage the plant) and never cut or pull up the roots.
In any given patch of wild ramps, only harvest from 1 in 10 plants. If the patch has fewer than 10, don't harvest at all.
Only harvest on land where you are absolutely certain you have permission. If you're unsure, err on the side of caution and avoid harvesting.
Luckily for ramp lovers, you can actually propagate them in your own back yard! Just like scallions, you can replant store-bought ramp bulbs and they will continue to grow. Once they've become established in your yard they should return year after year.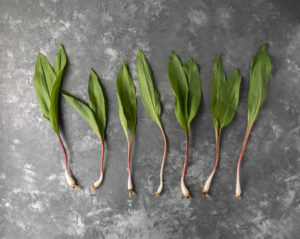 Ramping up!
The wild ramps at Lakewinds are sustainably harvested by the folks at Harmony Valley Farm. For 35 years they've been carefully foraging for ramps near their land in Viroqua, WI. Look for them soon at all three of our locations, while supplies last!
Try our recipe for a delicious ramps and mushroom frittata.
Interested in learning about other unique produce items you'll find on our shelves? Read about yuca root, sunchokes, and celeriac!