Ramps and Mushrooms Frittata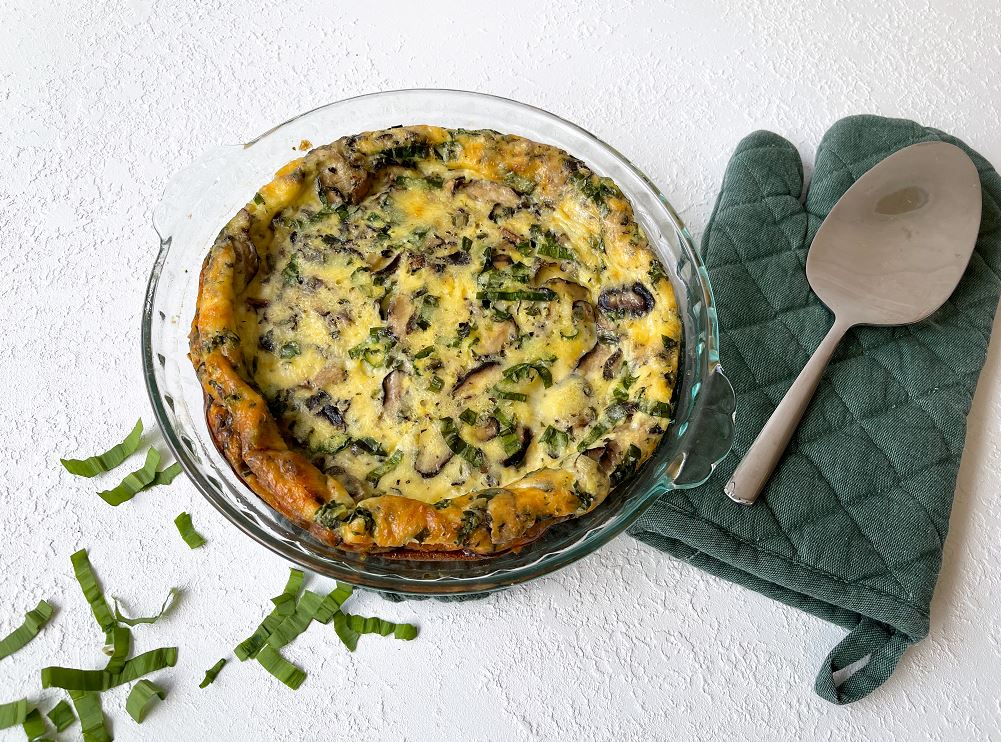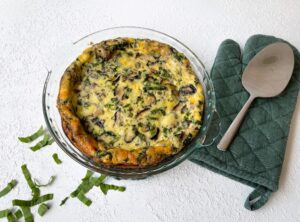 Print
Ramps and Mushroom Frittata
Ingredients
10 extra large eggs
6 to 8 ramps*, bulbs and stems sliced, with the greens chiffonade
5 oz. shiitake mushrooms, sliced
1 cup finely grated Gruyere, divided
⅓ cup milk
1½ Tablespoon ghee
1 Tablespoon fresh thyme, finely chopped
½ teaspoon salt
10 to 12 cracks of freshly ground mixed peppercorns
Instructions
Preheat oven to 350°. In a saute pan over medium heat, melt the ghee and add the sliced mushrooms, cooking until they start to soften (a few minutes). Add the ramp bulbs and stems and cook for about 5 minutes until fragrant and the bulbs begin to get translucent. Remove from heat and set aside.
In a large mixing bowl, whisk the eggs and milk together until the edges start to get a little frothy. Add the thyme, salt, pepper, and ¾ cup of the cheese to the egg mixture and mix well. Pour the egg mixture into a 9- or 10-inch glass pie dish. Evenly scoop the mushroom and ramp mixture into the pie dish. Sprinkle about ⅓ of the ramp greens and the rest of the cheese over the top. Bake for 20 to 25 minutes until the center is set. Garnish with more ramp greens and serve with your favorite hot sauce if desired.
Notes
*Substitute ramps with green onions in a 1:1 ratio when ramps are out of season.