Food for the Big Game 2021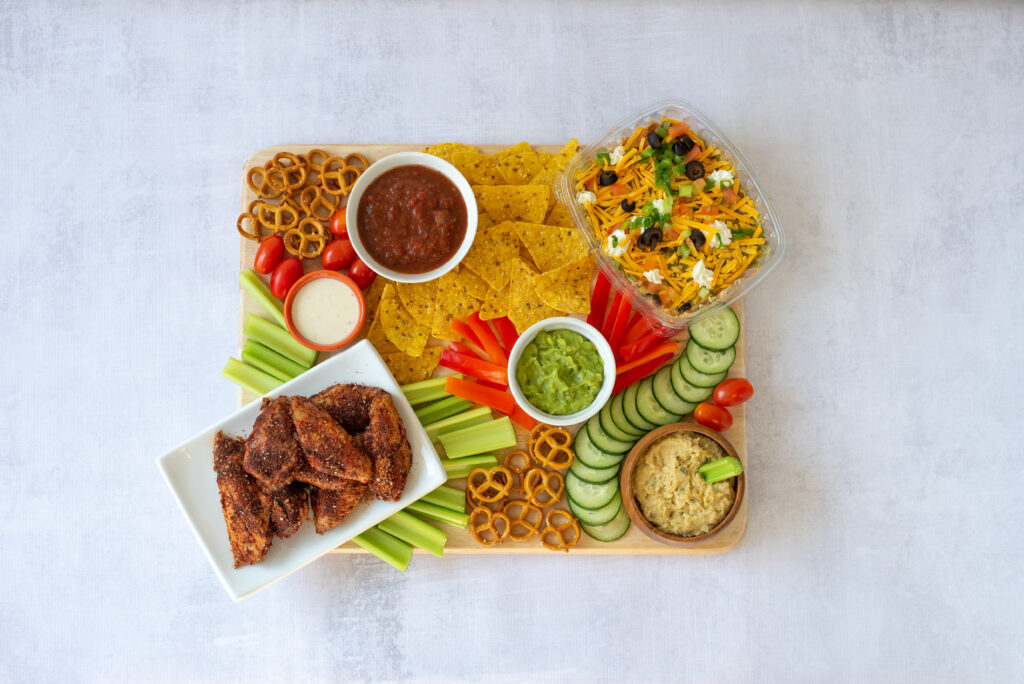 The big game is right around the corner (you know which one). Is your snack spread ready? At the co-op we've got all the necessary finger foods to satisfy your game day appetite. Choose from traditional staples like chicken wings, chips & salsa, and beer brats. You can also find options to fit any diet, including vegan, gluten-free, and paleo-friendly items. As with all our products, anything you buy from Lakewinds will be all-natural, free from artificial additives, preservatives, and nitrates.
---
Hip Chips and Dips for Every Diet
Tried and true, but never boring, tortilla chips and salsa fit almost any snacking occasion. Go full nacho with seven layer dip from the deli ($7.99/lb). Prepared fresh with organic pinto beans, tomatoes, sour cream, and guacamole. Every chip you load up is like a mini taco! This dip goes particularly well with flavored tortilla chips like the bacon habanero from Late July.
For a classic spread try organic chips from local Whole Grain Milling, queso from Salpica, fresh guacamole from produce, and housemade pico de gallo.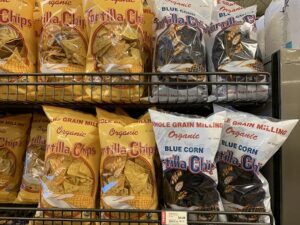 Looking to meet dietary needs? Check out vegan queso options from Siete and The Honest Stand. Siete also makes gluten-free tortilla chips.
For those looking for something less conventional, try Bitchin' Sauce vegan almond dip and lentil chips from Enjoy Life, or a spread of za'atar hummus from Babba's, and olive tapenade and spinach artichoke dip from the deli with gluten-free pitas from MyBread.
---
Fantastic Finger Foods
For finger food the frozen aisle has tons of fun items for your gameday spread.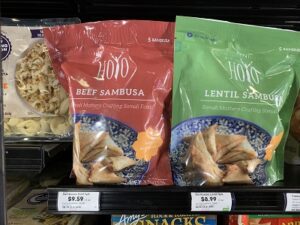 Hoyo sambusas, Natasha's pierogis, and pizza poppers from Annie's ($3.49 to $9.59) make for convenient and fun all-afternoon snacking. Look for vegetarian-friendly offerings from all three.
If you pick up sambusas, don't forget to grab a jar of basbaas or tamarind date sauce from Hoyo as well. These traditional Somali condiments make a great dip for chips as well!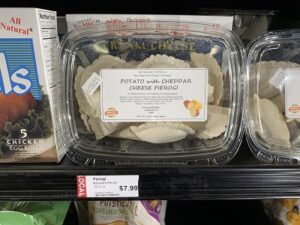 Over in the deli you can build a custom cheese board with dozens of local artisan cheeses, as well as salami from Olli and bison summer sausage from Eichtens ($10.99-$17.99/lb). Be sure to grab some fruits, nuts, crackers for your board as well!
---
Turf and Surf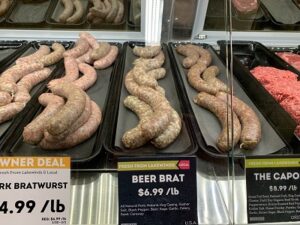 Housemade beer brats from the meat department are made from local pork flavored with sage, coriander, and a splash of dark beer. Grilled, sauteed, or simmered in beer, they taste great in a bun or served up alongside friend onions and sauerkraut. Looking for a good kraut recommendation? Try Bubbies or Gundelsheim for a traditional pairing. You can also go bold with Cleveland Kraut, available in combinations that include roasted garlic and jalapeno.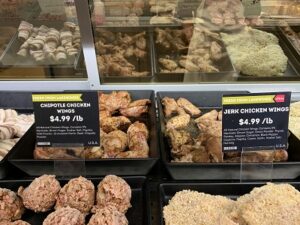 You can also pick up pre-seasoned chicken wings in jerk or BBQ flavor. Ready to go right in the oven or on the grill, these wings are a great way to feed a hungry family. Can't miss a moment of the game? Let the deli do the cooking with our housemade chicken wings. They're fully cooked and ready to eat. Don't forget a jar of ranch or blue cheese salad dressing from the deli for dipping!
For a vegan alternative, try the cauliflower wings from Wholly Veggie!, available in ranch and buffalo flavors ($5.99).
Shrimp is another fantastic addition to your spread. Choose from pre-cooked, perfect for serving chilled with cocktail sauce, or raw for whipping up your own snack. All of our shrimp has been certified as sustainably caught, or comes from farms rated by Best Aquatic Practices (BAP).
---
DIY Game Day
Looking for some more inspiration? Check out our recipes page!
Here are some of our favorites:
---
Whether your Sunday involves watching the big game, the Puppy Bowl, or bingeing a new tv show, you can find a wide variety of snacks to accompany your well-deserved afternoon off. Be sure to check out our current sales while you're planning to get the most out of your budget.
Game on!