Caramelized Pear and Brie Bites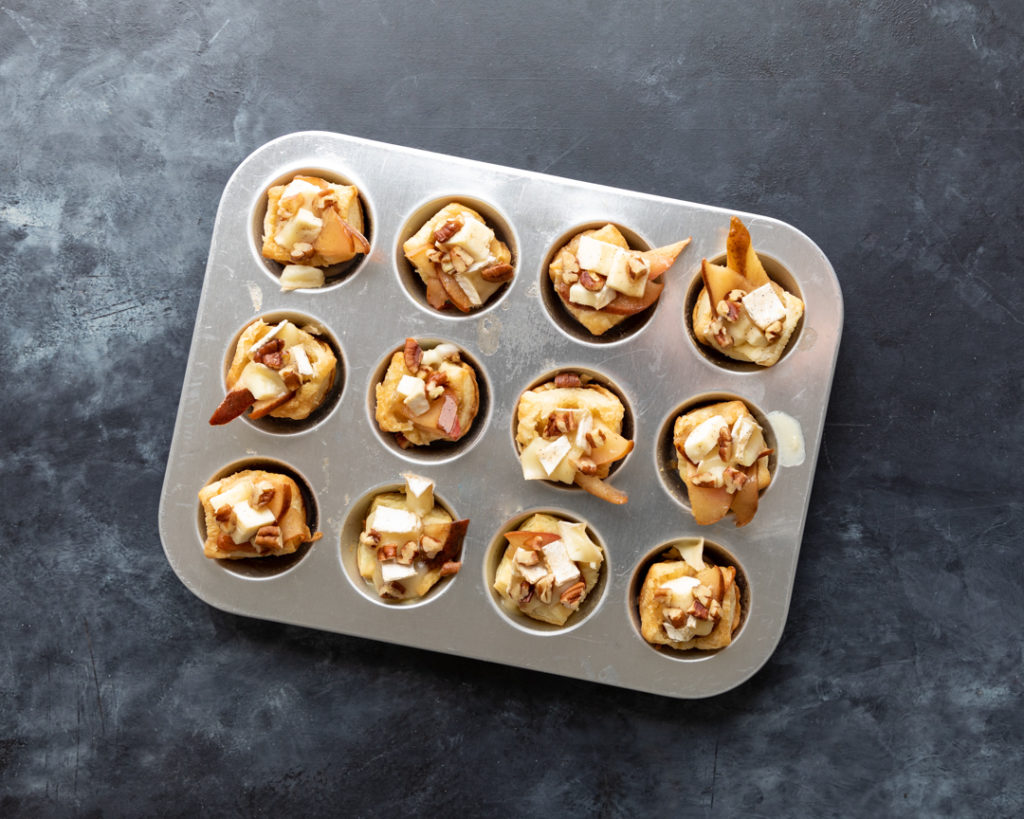 Flaky puff pastry, creamy brie, and caramelized pears, these small bites are party-ready!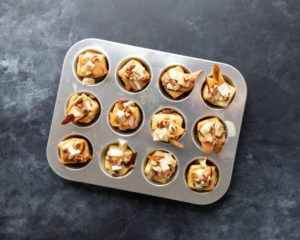 Print
Caramelized Pear and Brie Bites
Yield 25 servings
Ingredients
2 tablespoons butter
1 firm-ripe pear, thinly sliced
2 tablespoons packed brown sugar
1/2 teaspoon ground cinnamon
1/2 teaspoon vanilla extract
1 sheet frozen puff pastry (from 17.3-oz package), thawed
1 round (5.3 ounces) Red Head Creamery Brie cheese, cut into ½-inch pieces
3 tablespoons finely chopped pecans
Instructions
Heat oven to 400°F.  Lightly grease a mini muffin pan or spray with cooking spray. 
In a large skillet, melt the butter over medium-low heat. Add the pear sliced and sprinkle with the brown sugar. Cook 2 minutes then toss gently to fully coat the pear slices in butter, brown sugar, cinnamon, and vanilla. Cook an additional 2 to 3 minutes or until the sugar is mostly dissolved and the pears are tender but not mushy.
On a lightly floured surface, unfold pastry sheet and press into a 10x10-inch square. Cut dough sheet into 5 rows by 5 rows for 25 (2-inch) squares. 
Place a pastry square in each of the mini muffin cups. Bake 6 minutes. Remove from the oven and press down the center of the dough with the handle of a wooden spoon. Place back in the oven and bake an additional 6 minutes. Remove from the oven and press the center down again with the wooden spoon. 
Fold a pear slice in half and place it in the indented center of each pastry puff. Top with 2 to 3 pieces of brie and chopped pecans. Spoon a small amount of the pear glaze over the top of each pastry. Bake an additional 3 to 5 minutes, until the brie is melted.
Notes
TIPS:
Avoid rolling the pastry sheet; doing so will cause bubbling and unevenness during baking.
No mini muffin pan, no problem! Lightly grease a regular-sized muffin pan and follow the rest of the recipe as directed.