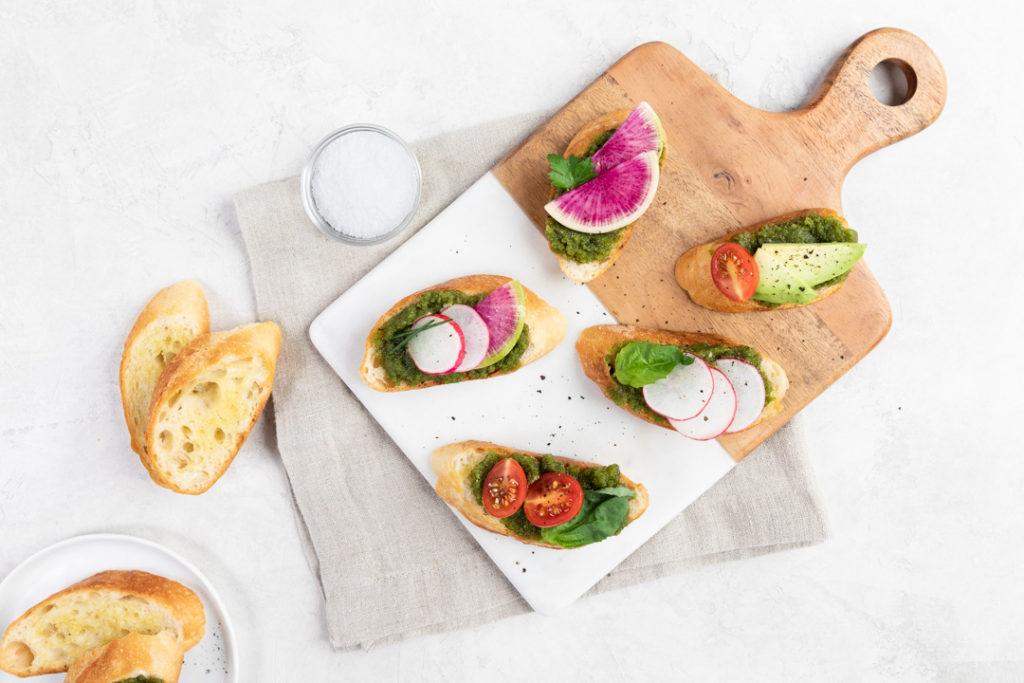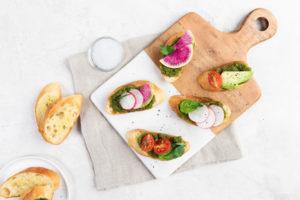 Print
Gouda Pesto Crostini
Yield 8 servings
Ingredients
24 slices (1/4-inch thick) baguette French bread
1/2 cup plus 2 tablespoons extra virgin olive oil
1/2 cup raw pepitas
1/2 cup packed fresh basil
1/4 teaspoon coarse Kosher salt
1/2 cup shredded Marieke Gouda
1 clove garlic, finely chopped
1/4 teaspoon red pepper flakes
1/2 cup thinly sliced cucumber
1/2 cup thinly sliced radish
Fresh basil, parsley or chives, for garnish
Instructions
Heat oven to 325°F. Place bread slices on ungreased cookie sheet; brush lightly with 2 tablespoons of the olive oil. Bake 6 to 9 minutes or until crispy.
Heat a small skillet over medium heat. Add the pepitas and toast, stirring constantly 2 to 4 minutes or until; golden brown. Transfer to a plate to cool.
In a blender, add the basil and remaining 1/2 cup olive oil and pulse until finely chopped. Add the gouda, pepitas, garlic, salt, and pepper and pulse until well incorporated.
Spread pesto on top of each slice of baguette. Top with cucumber, tomato, and radish. Garnish with fresh herbs.