10 Easy Lunch Ideas for Fall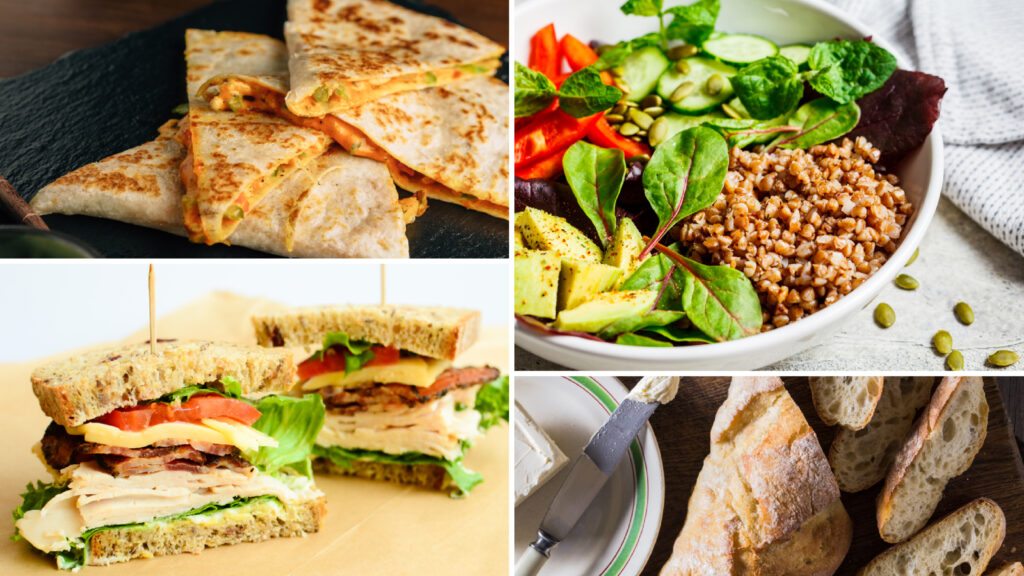 Fall is always a busy time of year. After summer wraps up and those lovely vibes end, it can be challenging to adjust to the new schedule! Make the move to fall better with 10 easy lunch ideas that keep mid-day meals fresh and delicious, so you and your household are fueled to power through your day.
1. Build a better bowl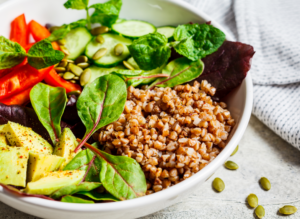 Don't get stuck in a lunch rut — be inspired by local bowl restaurants and add tasty ingredients that give extra texture, crunch, and flavor to your bowl. Once you have your grain base, such as farro, brown rice, or wheat berries, you can top it with greens and whatever veggies you have on hand. Then take it to another level with toppings such as:
Salad Girl dressing, like the Chile Limon, Curry & Fig, or Blueberry Basil flavors.
Goat cheese, feta, or queso fresco.
Pepitas or sunflower seeds.
Asiago-cheddar cheese crisps or pita chips.
Blueberries, blackberries, or strawberries.
Cooked chilled shrimp or shelled edamame.
Sliced avocado or steamed chilled beets (from produce).
---
2. Elevate a sandwich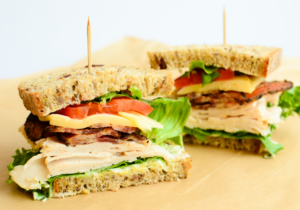 Turn a sandwich from "meh" to "amazing" with a few added ingredients. For example, once you have your favorite bread and preferred meat or protein, add:
A flavorful spread, such as Matiz romesco or olive spread, pesto, hummus, or a specialty jam.
Fresh arugula or microgreens.
Sliced cucumbers, bell peppers, or tomatoes.
Sliced pickles or olives.
---
3. Count on using leftovers
Reduce food waste by planning to eat your leftovers. By investing in a quality thermos or other insulated container, you can enjoy a variety of reheated lunches, whether that's pasta, soup, stir-fry, or hot dish. It's an easy lunch idea and a money-saver, too!
---
4. Find your deli favorites
When you're doing your weekly grocery shopping, add a couple of deli items to your cart to simplify lunch for the week. You can:
Pick up a quart of soup and dinner rolls for chilly fall days.
Serve Santorini Artichoke salad over a bed of greens to make a lunch-sized salad.
Have chicken or tuna salad be the filling for a tortilla wrap or on bread for a sandwich.
---
5. Make a mini charcuterie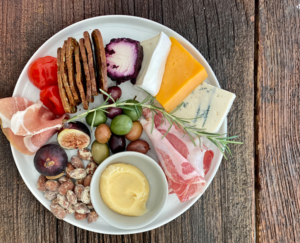 Who says cheese boards are just for evenings or hosting friends? Make a simple board with what you have on hand and you'll be looking forward to lunch all morning! Easy lunch ideas include:
Hu or Taralli crackers with a yummy cheese – we love Marieke Truffle Gouda and the deli's Feta-Dill Neufchatel.
Flavored nuts from the bulk aisle, such as Bergin onion and garlic almonds or GrandyOats turmeric-ginger cashews.
Breadsmith crostini with sliced salami or smoked salmon.
Pickles or olives.
Dried or fresh fruit.
---
6. Lean on shredded rotisserie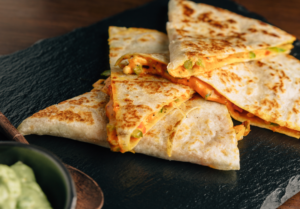 Pick up shredded chicken or a full rotisserie chicken (to shred yourself) to serve as the base for a number of quick lunches.
Add chicken to a ramen cup to make it more filling and provide protein.
Ramp up a pouch of Maya Kaimal's red lentil-butternut squash-coconut dal or another heat-and-eat meal by adding chicken and serving with naan.
If you're working from home, heat up a tortilla and make a quick quesadilla with chicken, shredded cheese, salsa, chopped bell peppers, olives, and tomatoes.
---
7. Revisit salad jars
This "oldie but goodie" helps you use up extra produce and increase your veggie intake. You can start with salad dressing at the bottom of your jar (to keep it fresh) or have the dressing in a separate container. Then layer in greens, carrots, tomatoes, fresh mozzarella, kalamata olives, farro or another grain, nuts or dried fruit if you have it. Create different combinations per what you're craving!
---
8. Roll it up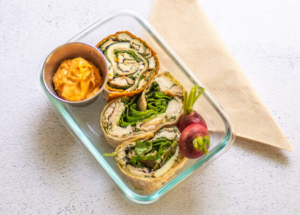 Pick up some flour tortillas and hummus, fill with veggies and protein that you have on hand, and make a wrap. For example:
Spread a tortilla with roasted red pepper hummus and add shredded rotisserie chicken, greens, and chopped veggies.
Use Za'atar hummus, spinach, sliced cucumbers, and sliced tomatoes.
Use a pita instead and fill it with Falafel King hummus or tzatziki, Baba's falafel (find it in the frozen aisle), and diced tomatoes, cucumbers, and pickles.
---
9. Eat like a Parisian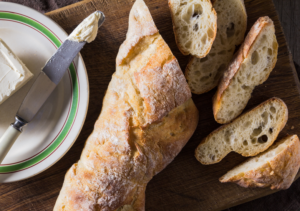 Start with a baguette for an easy lunch. You can serve it with a delicious Brie or Camembert, dip it in honey or honey butter (find honey butter near the specialty cheeses), or serve it with deli-made spinach-artichoke dip.
A chunk of baguette can make a base for a great sandwich, too — perhaps a BLT, apple-arugula sandwich, or grilled cheese.
---
10. Mix and match staples
Keep staples like these in your fridge and pantry and you'll always have an easy lunch ready to go! Mix and match some of our favorite combinations, such as:
Nut Thins and turmeric-maple-pecan Humble Nut Butter.
Cut veggies and a flavorful dip, such as Ithaca Everything Bagel hummus or original Bitchin' Sauce.
Apple or pear slices and chocolate-hazelnut spread.
Tuna (make a quick tuna salad with pickle juice, chopped celery, garlic powder, and mayo if you like it) and crackers or crostini.
When fall routines ramp up, it can be hard to find time to pack or make lunch. With these easy lunch ideas, you can keep lunch fresh and tasty all season long.
---
See more easy meal ideas with 5 vegan lunch ideas that start with soup and low cook and no cook dinner ideas.
New to Lakewinds? There's no membership required to shop, all are welcome!
Find the location nearest you.