Five Vegan Lunch Ideas that Start with Soup
If you're looking for delicious, plant-based meals that will leave you satisfied without messing up your kitchen, start with canned or frozen vegan soups. Easy to prepare at home or at the office, these five vegan lunch ideas boast bold flavors that are great on their own and simple to add to for a heartier meal.
Lunch #1
Lakewinds Deli Vegetable Minestrone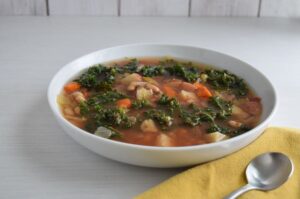 (Vegan, non-GMO)
For veggie lovers only! Scratch-made in house, our deli's Vegetable Minestrone is packed with great northern beans, potatoes, kale, mirepoix and tomatoes.
Pairing suggestion: Try with warmed slices of Seeded Bread from Baker's Field for a chewy, nutty accompaniment.
---
Lunch #2
Pacific Foods Organic Vegetable Lentil & Roasted Red Pepper Soup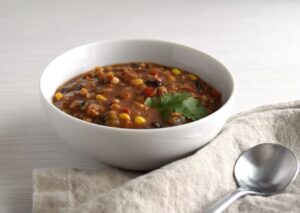 (Vegan, USDA Organic, non-GMO)
This organic canned soup provides 8 grams of fiber and 14 grams of protein per 260-calorie serving. The rich tomato broth is punctuated by red bell pepper, garlic and chili powder, making this soup fragrant and warming. Don't worry — it isn't spicy!
Pairing suggestion: Serve alongside one of the deli's green salads, such as Raw Kale Delight, and a hearty Breadsmith roll.
---
Lunch #3
Frontier Soups Washington High Plains Potato Leek Soup Mix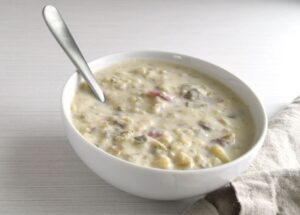 (Vegan, non-GMO, Gluten Free, No Added Salt)
This dried soup mix has dried scallion, dill, thyme, and bay leaf for fragrance and freshness. The directions call for boiled fresh potatoes which gives this soup the longest cook time of any soup on this list — 40 minutes. To avoid the wait, use leftover mashed potatoes, make the soup ahead of time, or substitute instant mashed potatoes, such as Bob's Red Mill Potato Flakes.
Tip: Substitute vegetable broth for the chicken broth called for on the package, and instead of heavy cream, warm 1/2 cup of vegan cream cheese with 1/2 cup of vegetable broth and whisk until smooth.
---
Lunch #4
Dr. McDougalls Organic Black Bean Soup
(Vegan, USDA Organic, non-GMO, Gluten Free, Low Sodium)
Packed with black beans, tomatoes, brown rice, and herbs, this soup is filling without being heavy — perfect for cold days. One 320-calorie container provides 11 grams of fiber, 16 grams of protein, less than 600 milligrams of sodium, and only 2 grams of fat.
Serving suggestion: Add classic taco toppings such as pico de gallo, vegan sour cream, and diced avocado.
---
Lunch #5
Amy's Golden Lentil Indian Dal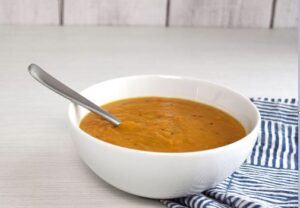 (Vegan, Organic, Gluten Free)
Tired of ordering out for Indian? Warming and spicy (but not too hot), the yellow split pea and red lentil base is soaked in a classically spiced Indian broth featuring garlic, ginger, and turmeric. Enjoy as a soup or use it as a sauce, spread over roasted or grilled vegetables, with basmati rice, or with Baba's Lebanese Flatbread.
Pairing suggestion: Treat yourself to a bag of Hoyo's Lentil Sambusas (locally hand rolled here in Minnesota), and dunk them into the dal.
Want more vegan lunch ideas? If you have time to make your lunch ahead of time, try our recipe for Red Thai Coconut Curry.