10 Deli Hacks for Easy Summer Meals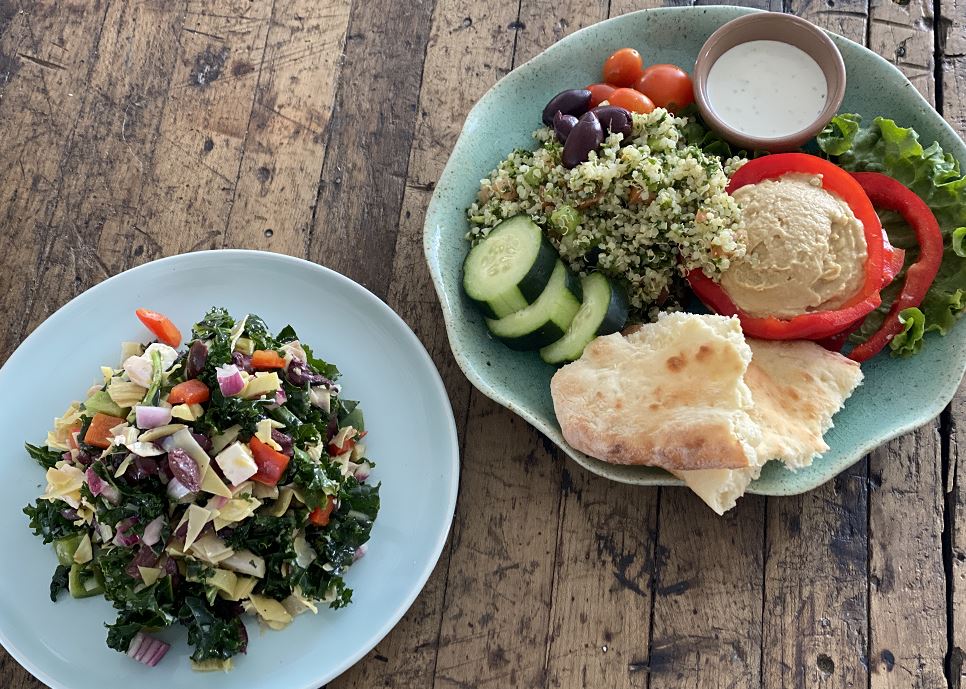 Every day, the deli team is chopping, mixing, sautéing, and baking. Mincing, tossing, whisking, and roasting. So you get to enjoy scratch-made dishes of the highest, freshest quality — and use some of them to assemble easy summer meals, too.
The delicious food the deli team makes can be used in a number of ways that might not be obvious at first glance. Here are 10 deli hacks for easy summer meals that make life easier — and tastier!
1. Use versatile Santorini for pizza, pasta, salads, & bowls
Instead of buying artichokes, feta, tomatoes, onion, Kalamatas, and making a salad dressing, save yourself time and grab a container of Santorini Artichoke salad. Serve it over a bed of Superior Fresh greens or baby spinach, and you have a quick, healthy salad for lunch or dinner.
The versatile Santorini can also be used as toppings for pizza or flatbread, or you can toss it with your favorite pasta or serve on top of farro or another grain for more easy summer meals.
---

2. Make spring rolls without (most of) the fuss
Start with the Brussels kale salad as your base. Add julienned red bell pepper, shredded Rotisserie chicken, jalapenos for a kick, and sliced avocado for extra creamy texture and flavor. Soak one spring roll wrapper for about 10-5 seconds, add filling to the center (be careful not to overfill), roll the bottom up over the top, fold in the sides, then roll all the way shut. Serve with sweet and sour or Thai peanut sauce or cashew dipping sauce from the deli.
---
3. Have a no-fuss picnic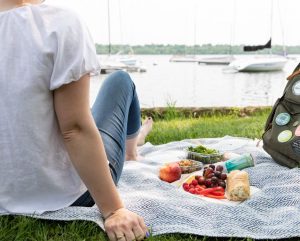 Eating al fresco is fun, but can be a hassle with lots of prep work required. Skip that and get right to the fun stuff by stopping by the deli on your way to the park or beach. From crisp summer salads to sandwiches, wraps and desserts, grab what you need for truly easy summer meals to enjoy both indoors and out!
---
4. Assemble a DIY Shawarma bowl
Start with a smear of scratch-made hummus & a slice of naan or pita, such as locally made Artisan Naan Bakery naan or pocket bread. Then use what you have on hand to put together your shawarma bowl: sliced cucumber, carrots, cherry tomatoes, chickpeas, Kalamata olives, and pickles. Here's a quick recipe for refrigerator pickles for inspiration!
---
5. Elevate easy summer meals with scratch-made sauces
Let the deli's sauces elevate your dish. Cook your favorite pasta to al dente. Heat olive oil and garlic in a skillet over medium heat, then add the pasta and saute for a few minutes. Toss with the deli's scratch-made pesto and shredded rotisserie chicken or the deli's red (pizza) sauce and meatballs, heat until warmed through, and serve.
---
6. Create quick lettuce wraps
Put the tabouli salad from the deli to work for you! For the outer wrap, use a large leaf lettuce, such as locally grown butter lettuce from Superior Fresh. Top with tabouli salad and whatever chopped veggies you have on hand, such as cucumbers, bell peppers, carrots, and tomatoes. Add falafel and tzatziki sauce from the frozen section.
---
7. Mix and match your pizza
Custom make the pizza your taste buds are craving! Use the deli's scratch-made pizza dough and red sauce for your base. Top with your favorite veggies and protein, whether that's rotisserie chicken with spinach, artichokes, tomatoes, and fresh mozzarella; or pepperoni with green olives, onions, and shredded cheese.
You can also use the deli's dough to make calzones, like these kale and chicken pesto calzones.
---
8. Use our dough to make your rolls
The deli's ready-to-use dough can be used for breakfast, too. Roll out the dough, spread with melted butter or butter alternative, sprinkle with cinnamon sugar, roll up, and slice. Let rise in muffin tins and bake at 350 for 15-20 minutes and voila! Cinnamon rolls are ready.
---
9. Enjoy last-minute breakfasts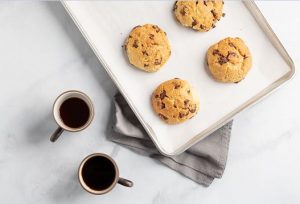 For lazy weekend mornings when you're not in the mood to cook, no worries! You can still have a delicious brunch when you keep some of the deli's frozen scones on hand. You can also pick up freshly baked scones, quiche, spinach pie, and more.
---
10. Easy Entertaining
When it's safe to gather, the deli's available to help you celebrate. View the summer food catering menu, drop off your order at your preferred store location's deli, and delegate the work. Choose from platters of sandwiches, wraps, veggies, and fruit; salads and entrees; even dessert!