Kale and Chicken Pesto Calzones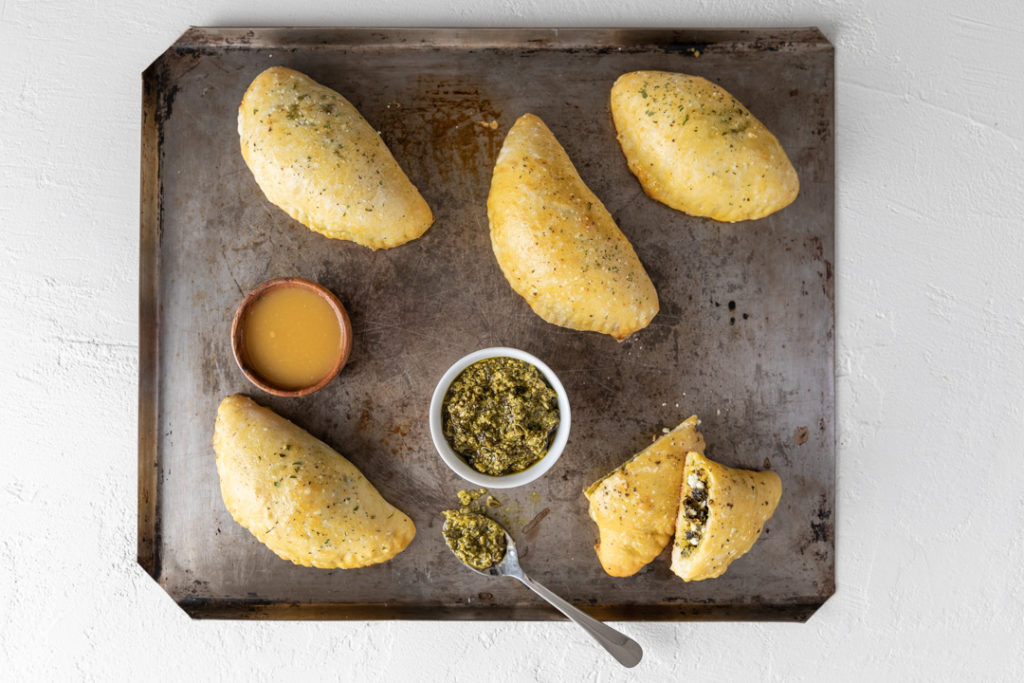 Stuffed with chicken, kale, and goat cheese, these calzones are an easy weeknight dinner solution.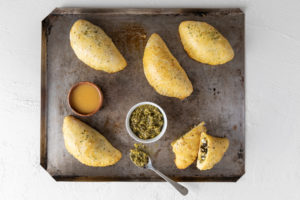 Print
Kale and Chicken Pesto Calzones
Yield 6 servings
Ingredients
1 tablespoon olive oil
½ cup chopped onion
2 cups shredded green kale
2 tablespoons chicken broth or water
1 ½ cups chopped rotisserie chicken from the deli
1 jar (6.5 oz) Freak Flag Foods kale pesto, divided
1-2 teaspoons Lost Capital mango habanero
hot sauce
½ cup Stickney Hill crumbled goat cheese
1 container prepared pizza dough from the deli
1 egg, beaten
½ teaspoon salt
¼ teaspoon pepper
Instructions
Heat oven to 425°F. Line a baking sheet with parchment paper.
In a medium skillet, heat olive oil and onion over medium heat 4 to 6 minutes, stirring occasionally until tender. Add the kale and broth and cook 2 minutes, stirring frequently until the kale is wilted. Add the chopped chicken, 1/2 cup of the kale pesto and the mango habanero hot sauce. Stir and cook an additional 3 to 4 minutes until thoroughly heated. Remove from heat and stir in the goat cheese until evenly mixed; set aside.
Divide the dough into 6 equal portions and roll each portion into a ball. On a floured surface press the dough to a 4-inch round. If the dough springs back, let it rest at room temperature for 10 minutes.
Spoon scant 1/3 cup of the pesto, kale and chicken mixture on center of each dough round. Fold in half, gently stretching the dough over the filling.
Using a fork, press seams to seal. Place on the prepared baking sheet. Brush the dough with the beaten egg and sprinkle with salt and pepper.
Bake 15 to 20 minutes or until golden brown. Serve with additional kale pesto sauce for dipping and hot sauce for extra flavor.
Notes
Tip: The filling can be made 1 day ahead; transfer to an airtight container and refrigerate until ready to use.