Sustainable Spring Cleaning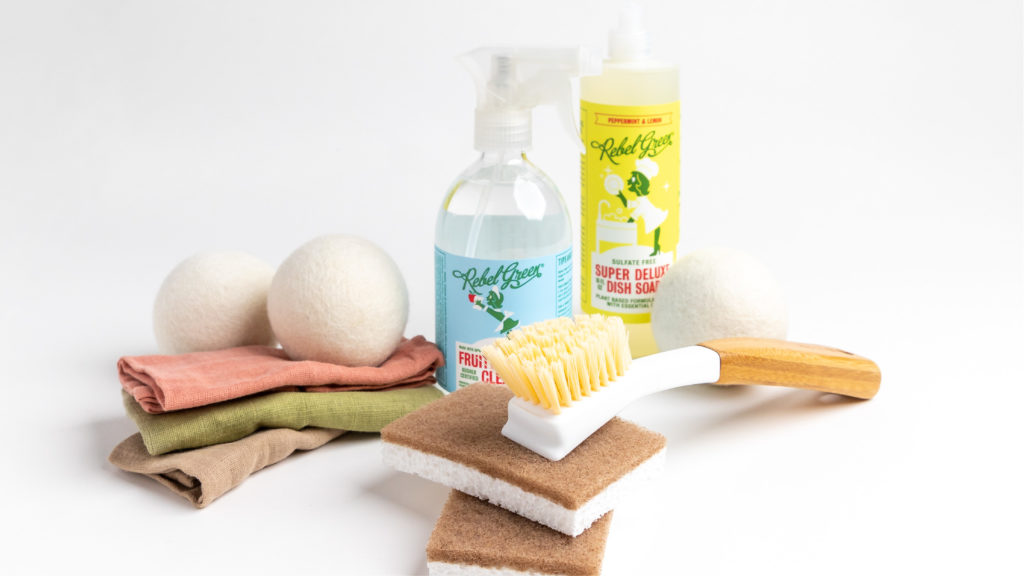 Refresh + Reuse
Keeping our homes clean is a top priority right now, but many conventional products on the market contain harsh chemicals, rely heavily upon disposable materials and single-use plastic, or are manufactured using Earth-unfriendly methods. At Lakewinds, we value cleanliness that is environmentally sound and people-safe. In the spirit of Earth Week, we'd like to share some tips and recommendations for a clean, comfortable home.
Skip disposables
Many products used for cleanups, wiping, and scrubbing are designed for single use. Unfortunately, this is wasteful in production and consumption and adds unnecessary expense. When wiping down counters, sinks, and bathtubs, use a sturdy, clean hand towel. Running low? Find reusable cloths from Microfiber, Tidy, and Clean Again for reusable, eco-friendly options.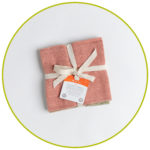 Reusable Cleaning Cloths (Various Brands) | $3.99-$8.99
---
Look for bamboo
For scrubbing dishes, consider a well-made brush instead of sponges. These dish brushes from Full Circle are made from recycled plastic and renewable bamboo. When needed, just pop off the plastic brush and replace it—the bamboo handle can stay and be used over and over.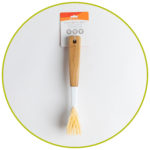 Full Circle Be Good Dish Brushes | $6.49
---
Skip single-use
Instead of dryer sheets, consider trying dryer balls. The ones we carry from Woolzies are good for 1,000 loads and provide the wrinkle-free, no-static drying. For fresher smelling clothes, add a few drops of essential oil directly into the dryer balls.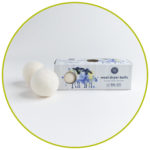 Woolzies Reusable Dryer Balls | $12.99
---
Seek renewable and compostable
Sometimes disposables are necessary. In those instances, check for products that are either made from recycled materials or are compostable. At Lakewinds we offer paper towels, trash can liners, and sponges that are both! Our paper products are free from toxic dyes that run off with use, as our walnut scrubbers, which are also made from a renewable resource.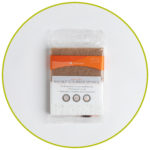 Walnut Sponges | $3.99 (2-pack) & Scour Pads | $3.99 (3-pack)
---
Read the labels
Contrary to popular belief, cleaning and disinfecting under normal circumstances doesn't require harsh chemicals. All-natural soap breaks down germs and bacteria, whether on your hands or countertop. Naturally occurring substances in plants have the power to kill bacteria and prevent mold.
When buying cleaners and soaps, look for products with a short ingredient list that doesn't include chlorine or bleach. We like Ecos' line of environmentally friendly household supplies for the kitchen, bath, laundry, and more.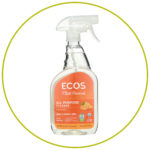 Ecos cleaning supplies | $3.99 – $14.99
---
Make your own
Ditch the single-use plastic bottles full of hard-to-pronounce chemicals! Fill reusable spray bottles with this homemade cleaning formula, which is what our cashiers use to clean common areas around the register. Just the thing for everyday kitchen cleanups, this simple recipe makes surfaces gleam without harsh chemicals or landfill waste—and it smells wonderful.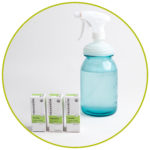 Co-op Cashiers' Favorite Cleaner
How To Make It
Fill a 1-quart jar or spray bottle almost to the top with water, then add:
 13 drops tea tree oil
 6 drops lavender oil
 6 drops peppermint oil
 1/2 tsp dish soap
Top jar or bottle with lid or spray attachment and shake to mix!
See more eco-friendly living tips to try.
This article was updated in March, 2022.