8 Eco-friendly Living Tips From the Co-op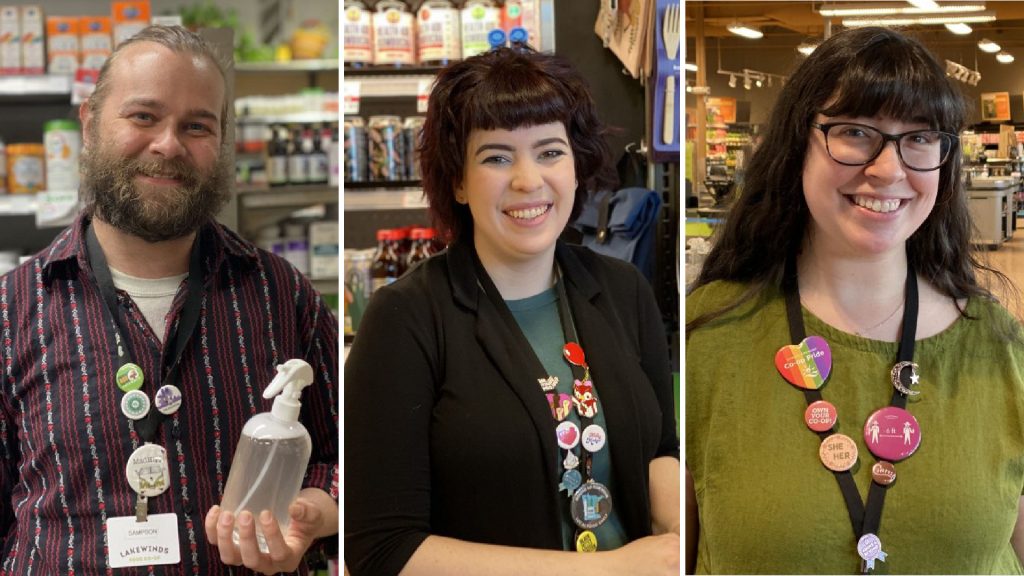 In the spring, as Earth Day approaches, it's the perfect time to think of ways you can help improve the health of the planet. And the co-op team can help, sharing some favorite tips and tricks that help you have a positive impact.
Reduce plastic waste | Ellie, MOD at Chanhassen
Look for reusable containers, like Stasher bags that can hold snacks and even go in the freezer, so you can skip single-use plastics. Bamboo flatware helps you avoid using plastic ware when you're on the go. See more tips from Ellie here:
---
Know recycling dos and don'ts | Aubre, cashier at Minnetonka
Aubre took a course specifically about recycling in Hennepin County. She suggests avoiding crushing tin cans or milk jugs, because recycling centers sort items by size, and they can't accept recyclables that are smaller than your palm. Here's more from Aubre:
---
Make a DIY cleaner | Sampson, wellness at Minnetonka
It's easy to make a multipurpose household cleaner with water, Castile soap, and essential oils. See how to make yours, step by step:
---
Discover eco-friendly staples | Jeni, events and community coordinator
The co-op is filled with food that supports a healthier planet. Here are a few you can try that have specific environmental benefits:
Perennial Pantry Kernza® perennial grain sequesters carbon, prevents erosion, and improves soil health. Its flour has a nutty flavor that's perfect in pancakes and denser breads.
Field Theory local, organic hemp hearts and oil are vegan, gluten-free, and non-GMO, and make a great crunchy topping for salads. Hemp is a versatile crop that requires no pesticides, herbicides, or irrigation, and it helps rebuild soil health.
Bolton Bees places their Solar Honey bee hives in areas where pollinator-friendly plants have been planted around solar arrays. This helps rebuild the soil around the array while creating a habitat where bees can flourish.
---
Opt for a whole chicken | Eric, marketing
Buying a whole chicken helps cut down on packaging and food waste. You guarantee the entire chicken gets used, and you get to make homemade stock, too. See Eric talk about buying whole chickens here:
---
Make your own plant-based milk | Ellie, MOD at Chanhassen
You can buy just the amount of cashews, almonds, or oats that you need from the bulk aisle to make your favorite type of plant-based milk. Bring a container from home to avoid using a plastic bag as a bonus! Ellie recommends you:
Add 6 cups of water to 1 cup of oats, blend in a blender, strain through a nut milk bag, done!
Store in a canning jar with a pour cap for ease.
---
Try plant-based meats | Ray, marketing data assistant
Incorporating plant-based meat alternatives into your regular meal rotation can help you reduce the amount of meat you eat — and it tastes great, too! Ray recommends starting with Beyond Meat and using it as you would ground beef in favorite recipes. Hear more details from Ray here:
---
Seek out plastic-free toiletries | Jeni, events and community coordinator
You can also find toiletries and other personal items that are made from or packaged in renewable materials.
In wellness, find soaps with little or no packaging from Pacha and local Roots Essentials and plastic-free shampoo and conditioner bars from SunLeaf Naturals and HiBar. You can also find Booda lip balm in compostable tubes, razors made from recycled plastic, and more.
You can choose other household products made from sustainable materials, like bamboo. Try bamboo toothbrushes, makeup remover pads, toilet paper and tissues. Bamboo is a renewable option that requires no cultivation and regrows quickly.
Hear more from Jeni about food and personal care products, here:
---
The co-op is full of food, personal, and household products that are better for the planet than conventionally grown and created items. This spring, see which tips are simple for you to add to your routine, for you and for the health of the earth!
Explore more eco-friendly living tips with our article on the Top 10 Daily Hacks for a Green Lifestyle.