Wellness Insights – Sampson Q&A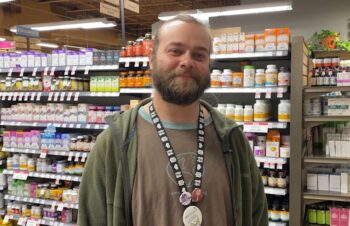 Our Wellness department team members are a great resource of information, with helpful insight about topics ranging from clean skin care to supplements. Matthew Sampson, a wellness associate at our Minnetonka store, shows us how to make DIY infused oils and shares some of his favorite tips, which start not in the wellness department, but in your kitchen at home.
Q: How did you come to work in Wellness?
A: That's a very complicated question. Our entire life is connected to wellness. At a certain point I wanted to be in control of the food I made for myself and in control of how I felt. I learned that some plants were very helpful, some were not, and that has evolved with time. Now I believe that plants are our greatest ally for our mental, physical, and emotional wellness. It's been an adventure that's happened for many years. I decided to become an herbalist eight years ago and I began an apprenticeship in herbalism.
Q: How do you suggest someone start to discover the ways wellness items can support well-being?
A: A great starting point is to simply learn what's in your kitchen. It's very practical. Our ancestors for thousands of years didn't just put spices in because they taste good, they're beneficial. The oregano we sell in produce is the same plant we sell in concentrated formulas in wellness. What vitamins are found in the fruits that we love and the vegetables we need, plus the minerals — these foundational things help us to consume with awareness and through a lens toward wellness. Wellness starts with our diet.
Q: What's your top favorite suggestion to give?
A: We have a number of carrier oil options. Some are luxurious and fantastic. But as a "kitchen witch" of sorts I think the oils in our grocery aisles are as good as those specifically sold for skincare. Olive oil contains squalane and is a fantastic choice for a lotion or salve to soak into your skin to nourish, protect and restore your skin. Grape seed is economical and a carrier oil that has a relatively high heat point. For certain plants like roots where I want to add heat, it's nice to have an oil that can go up to a higher temp safely, it's practical, healthy, and [gives you versatility] to start dabbling.
Q: What's your best shopping tip for shopping Wellness?
A: For me as a millennial, cost is an issue — and there's nothing wrong with watching the sales. Most things in our department will be on sale at some point in time, ask wellness staff when we expect the next sale to be.
Then, it's good to start with a simple product. Take magnesium; there are so many options. Simply starting with the most affordable option is better for your body than nothing at all. I evaluate which supplements I think are worth spending more on for the health I'm looking for. Through experimentation I found that I didn't necessarily have to go with the highest-end, most bioavailable product, but one that works and helps me take a step in a better direction. I think that's the key to wellness — not aiming for perfection but aiming to live a little bit healthier with any opportunity you can.
Q: Can you explain Lakewinds' product standards and the difference that makes?
A: I've had people come in and ask about food coloring, third-party testing. It is reassuring to know for a fact that there are well over 100 ingredients we don't allow in our department, like the food coloring that doesn't do any good to anybody. We require CBD third-party testing. From fish oils to mineral supplements and probiotics, they have oversight. That's something that means a lot to us and makes it easier to recommend something I truly trust. The companies are doing the best they can to keep standards high and products safe. It's comforting that the products we offer meet standards for safety, health, and well-being. 
Q: What are your top few products that you love?
A: An herb that has been close to me and I feel safe taking is ashwagandha. Every body is different — but I believe many folks could gain benefit from this adaptogen, meaning it's a plant that works with your body to help you adapt. It's not a stimulant or a depressant but supports calming the adrenal glands. I feel there's a restorative quality to it.
This is a humongous field. I recommend finding a naturopath or herbalist in your community who you can talk to about these things to reassure you that you're going in a healthy direction. Everyone who shops at Lakewinds shares a level of care and appreciation for themselves. I see that as an employee and am honored to be part of a community that is working to provide quality, safe products, as effectively as we can to the community. Because we're worth it. All of us are.
Read about wellness trends we expect to stay strong in 2021.