10 Rotisserie Chicken Meals for Busy Nights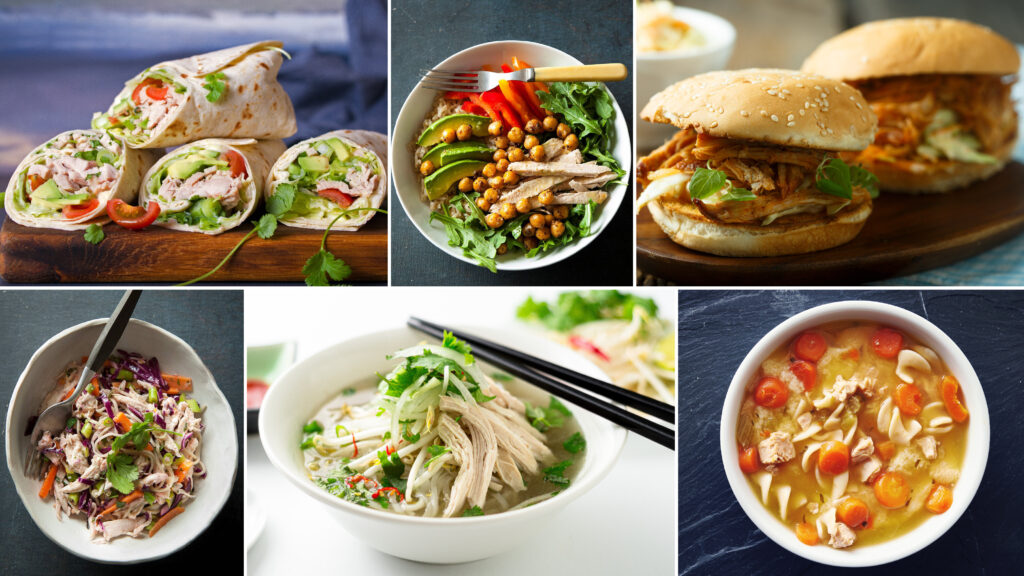 Meals that use rotisserie chicken can help you make a fast, easy, delicious dinner. You can get a few meals out of each rotisserie chicken, depending on the size of your household. The deli team makes rotisserie chickens every day, so it's easy to pick one up that's freshly roasted and full of flavor — the perfect base for your dinner meals. (Tip: Around the holidays, leftover turkey gets a fresh spin with these ideas, too.) Here are 10 meals that can help you feed your household on busy nights.
1. Elevate easy ramen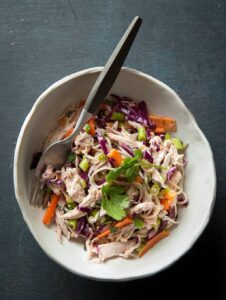 Ramen isn't just for college students. Start with 3 or 4 ramen packets, based on how many people you're cooking for. Bring 6 cups of chicken broth to a boil and add julienned carrots, spinach, 2 Tablespoons of tamari and 1 Tablespoon of miso paste. In a separate bowl, whisk 3 eggs. Bring the broth back to a boil and stream in the eggs a bit at a time while stirring. Add the ramen noodles and reduce to a gentle boil. Cook per the ramen's package directions, then add shredded rotisserie chicken until heated through and serve.
---
2. Adapt a vegan main
If you're cooking for a group that includes some who are vegan and some who are not, meals that use leftover turkey or rotisserie chicken can be a simple solution. Start by making a vegan dish, such as one of these easy vegan recipes, including coconut curry and southwest rice. Plate the bowls for those who are vegan, then add heated, shredded rotisserie chicken onto the dishes of your non-vegan guests to accommodate everyone's dietary needs — while keeping the cooking easy on you.
---
3. Top a grain bowl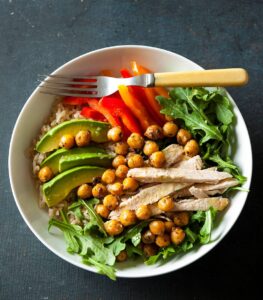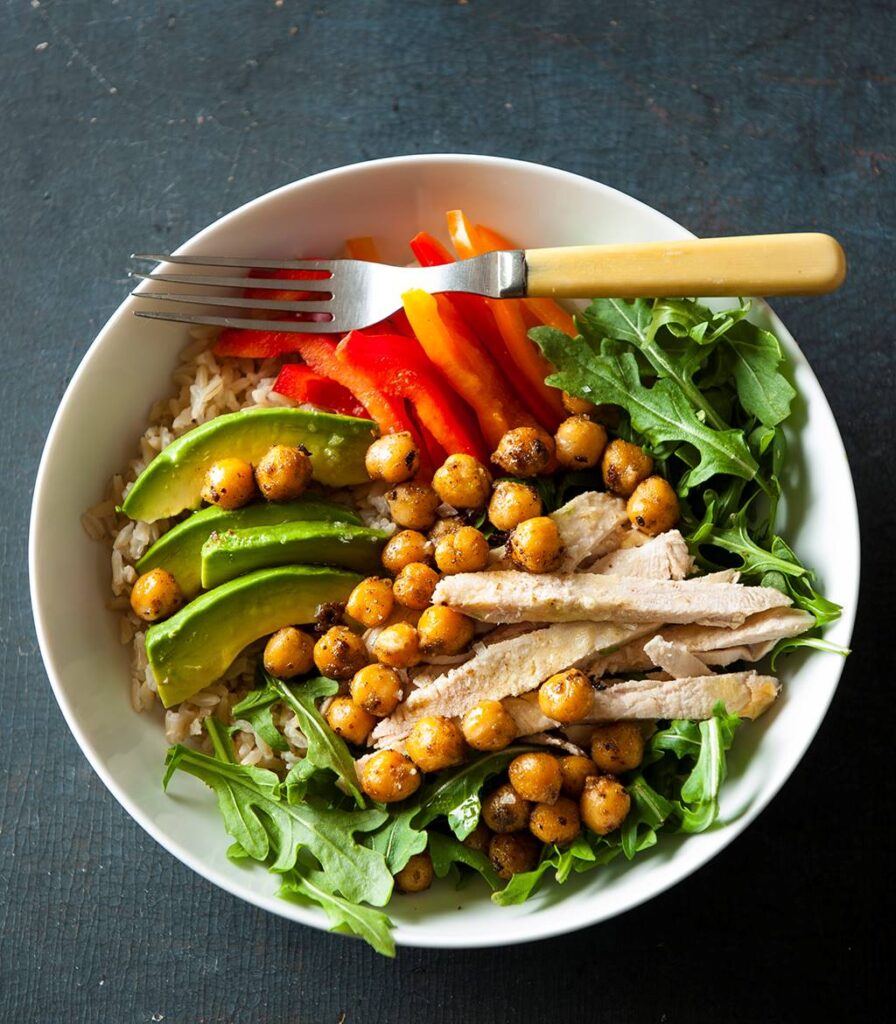 Rotisserie chicken meals are also a great way to use leftovers. Start with a warm cooked grain, like farro or brown rice, tossed with a flavorful sauce, such as Salad Girl chili lime dressing, sriracha mayo, or curry sauce, and add to each bowl. Top with warmed, shredded rotisserie chicken. Add julienned carrots, cucumbers, and bell peppers. Add warmed shelled edamame. Add a spoonful of kimchi if desired and serve.
---
4. Create a simple stir-fry
When you have extra produce in your fridge, make good use of it with a stir-fry. For example, stir-fry chopped onion, then garlic. Next up: sliced mushrooms and chopped broccoli and carrots. Then move to bell peppers, peas, and any other quick-cooking vegetables. Add rotisserie chicken, cut into bit-sized pieces. Drizzle with tamari or soy sauce, sweet ginger chili sauce, and hoisin sauce to taste. Serve over hot cooked rice.
---
5. Use it in a wrap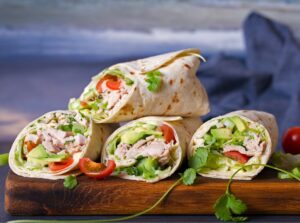 Leftover rotisserie chicken lends itself to wraps, too. Start by spreading your tortilla of choice with hummus. Add shredded chicken or turkey, chopped bell peppers, greens, avocado, chopped cucumbers, or other veggies you enjoy. Roll your wrap and serve.
---
6. Cook up a quesadilla
Get another meal from your tortillas and rotisserie chicken by making quesadillas. Place one tortilla in a skillet and heat until it just starts to brown, then flip and brown the other side; set aside. Place another tortilla in the pan, and flip once it's lightly toasted. Top with shredded rotisserie chicken or turkey, salsa, shredded cheese, and chopped bell pepper, olives, and tomatoes. Place the first tortilla on top and cover the pan. When the cheese is melted and the bottom tortilla is slightly browned, remove from the pan, cut into wedges with a pizza cutter, and serve.
---
7. Make chicken pho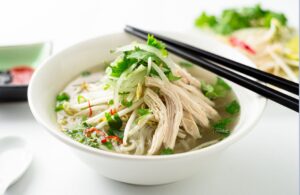 Heat 4-6 cups of chicken broth on the stove with 2 teaspoons of freshly grated ginger, 2 teaspoons rice wine vinegar, and 2 teaspoons fish sauce. While it's heating, slice bok choy, keeping the white and green parts separate. When the broth is at a boil, add the white sliced bok choy. Add rice noodles and set the timer for the cooking time (in this case, assuming 6 minutes). After two more minutes, add the boy choy leaves and shredded rotisserie chicken. When the noodles are done, remove from heat. Pour into bowls and give each bowl a squeeze of fresh lime juice. Top with fresh bean sprouts and cilantro and serve.
---
8. Top it on pizza
Roll out pre-made dough, like the scratch-made pizza dough from the Lakewinds deli. (Tip: if you use the deli dough, let it sit out for 15-20 minutes prior to using it to make it easier to roll out.) Pre-bake the dough if the package calls for it. Spread with pesto, hunks of fresh mozzarella, shredded turkey or rotisserie chicken, and cherry tomatoes. Bake per dough's package's directions or about 15-20 minutes until dough is lightly brown on the bottom and cheese is melted and bubbly.
---
9. Assemble a BBQ sandwich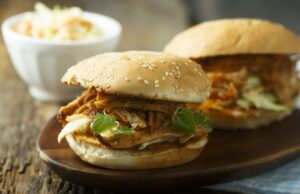 Add shredded rotisserie chicken and just enough BBQ sauce to coat in a saucepan, then gently heat until warm. Serve on a Pretzilla bun and top with coleslaw if desired.
---
10. Make classic Chicken Noodle Soup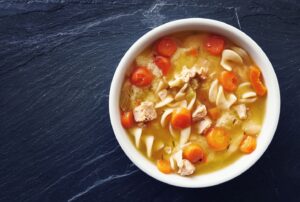 Heat 4-6 cups of chicken broth on the stove. When it's simmering, add sliced carrots and celery. After a few minutes, add egg noodles. When they're cooked per the package directions, add shredded rotisserie chicken and simmer until heated through. Serve.
---
Want more rotisserie chicken meals that are fast and easy for busy nights? Try one of these recipes: Chicken & Veggie Grain Bowl, Easy Lettuce Chicken Wraps, or Kale and Chicken Pesto Calzones.