New at the Co-op, November 2021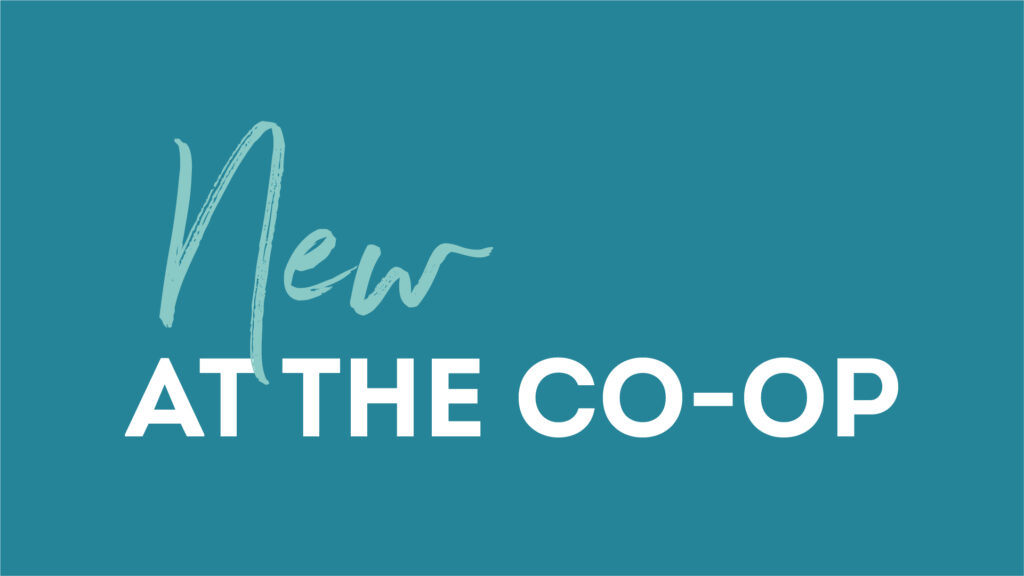 November's list is a big one!
We've added a lot of items this month, from new hot sauces and sodas to fun gift ideas and other holiday necessities. Whatever you choose to try, don't sweat the details: Our team of dedicated and informed buyers make sure that everything meets our exacting standards for safety, quality, and sustainability. To learn more, read up on our list of banned ingredients in grocery and wellness, or read about our environmental commitment.
Grocery
---
Wisco Pop!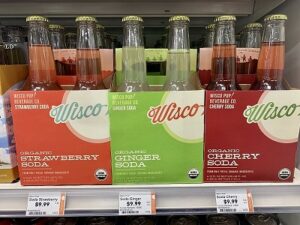 Organic beverages from Viroqua, WI, each variety of Wisco Pop! (don't call them soda) is made from just a handful of simple, whole ingredients. Viroqua is in the heart of the Driftless area, a beautiful and fertile stretch of Wisconsin, Minnesota, Iowa, and Illinois, that is a major hub for organic growers and makers. Look for organic cherry, strawberry, and ginger flavors.
$9.99 per 4-pack

---
Olipop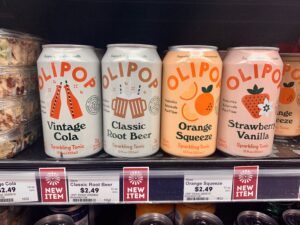 Do you yearn for a classic soda but cringe at the sugar content? Give one of these vintage-inspired pops a try! They're low in sugar and have probiotics to boot. Look for cola, strawberry vanilla, root beer, and orange squeeze varieties — you can find them in the refrigerated beverage cooler!
$2.49 each
---
Grandma's Gourmet jams and jellies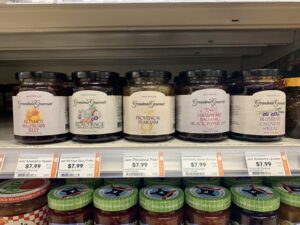 These artisan jellies and jams come in a variety of unique flavors, from elegant classics to unconventional mash-ups. They're crafted to pair with cheese, though you certainly can't go wrong smearing them on toast and English muffins. Try the Road Rage spicy pepper jam with cheddar or mascarpone, or the Provençal pear jam with blue or gouda. They're also a great topping for desserts. Topping vanilla cookies with the blueberry lavender spread is a real treat!
$7.99

---
Folly hot sauce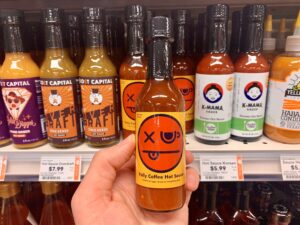 Hot sauce made using coffee gives an extra eye-opening kick! Folly uses 100% organic spices, smoky peppers, and locally roasted coffee to create this bold, intense new take on hot sauce. It's good on all your favorite foods, but it's perfect over eggs.
$6.99

---
Lost Capital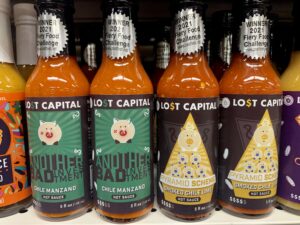 This local hot sauce maker is back on shelves with a new, shelf-stable recipe that will stay fresh longer. Lost Capital hot sauces are fermented over weeks, giving them a deep, complex flavor. They also source many of their ingredients from small, local farms.
$7.99 each

---
Matiz romesco and all i oli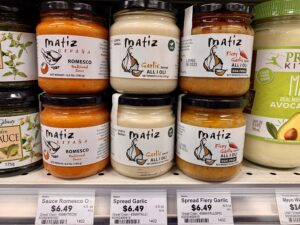 These imported spreads come from Catalonia, where romesco and all i oli have been enjoyed for centuries as a topping for toasted bread, grilled meat and seafood, and roasted veggies. The romesco is tomato-based and flavored with almonds, garlic, and hazelnuts. The all i oli is a garlic spread available in a classic creamy flavor and a fiery one that's packed with cayenne, red pepper, and paprika. All three are vegan and gluten-free.
$6.49
---
Hanamaruki shio koji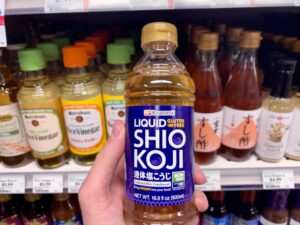 Shio koji is a Japanese condiment made from fermented rice, salt, and water that enhances the umami of any dish. Typically a paste, Hanamaruki's liquid shio koji is easy to use as a quick marinade for chicken and fish or as a savory addition to soups and stews.
$9.99
---
Suehiro ponzu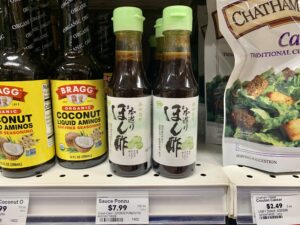 For adding serious citrus flavor to their dishes, Japanese chefs turn to ponzu sauce. The bright, floral flavor accentuates the flavor of raw fish and veggies. It's also a great additive to mayonnaise! Suehiro's ponzu blends four different types of Japanese citrus juice with soy sauce and mirin.
$7.99
---
Bachan's Japanese Yuzu BBQ sauce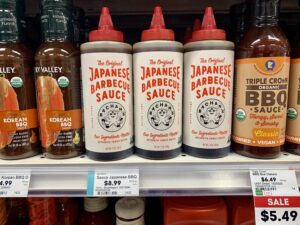 The essential flavors of Japanese BBQ are soy sauce, green onions, garlic, and ginger. This time-tested combo goes as well with grilled fish, poultry, and beef as it does over stir-fried veggies and noodles. Bachan's uses non-GMO soy sauce and organic produce to craft this family-recipe sauce.
$8.99
---
Nixta heirloom corn tortillas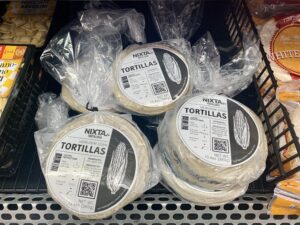 Chef Gustavo Romero believes the most important ingredients for amazing tortillas are corn and time. From his NE Minneapolis restaurant, Romero and team make tortillas by hand using heirloom corn. While we certainly wouldn't ever want to dissuade you from dining at Nixta when you're in the neighborhood (trust us, it's amazing) you can now pick up their tortillas for your own homemade tacos.
$7.99

---
New Maya Kaimal items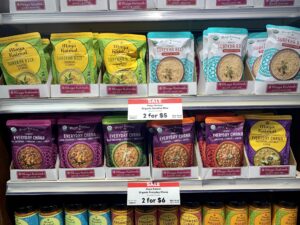 We've added a number of new items from this series of easy Indian meal kits.
Surekha rice dishes, plain and turmeric & cumin, $3.69
Chana chickpeas, tomato and onion, $4.69
Chana black chickpeas, coconut and green chili, $4.69
Chana black chickpeas, tamarind and sweet potato, $4.69
---
Amy's frozen items
While these items aren't technically new to our shelves, they've been unavailable for a while so we thought we'd call them out! Like many makers, Amy's was hit by hard by the pandemic and the ensuing production snags. But we're happy to announce that the following items are back in the frozen aisle:
Broccoli and cheese bowl
Southwestern burrito
Gluten-free bean & rice burrito
Gluten-free cheese burrito
Cheese enchilada
Bean, rice, and cheese burrito
Macaroni and cheese
---
Doubting Thomas rolled oats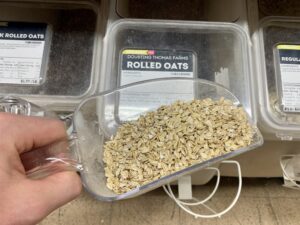 Noreen Thomas of Doubting Thomas Farms is one of our favorite local farmers, growing organic oats, rye, blue corn, barley, produce, and more. Read our article highlighting this local, organic farm and learn how Doubting Thomas Farms embodies the value of organic, local, and sustainable agriculture that we hold so dear. Now you can enjoy their locally grown rolled oats for breakfast!
$2.29/lb

---
New Frontier spices in bulk
By popular demand, we've added a few distinctive new spices to our organic Frontier lineup in the bulk aisle.
Mexican oregano, $15.99/lb
Ground sumac berries, $23.99/lb
Summer savory leaf, $29.99/lb
Za'atar seasoning blend, $27.99/lb
---
More new grocery items to note
Topo Chico tangerine sparkling mineral water, $4.99
Tanka Bar new apple and orange peel flavor, $2.99
Grandma's Gourmet dill pickles, $11.49
Tillen crispy pickled asparagus, $7.99
Noops oat milk pudding, Mocha, caramel, chocolate, $2.49 each
Nature's Path frozen waffles, Envirokids Polar Beary and Penguin Party, grain-free blueberry and chocolate chip, $3.49 and $5.99
Scharffen Berger baking bar chocolate, bittersweet and semi-sweet, $7.99
Tasty Bite sticky rice, $2.79
Right Rice, original, Spanish, and garlic herb, $3.79
Near East basil and herb pearled couscous, $2.99
Koyo, lemongrass ginger and garlic pepper noodles, $1.29
Miracle Noodle vegan pho and pad Thai meals, $4.99
Mike's Mighty Good instant ramen, $2.49
Ocean's Halo ramen noodles and rice noodles, $3.79
Urban Accents meatless sloppy Joe, street taco, and Korean BBQ mixes, $4.99
Siete mild and spicy taco seasoning, $2.79
Frontera beef taco seasoning, $2.49
Tabasco red pepper, $1.99
Truff black truffle hot sauce, $14.99
Yellowbird serrano, habanero, and blue agave sriracha hot sauces, $5.99
Sky Valley organic Korean BBQ sauce, $4.99
Yugeto organic shoyu, $11.99
Nakano organic rice vinegar, $3.99
Ilo Jozo sushi vinegar, $16.99
San-J organic reduced sodium tamari soy sauce, $8.99
Nellie's Wow Stick stain remover, $8.99
---
Wellness
---
New scents from Humble deodorants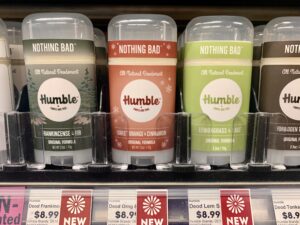 This body-friendly deodorant has been a favorite at our stores for years. Now there are four new scents to enjoy! The mountain lavender and lemongrass sage are new year-round varieties, while the frankincense-fir and sweet orange-cinnamon are seasonally inspired varieties available only through the holiday season.
$8.99
---
Waverly Soap Company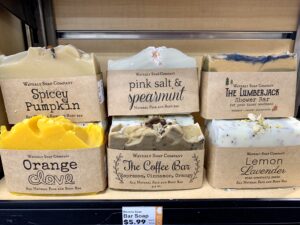 These artisanal soaps are made in small batches from the maker's home kitchen right here in Minneapolis. Enjoy a variety of seasonally inspired varieties of this indulgent handmade soap while supplies last. They make perfect gifts and stocking stuffers!
$5.99

---
FunCho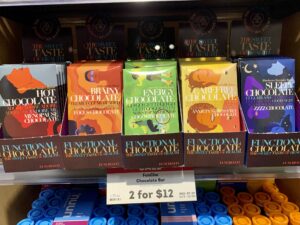 Functional foods and beverages are having a moment and with good reason! Blending your favorite foods with beneficial ingredients is a great way to support your body. These delicious, fair trade chocolates are enhanced with ingredients to help support sleep, energy, focus, stress, and menopause symptoms. Each bar is 100% plant-based and gluten-free.
$7.49
---
More new items in our wellness department
Nordic Naturals multi-minerals, regular and without iron/copper, $25.99
Nordic Naturals travel size vitamin B and D gummies, $6.99
Evanhealy sandalwood serum, $34.99
Evanhealy replenishing rose drops, $39.99
---
Gifts and toys
---
Winnie's Picks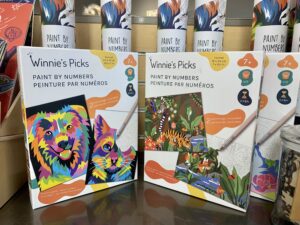 With paint-by-numbers kits like these, even novice artists can create something worthy of framing. Featuring seasonally appropriate themes, they're also a perfect indoor activity now that the days are getting shorter and colder.
$22.99 – $26.99
---
Andes Gifts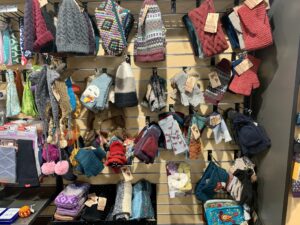 One of our favorite winter gift lines is back with new designs! Andes Gifts distributes fair trade hats, scarves, and gloves handmade by Aymara and Quechua artisans in Peru and Bolivia. The textile co-ops they buy through allow makers to work from their own communities using culturally relevant skills instead of commuting from their homes to big cities to seek employment. Visit their website to learn more.
$5.99 – $39.99
---
Linnell Designs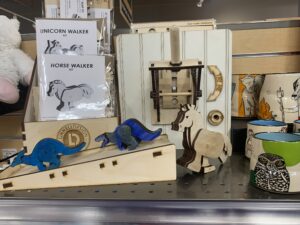 These balsa wood toy kits are sure to delight anyone with a whimsical spirit! Build and race cute critters or channel your inner Dr. Frankenstein with a cool steampunk light switch plate. Woman-owned and designed locally, these beautiful, handcrafted kits are assembled by hand and can be painted for a perfect indoor afternoon activity!
$11.99-$29.99

---
Be sure to stay tuned to our blog for next month's new items!