Meet Doubting Thomas Farms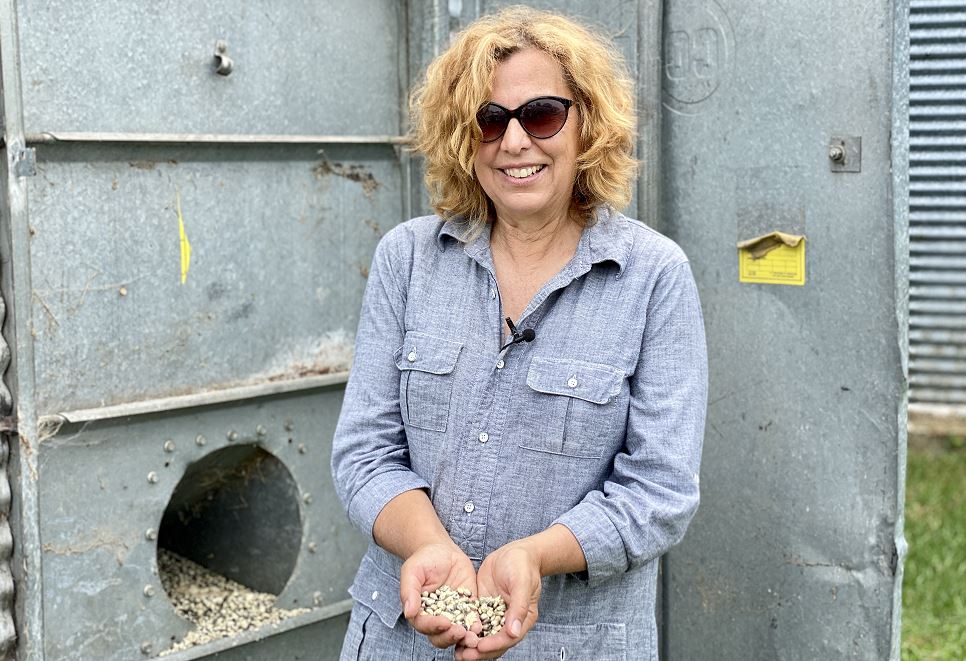 Before noon, organic farmer Noreen Thomas meets with a local baker, helps harvest oats, feeds her chickens, checks on the lion's mane mushrooms she's growing, assesses her organic rye field, and stops by a field of experimental flaxseed. And within that busy morning, she takes time to talk about her local organic farm, the challenges of the year, and what she's looking forward to next.
Doubting Thomas Farms ("As in: 'I doubt it's going to rain,'" jokes Noreen) was one of the first local organic farms in the Moorhead area. The 1200-acre, sixth-generation farm was founded in 1878, became certified organic in 1997, and today grows organic oats, wheat, blue corn, rye, barley, soybeans, produce, and more. At Lakewinds, you can find their blue corn in Garden of Eatin' chips and grain in Bakers Field breads. You can also shop on their website.
But what grows on the farm is just part of the picture of all the work that Doubting Thomas Farms does. From mentoring farmers to teaching school kids to conducting tests of new perennial crops, there are a number of ways the farm is open and welcoming of others. In fact, more than 8,000 people have spent time on the farm, individually and in small groups, in the past 5 years. The farm is an ongoing source of education and connection with the local community.
---
Support of other local organic farms
Noreen says that although farmers tend to work independently, she's found that the next, younger generation of farmers likes to learn with others.
"I didn't grow up on a farm," says Noreen. "[Starting out] I felt very incompetent. So I thought okay, let's figure this out. And I knew there were other women like me. So we started [mentoring] women in mechanics. It's basic, like here's how to change the oil in your lawnmower, then we went on to combines and we went on to seeders, how to set the seeder. Who else shows you that?"
Noreen found two women mechanics in their 20s to teach classes, from sharpening lawn blades to doing tractor maintenance. "Your confidence builds and a lot of the women said, you know, 'Well shoot, that wasn't so hard.'"
---
Community education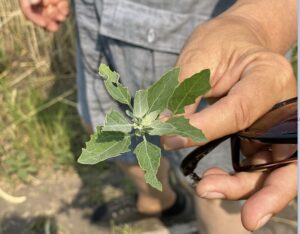 Giving back to the local community is an integral part of daily life on the farm. Doubting Thomas hosts a number of educational events for kids' groups, with topics including growing mushrooms, learning about clouds and the climate, milling flour, using solar ovens to bake bread, foraging, and more. Noreen explains that milkweed is good for cuts and wounds, while burdock root can be used like carrots in stews.
Noreen enjoys partnering with local businesses, too. On this day, she's meeting with a local baker to show him and his family where and how the grains they use in their baked goods are grown.
---
Support of native communities
The farm also grows native plants for local Indigenous tribes. Noreen has Indigenous ancestry and grew up on a reservation as a child, retaining a deep connection to her Indigenous roots.
"We're the only farm outside White Earth that's approved to be a grower for them," says Noreen. "It takes a great amount of trust and work. … The legend is that two cups of corn traveled from Mexico, and Mother Earth told them to keep going until the corn grows no more. That [red] corn is so rare, it's beautiful and multicolored – the red corn looks like jewels.
"We harvest it, it's taken back to White Earth for the people to eat at no charge. I've been there when they braid it — the braids are 12 feet long. Some are hung from the ceiling in the traditional way. It's the most moving thing you've ever seen."
---
Organic testing
There are a number of experiments going on at the farm, too. For example, there's one study that's testing how well a perennial flaxseed native to the mountains grows in the northeast Minnesota climate. Another study about growing sustainable sunflowers is in the works, too. In the future, other local farms in the area might be able to use the test results to diversify what they grow.
---
Quality grains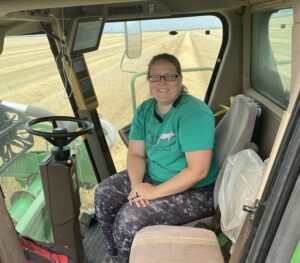 In addition to the extra projects on the farm, the day-to-day farming activities are in high gear. On this day, Noreen's daughter-in law Melany is out in the fields, harvesting.
"Our local regional grains are not coming from a third country where honestly, they're not tested for chemicals," says Noreen. "We are rigorously tested, we get surprise inspections where they pull random grain samples. They make sure we have no chemicals. So the food is so delicious tasting and so wholesome, we really feel a great amount of pride in it. It's nutrient dense, it tastes good. You know who your farmer is and I can name the variety that it came from. I can name the field."
Noreen's a strong advocate for local, organic farms.
"It's farming with a conscience. I know what went into that grain and what's not in it. There's a lot of love that went into that."
---
Meet the hardworking meat and seafood producers and farmers who bring their locally grown produce to the co-op.