5 Hot Drinks with Functional Ingredients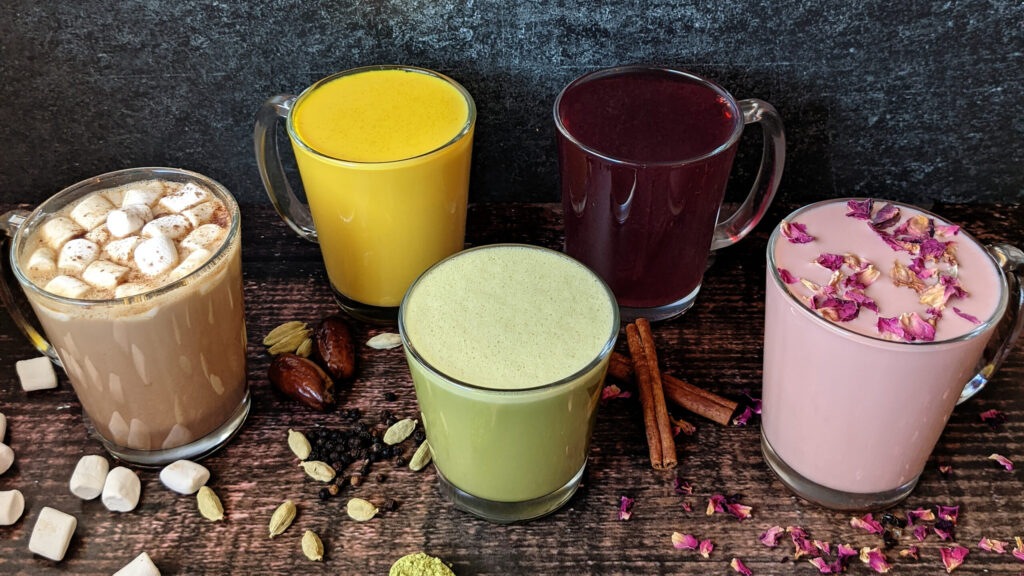 When the temperature drops, hot drinks can help you stay warm, inside out. These hot drinks are made co-op style, with functional ingredients such as golden milk, matcha powder, elderberry, and more. From vegan hot chocolate to rose milk, try one of these recipes for a mug full of warmth that also supports your well-being.
1. Botanical Lucidity Magick Matcha Latte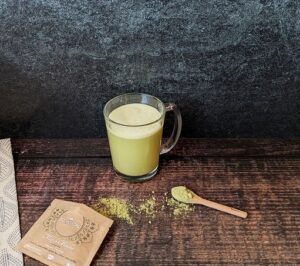 Ingredients:
1 teaspoon Magick Matcha elixir powder
8 oz of almond milk
½ Tbsp. honey or agave
Small splash of hot water
Directions:
To a mason jar, add the matcha powder, honey, and a splash of hot water. Use a spoon to mix well. When the clumps are gone, add warm milk, then tightly put the lid on the jar and shake vigorously for a few minutes. There should be lots of frothy bubbles at the top. Pour into your favorite mug and enjoy!
Makes one serving.
Recipe adapted from: botanicallucidity.com/blogs/recipes/magick-matcha-latte
---
2. Anima Mundi: Rose Moon Milk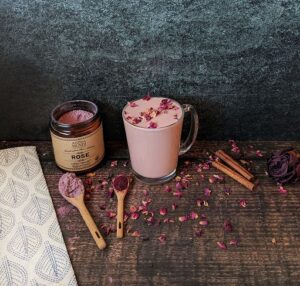 Ingredients:
3 cups of warm oat or other plant-based milk
1 Tbsp rose powder
½ tsp beet powder (optional)*
1 teaspoon non-dairy creamer (optional)
2 teaspoons maple syrup
½ teaspoon cinnamon
Directions:
Add all of the ingredients to a small pot on the stove over low heat. Whisk the ingredients until well combined, and heat until it begins to froth and steam, then pour into two mugs and serve.
*Beet powder adds some depth of flavor and earthy sweetness, but if you don't have any, the recipe is still tasty — the color will just be more lavender than rose.
Makes two servings.
Recipe adapted from: Sarah Vermelli of @sculptedkitchen, animamundiherbals.com/blogs/blog/diy-rose-moon-milk
---
3. Vegan Hot Chocolate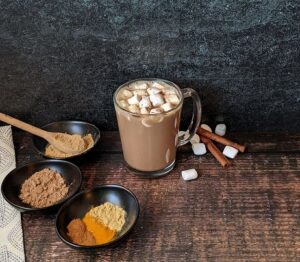 Ingredients:
1 cup water
1 cup unsweetened vanilla almond or other plant-based milk
2 Tbsp. raw cacao powder
1 Tbsp. maple syrup
1 teaspoon raw maca powder
1 teaspoon pure vanilla extract
1/8 teaspoon ground cinnamon
1/8 teaspoon ground turmeric
1/8 teaspoon ground ginger
Pinch of cayenne pepper
Pinch of sea salt
Vegan marshmallows
Directions:
Combine the water and almond milk in a medium bowl and bring just to a boil, then remove from heat. Into your favorite mug, add cacao powder, maple syrup, maca, vanilla, and spices. Pour the liquid over the mix, whisking thoroughly until the smooth. Top with marshmallows and serve.
Makes one serving.
Recipe adapted from: Shannon Leparski for Sprout Living.
---
4. Golden Milk with Gaia Herbs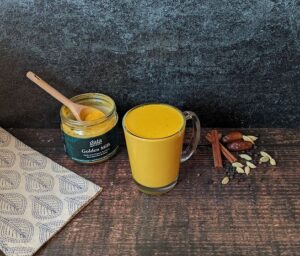 Ingredients:
1 teaspoon ghee or coconut oil
1 teaspoon Gaia Herbs Golden Milk supplement
1 cup whole, 2% milk, or plant-based milk
1-2 teaspoons honey, to taste
Directions:
Place the ghee or coconut oil in a small saucepan over medium heat. Once it's melted, whisk in the Golden Milk blend and milk. Heat, stirring frequently, until the mixture is warm but not yet boiling. Remove from heat, add honey to taste, pour into a cup, and serve.
Makes one serving.
Recipe adapted from: gaiaherbs.com/blogs/seeds-of-knowledge/traditional-golden-milk-recipe-with-gaia-herbs-golden-milk
---
5. Warming Elderberry with Vitamin C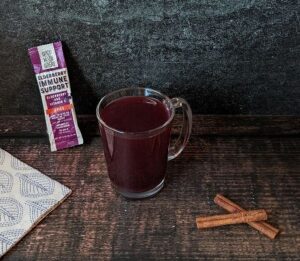 Ingredients:
1 cup (8-10 oz) warm or hot water
1 packet Good Made Great Elderberry Immune Support – Elderberry & Vitamin C, Spice flavor
Directions:
Heat water, add packet, and stir until dissolved.
Makes one serving.
Recipe from: goodmadegreatfoods.com/products/elderberry-immune-support-spice-flavor
---
Combat cold weather with tasty, functional hot drinks that warm you while giving your body extra support!
Want more ideas for hot drinks? See our recipe for a Spiced Elderberry Oatmilk Latte.