Gift Basket Ideas from the Co-op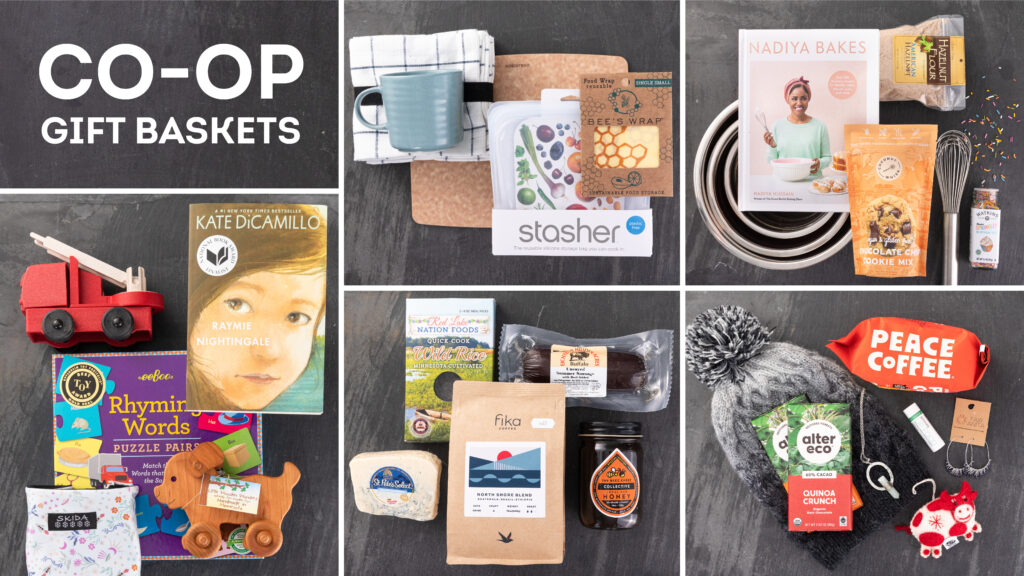 We all want to buy that "just right" gift, but sometimes we're stumped! Let us take the pressure off with helpful gift basket ideas! (No actual baskets required.) Make their holiday with a bundle of sustainably made, thoughtfully selected items from the co-op. From kids to foodies, from friends to family, we help you check off everyone on your gift list in one stop, with unique ideas they'll appreciate.
Localvore Gift Basket
Share your love of local with delicious, special food from artisanal makers. These gifts delight the taste buds while supporting local food makers, small business owners, and the local food economy.
Beez Kneez honey
A gift that promotes happy people and healthy pollinators, too. Local Beez Kneez honey is extracted from honeycombs using a pedal-powered "honey cycle" at their farm in western Wisconsin. Grocery | $12.99

Eichten's bison summer sausage
Bison summer sausage is delicious, protein packed and low in fat. Its smoky, tangy flavor pairs well with sharp cheddar and grapes. Meat | $17.99/lb
Red Lake Nation wild rice
The Red Lake Band of Chippewa Indians grows and harvests this wild rice as part of their commitment to producing unique products that honor their cultural traditions. Grocery | $6.99 – $8.99 and Bulk | $7.99/lb

Eye-opening artisanal coffees roasted in Lutsen in small batches. "Fika" means "a moment of quiet indulgence in an otherwise hectic day." Grocery | $11.99 – $25.99

Find a wide array of local cheese at the deli. From goat cheese to cheddar, blue cheese to brie, we have a variety of world-class local cheeses your loved one is sure to enjoy (and that support local farmers as a bonus). Deli (prices vary)

---
Baker's Gift Basket
Wintertime is baking time. Mixing bowls, a beautiful cookbook, baking mixes and unique flours are all ways to feed the passion of bakers on your list.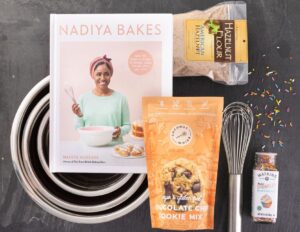 These traditional kitchen staples were first made in 1800. Today, you can find beautiful mixing bowls, pie dishes, and cooking utensils at the co-op. Seasonal gifts | $6.99-$24.99
Baking mixes, like Coconut Whisk
Sometimes it's fun to bake but time is short. Add a baking mix for artisan bread, muffins, or cookies to the gift basket, so your loved one can enjoy homemade treats, faster. Grocery (prices vary)
Wintertime is the perfect time to try new recipes and cooking techniques. The co-op has a wide selection of ever-changing cookbooks, including for special diets, using local ingredients, and created by local chefs and authors. Gifts | $14-$40
Specialty flours & sprinkles
Add in a few other fun items for baking. Options include naturally colored sprinkles and local flours made from Kernza® perennial grains or hazelnuts.
---
Kids Gift Basket
Treat the littles on your list with books by local authors, colorful puzzles and wooden toys, and bright, cozy outdoor wear.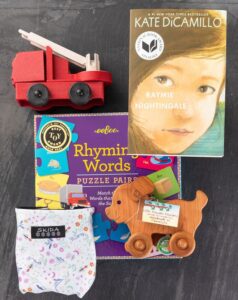 Made in Chanhassen, these handmade wooden toys provide old-fashioned enjoyment. 100% chemical-free, lead-free, and biodegradable. Seasonal gifts | $20.99

Hats, headbands, and neckwear made from recycled materials when possible, with patterns that maximize fabric use for minimal waste. Seasonal gifts | $21.99 – $35.99
There's a rotating supply of kids books, puzzles, and eco-friendly toys, like Luke's Toys, which are award-winning, U.S.-made, BPA-and phtalate-free 3D stacking puzzles.
---
Home Gift Basket
Kitchen items make perfect gifts, something you know people will enjoy using year-round. From cutting boards and linens to mugs and reusable food storage, we've gathered ideas for the food lovers in your life.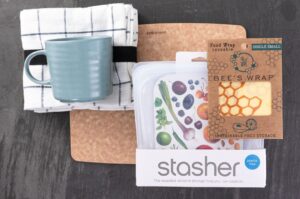 The co-op has a variety of unique mugs to add to your gift basket. There's a changing inventory, but current items include handcrafted, local mugs made by Brickyard Pottery in Shell Lake, Wisconsin. Seasonal gifts (prices vary)

Reusable silicone bags are durable and reusable, helping eliminate single-use plastics. They can go in the dishwasher, microwave, freezer, even the oven! Grocery | $10-$30
Another eco-friendly gift basket idea is reusable food storage from Bee's Wrap. It keeps food fresh and can be used over and over (and finally composted when you're done), eliminating plastic use. Grocery | $7.99-$17.99
Peruse the aisles and you'll find a variety of items for your gift basket. Consider adding linens, eco-friendly food storage, bamboo reusable flatware, or cutting boards.
---
Self-care Gift Basket
Everyone could use more time to rest and relax. This winter, give the gift of precious "me" time: hand moisturizer, bath salts, face masks, tea, and gummies that promote restful sleep.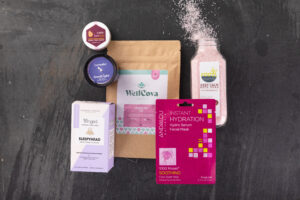 Roots Essential bath salts
This woman-owned local company makes clean body care products, including fragrant bath salts that support relaxation and well-being. Wellness | $9.99

Local teas, such as Rishi, WellCova, or Sacred Blossom, are soothing and delicious — self-care from the inside out. Grocery | $7.99 – $14.99

There are numerous lovely, luxurious items that help your loved one take care of themselves. Consider face masks to hydrate skin, candles to add a bit of warmth and calming vibes, gummies that promote sleep, and lovely hand creams that repair and protect skin.
---
Fair Trade Gift Basket
Be sure your gifts support the safety, dignity, and prosperity of workers and a healthy environment as well. With these Fair Trade-certified choices, you don't have to guess.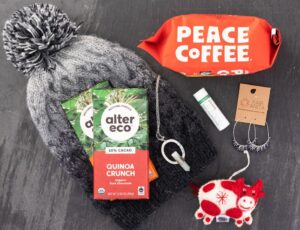 Local and B Corp-certified, Peace Coffee has long-term partnerships with farmer co-ops to purchase organic coffee beans at fair prices.
Grocery | $11.49 – $12.99 and Bulk | $13.49/lb – $15.99/lb

These sustainably stylish items are made from recycled materials by a local company that empowers women artisans around the world by paying fair wages. Gifts | $7.99 – $35.99

This organic, local lip care is as clean as it comes: made with plastic-free packaging in a facility powered by solar. Wellness | $2.49 – $5.79

More than 1,000 artisans in Nepal and India make hand-felted wool ornaments and other craft items, providing makers with economic stability. Seasonal gifts | $8-$30
All of the chocolate found at Lakewinds is Fair Trade Certified or from companies that prohibit child labor and other unfair labor practices. You and your loved ones can enjoy this chocolate, assured that farmers and workers who helped bring it to you have been justly, fairly compensated. You can also stay warm and cozy this winter with woolens at the co-op. Andes scarves and mittens are handmade in Peru by Indigenous women artisans who are part of knitting cooperatives, helping build economic security for families who live in the Andes Mountains.
Make your holiday easier by picking up lovely, unique, thoughtful gift baskets while you're doing your grocery run. Give gifts you and your loved ones can feel good about, with items that are Fair Trade, locally made, or eco-friendly!
See more holiday gift ideas, ideas for alternatives to wrapping paper, and delicious cheese board tips for the holiday.