Gift Wrapping Alternatives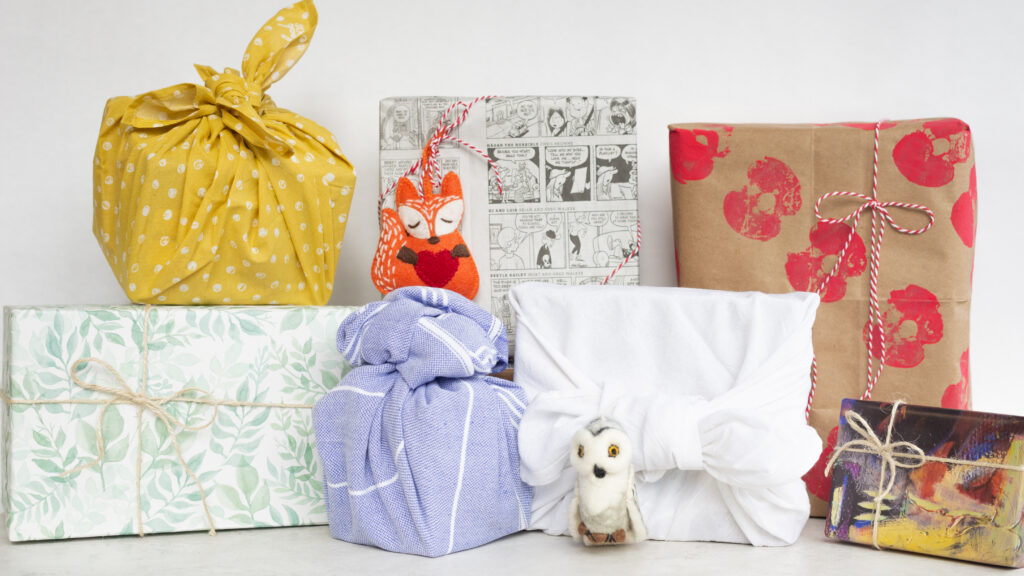 It's estimated that 4.6 million pounds of wrapping paper is used each year in the U.S., with only half of that getting recycled. So how can we make our gifting habits more sustainable? Try these ideas for an eco-friendly alternative to wrapping paper — better for the planet and still festive for the season.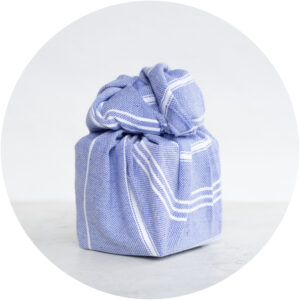 Tied up in tea towels – Use colorful tea or hand towels as gift wrap. The gift won't just look beautiful, it'll keep giving back in the kitchen — a little something extra that can be used and reused.
Bound in a bandana – A bandana with a lively print adds a splash of fun (and function) to any small gift. Tie securely with twine, a matching ribbon, or see the tutorials below for ideas of how to secure without any added materials.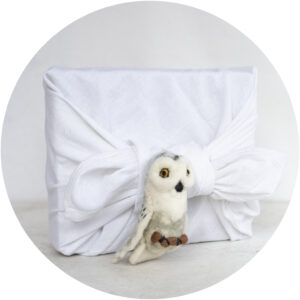 Festive in flour sacks – Simple white flour sack towels aren't just a staple for every kitchen, they add a touch of rustic elegance as an alternative to wrapping paper — folded, tied artfully, or bound with festive, reusable ribbon. Add a spring of pine or eucalyptus, a small bell, or an ornament for a fun splash of color.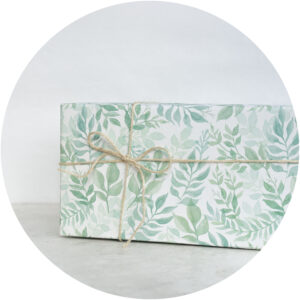 Reusable receptacles — Decorative boxes, tins, and baskets are endlessly useful, and they can bring warm, homey charm to gifts of all sizes. Save them, then pass them on, so they can live many "lives" as an alternative to wrapping paper.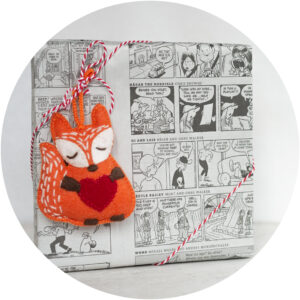 New use for newspaper – Simple newsprint with a colorful tie can be striking and playful – we give bonus points for using the Sunday comics!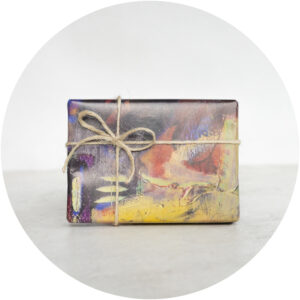 Colorful collages and cutouts – Pull colorful pages from an old magazine for smaller items, or create custom collages from magazine cutouts to add a personal touch to your gift wrap.
Beautify a brown bag – Paper grocery bags make the perfect canvas for creative gift-givers. Simply turn it inside out, and use natural elements or twine to decorate. Cut veggies in half and use them as stamps to create fun, artistic gift wrap with the kiddos.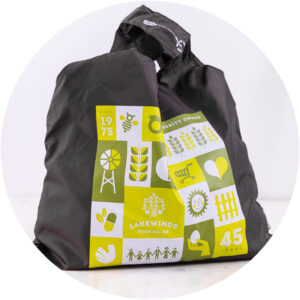 Totes awesome — Grab one of the reusable shopping bags available at the co-op instead of a paper or plastic gift bag. You'll be helping to reduce single-use bags and it's the green-living gift everyone can use.
Fun with fabrics – Dive into the Japanese art of wrapping with fabric instead of paper, called furoshiki. Use scraps, scarves, cut up an old shirt, or swing by your local fabric store and get a few yards you can use on several gifts. Fabric allows you to play around with color and texture in ways paper doesn't. The internet is full of tutorials to artfully bind up packages using only fabric.
---
Below are a few of our favorite simple tutorials for artfully wrapping gifts using fabric of all sizes. Pro-tip: Many of them show the person beginning with a square piece of fabric. If your fabric or towel isn't perfectly square, simply fold the end over a bit to create a square shape to start with.
https://www.youtube.com/watch?v=Yhh2kciW8AU
https://www.youtube.com/watch?v=OHDUm-705xQ
https://www.youtube.com/watch?v=0KD9pNsrgTk
---
If you do want to use wrapping paper, we have a variety of gift wrap made from 100% post-consumer recycled fiber.
Find many options for an alternative to wrapping paper with sustainable materials at the co-op, and get on your way to giving gifts the sustainable way this holiday season and beyond.
See holiday gift basket ideas from the co-op, too.