Creative Holiday Gift Ideas for the People on Your List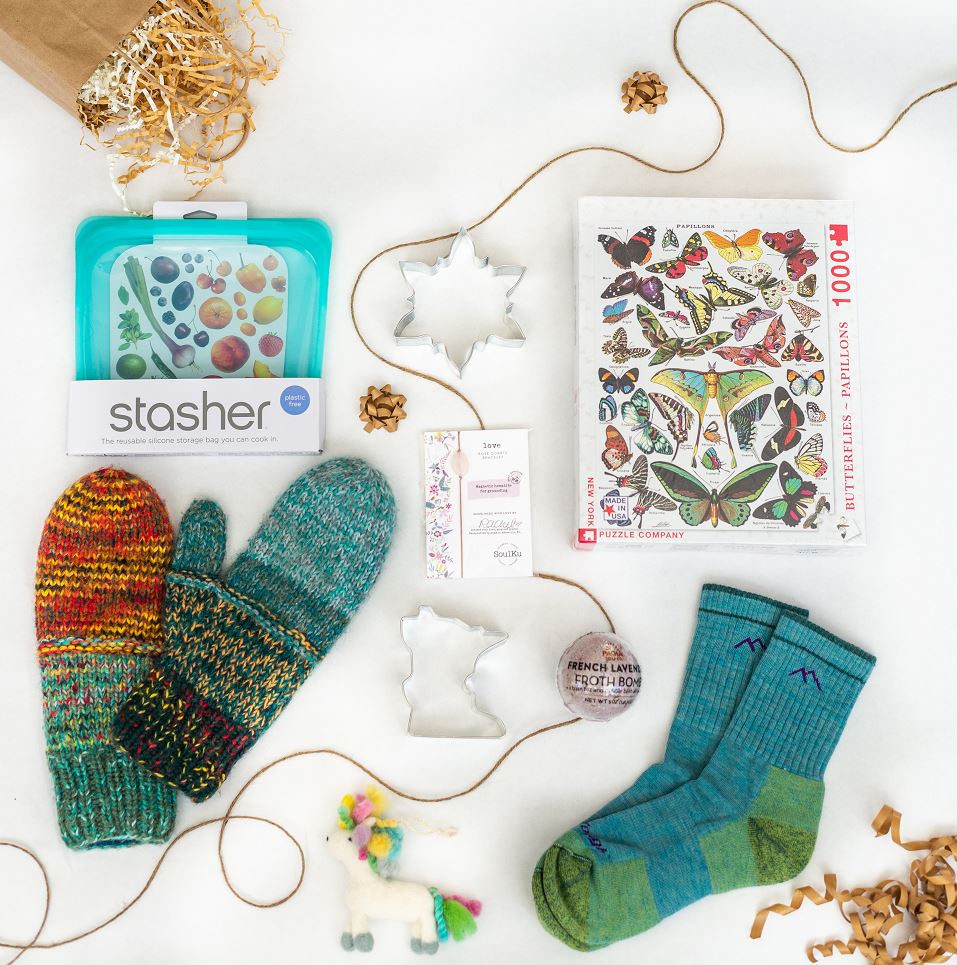 Many of us are starting our holiday shopping early this year. With possible supply chain issues on the horizon, it's good to think about your loved ones and what items might be on their wish lists. The good news is, the co-op can help! From puzzles to woolens and cookbooks to skin care, pick up unique gifts while you're getting your local, organic groceries. Here are some fun holiday gift ideas for everyone on your list.
Gifts for the outdoors lover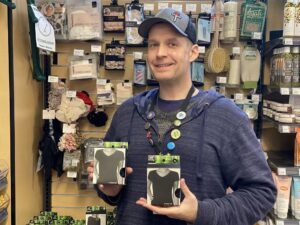 Boodywear | Made from renewable bamboo, Boodywear base layers are comfortable, breathable, and soft, to keep you and your loved ones comfy and cozy. Bamboo is grown without any pesticides, fertilizer, or irrigation, and every part of the plant is used, so there's very little waste. A perfect sustainable gift! $16.95-$53.99
Andes Gifts

| Handmade knitted hats, gloves, and scarves provide stable employment for rural artisans in Peru and Bolivia. These fair trade woolens withstand cold winter weather and keep you cozy. $10-$40

Darn Tough socks | These merino wool socks are comfy and guaranteed for life! They come in a variety of colors and heights for different winter activities. $13-30
Skida outer wear | Skida's soft hats, headbands, and neck warmers come in bright, colorful fabrics. They're  made from recycled materials when possible, following patterns that minimize fabric use for minimal waste. $21.99-$35.99
---
Gifts for the one who gives back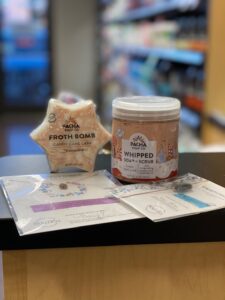 Pacha Soap Co. | Pacha soaps have long been a co-op staple. Their bath froth bombs, soaps, and kid bath-time items are moisturizing and smell amazing. For every bar of soap purchased, Pacha donates a bar of soap in a developing country, teaching people there how to make soap. They also support clean water initiatives and hygiene education. $6-$17
Soul Ku jewelry | Working-from-home parents make this jewelry in Asheville, NC. The company donates a percentage of its sales to nonprofits and partners with OpenDoors of Asheville to break the cycle of poverty. $16-$29
dZi Ornaments | More than 1,000 artisans in Nepal and India make hand-felted wool ornaments and other craft items, providing makers with economic stability. $8-$30
---
Gifts to pamper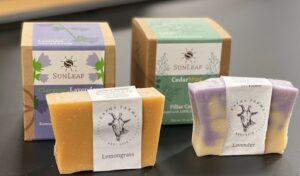 Rapha Farms | A mother-daughter team makes natural goat milk soaps sourced from the goats on their own farm. The soaps clean while retaining skin's natural moisture. $6-$12 
SunLeaf | Located in Waconia, SunLeaf makes small-batch, natural, plant-based body care products and items for the home, including candles and essential oil reed diffusers in holiday scents and blends. $4-$28

North Naturals body butters | This local company makes luxurious body butters to soften, soothe, and moisturize dry winter skin. Based in Minnetonka, the ingredients include shea butter and non-GMO sunflower and grapeseed oil, and is paraben-free, phtalate-free, and triclosan-free, like all of the body care items at Lakewinds. $13.99


---
Gifts for the littles on your list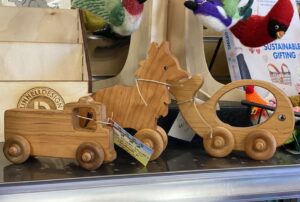 Little Wonder Wooden toys | Made in Chanhassen, these handmade wooden toys provide old-fashioned enjoyment and play. They're 100% chemical-free, lead-free, and biodegradable! $20.99 
Under the Nile

| These fair trade goods made from organic cotton are sustainable and empower women in countries where many stop working if they become parents. Workers make soft plushies and items, learning valuable skills, including weaving and woodworking. $7-$12

SiliKids reusable straws | A perfect stocking stuffer, Silikids straws are BPA-free and made from silicone. They help reduce usage of single-use plastic straws and can be sent back to the company to be recycled if they wear out. $2-$8
Linnell Designs DIY kits | Older kids who love crafting will love these locally made DIY kits (may require adult supervision). Laser-cut pieces are assembled to make unique, interactive toys. $11.99-$29.99


---
Gifts for the green-minded
Stasher bags | Reusable silicone bags are durable and reusable, helping eliminate single-use plastics. They can go in the dishwasher, microwave, freezer, even the oven! $10-$30
Green City Living cloth zipper pouches | Sandwich and snack bags come in bright colors and patterns to brighten any lunch or snack time. These laminated cotton bags are food safe and can help you reduce plastic use. $10-$12
Roots Essential | This local, women-owned body care line creates clean skin care and home items. Vegan soaps, bath salts, room spray, hand sanitizer and more items have no artificial colors, parabens, petroleum, or synthetic fragrances. And because they're made in Plymouth, MN, they have few miles to get to the nearest Lakewinds. $4-$10


---
Gifts for your bakers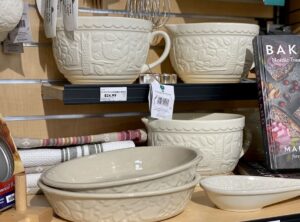 Mason Cash ceramic baking wares | These traditional kitchen staples were first made in 1800. Today, you can find beautiful mixing bowls, pie dishes, and cooking utensils at the co-op. $6.99-$24.99
USA Pan | As the name indicates, this bakeware is made in America using aluminized steel, so it's strong, durable, and long-lasting. Find baking sheets, muffin tins, and more bakeware that your favorite baker will love to use. If you're lucky, maybe you'll even get to share in the results! $15-$26
Cookbooks | Wintertime is the perfect time to try new recipes and cooking techniques. The co-op has a wide selection of ever-changing cookbooks, including for special diets, using local ingredients, and created by local chefs and authors. $14-$40
Cooking tools | If your baker uses beat-up kitchen tools, it might be time for them to donate the old ones and get an upgrade. Tovolo flex-core spatulas are made from silicone and come in bright colors. Mrs Anderson's measuring cups and spoons are perfect replacements for lost or damaged items (ever had one go through the garbage disposal?). They make perfect stocking stuffers, too! $3-$15
---
Gifts for the hard-to-buy-for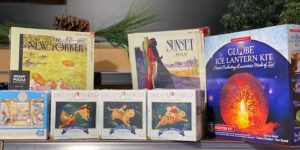 Puzzles | For those spending more time indoors, these unique, artistic puzzles keep brains active. NY Puzzle Co. puzzles are made in the U.S., using soy inks and recycled chip board. They donate 1% of profits to environmental causes, too! $5-$25
Wintercraft globes | These outdoor decorations are a natural way to add whimsy and beauty to your home. Frozen luminary orbs are a family-friendly craft project, relatively quick and simple to do, with beautiful results and outdoor artistry. $15-$30
Treats | You can't go wrong with fair trade, responsibly sourced chocolate and other treats. Consider Hu organic chocolate bars, which are vegan and gluten-free, and Hacienda San Jose chocolate, made from sustainably grown Ecuadorian cacao. $3.99-$5.99
Whatever your holiday looks like, we hope it's a good one — safe, cozy, and meaningful to you.
This article was updated November, 2021
See more holiday gift ideas from 2019.