What Functional Beverages are Right For You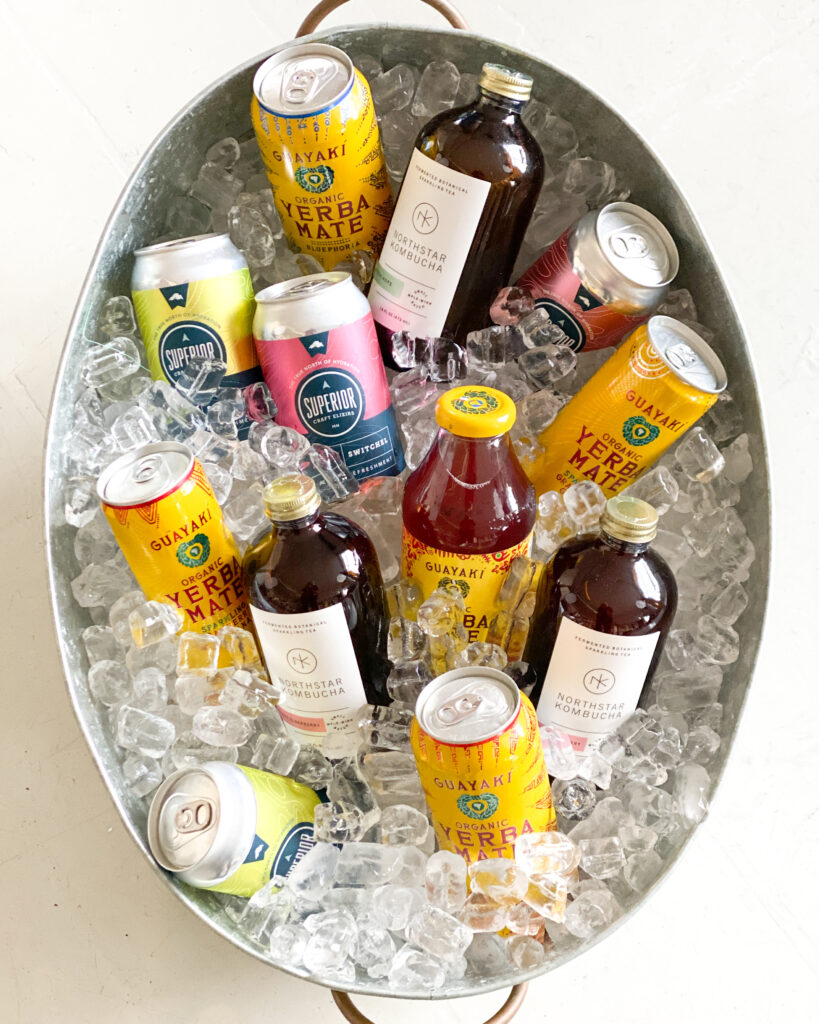 First there was kombucha. Then shots of wheatgrass. Now there are a number of different functional beverage options, from prebiotic gut shots to tonics, and from elixirs to fire cider. (And of course we still have plenty of kombucha!) When you're staying hydrated this summer, it's nice to know which beverages have certain benefits that also support your health goals. While many drinks have ingredients that offer more than one benefit, here's a breakdown to help you decide which functional beverage to try.
Functional beverages for gut health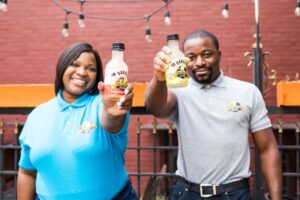 When you're standing in front of the refrigerated "grab and go" drinks, those with ingredients including ginger and turmeric can support gut health. Some functional beverages to try include:
Dabre ginger juice | This locally made ginger juice comes in flavors such as strawberry-ginger and lemon-ginger, so it tastes great while supporting the health of your gut. Refrigerated beverages | $3.99 ea
Ginger People rescue shots | These functional beverage "shots" come in flavor combos such as lemon-cayenne and wild turmeric, and can support digestion, as well as immunity, workout recovery, and energy, depending on the ingredients. Grocery | $2.69-$4.99
Thirty-two Degrees coconut water kefir | Made in Hamel, MN, using certified organic coconuts and ingredients that are vegan, soy- and gluten-free, this fermented kefir comes in blueberry-pomegranate and mango-pineapple. Refrigerated beverages | $2.99 
KeVita probiotic drinks | In flavors such as lemon-ginger, lime-mint, and lemon-cayenne, these sparkling functional beverages contain live probiotics to support gut health. Refrigerated beverages | $3.99
Suja Digestion shot | Suja has a number of shots and juices, including the Digestion blend with ginger and probiotics. Refrigerated beverages | $2.99
Superior Craft elixirs | These sparkling, locally made switchels are made from freshly pressed fruits, so they're tasty and great for hydration while supporting gut health. Grocery | $2.39 ea or $8.99 for a 4-pack  
---
Anti-inflammatory tonics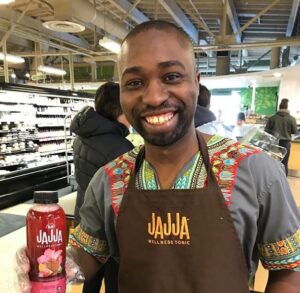 If your goal is to eat (and drink) foods with anti-inflammatory benefits, there's some overlap with the functional beverages that support a healthy gut above. But here are two tonics to consider:
Jajja Wellness tonics | Local maker Henry started Jajja based on recipes from his Ugandan grandmother. The pineapple-ginger and hibiscus-lemongrass are tasty combos that contain ingredients with anti-inflammatory properties. Refrigerated grocery | $5.49 
Goldthread tonics | These plant-based tonics are made using hand-picked herbs from artisanal farmers. Turmeric Radiance, with ginger, lemongrass, cinnamon, and cardamom, is organic, vegan, and gluten-free. Refrigerated beverages | $4.39
---
Drinks for Energy
When you're feeling energy-depleted, you might crave sweets or snacks. A functional beverage that's designed to give you grounded energy can help you get through the day, without a sugar crash. Options include:
Steaz Yerba Mate | These organic beverages have brewed yerba mate, with the Golden Mate flavor containing lemon juice, Coffeeberry fruit, acerola cherry extract, and naturally occurring caffeine for energy and antioxidants. Grocery | $2.69
Koia protein smoothies | With plant-based protein and just 4 grams of sugar per bottle, Koia smoothies have less sugar than most, avoiding a post-drink sugar crash. Grocery | $3.69-$3.99
Guayaki Yerba Mate | These organic beverages come in sparkling or flat and a variety of flavors, such as Lemon Elation, Bluephoria, and Enlighten Mint. Guayaki's yerba mate is grown in the shade in rainforests, helping to prevent deforestation. Grocery | $2.69
---
Functional beverages for immunity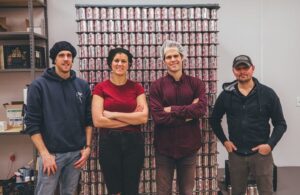 Whether you're fighting off a cold or have a family member who's sneezy, functional beverages with ingredients that support your immune system can be helpful to have on hand.
Forage kombucha | Kombucha has long been known for its fermented, vinegary flavor and probiotic-rich properties. Forage, which is made in Wisconsin, comes in peach, raspberry, blackberry, and other flavors. Refrigerated beverages | $2.49 
Suja shots and sparkling beverages | In addition to the digestion shot above, Suja has other shots with additional benefits, including with vitamins D and C, zinc, reishi, and probiotics, in tasty pineapple, apple, and other fruit juices. They also make sparkling cold-pressed juices for those looking for a drink instead of the smaller shots. Refrigerated beverages | $2.99 – $4.29
Vive shots | Vive makes a few shots to support immunity, including one with elderberry, ginger, and turmeric with pomegranate juice; and one with ginger and turmeric in pineapple-orange juice. Refrigerated beverages | $2.99
Bootlegger & Northstar kombuchas | Two more local kombuchas to consider are Bootlegger, from Apple Valley, Minnesota; and Northstar, out of Minneapolis. Refrigerated beverages | $2.99 and $4.49, respectively 
Shire City Herbals Fire Cider | Found in the Wellness department, this apple cider vinegar is a tonic that you can take as a shot or add to other drinks for a boost of probiotics and antioxidants. Wellness | $13.99 for 8 oz., $19.99 for 16 oz.
---
Other beverages to know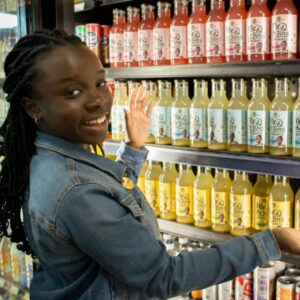 There are other types of functional beverages to note, whether they keep you hydrated or are infused with collagen.
Me and the Bees lemonade | These delicious lemonades hit the spot and keep you hydrated on a hot day. Made after founder Mikaila was stung by a bee and became fascinated with pollinators, a portion of the sales is donated to a nonprofit that advocates for pollinator protection. Sweetened with honey, these lemonades have been a big hit at the co-op since arriving in May. Refrigerated beverages | $2.99
Flow collagen-infused waters | With 10 grams of collagen per serving to support healthy skin, nails, hair, and joints, this watermelon-flavored spring water comes in a recyclable, eco-friendly container. Refrigerated beverages | $3.29
Nooma electrolyte drinks | In watermelon-lime, blueberry-peach, and mango flavors, Nooma is an organic "sports drink" with organic coconut water & organic flavors to hydrate. Grocery | $2.29
---
DIY functional beverages
You can also make your own functional beverages and tweak the recipe per your favorite flavors and health goals.
Ray's Favorite Breakfast Smoothie
1 ½ cups non-dairy milk (unsweetened)
1 scoop Garden of Life Raw Organic Meal (chocolate)
1 Tablespoon P2B Powdered Peanut Butter
1 Tablespoon Laird Superfood Hot Chocolate w/Functional Mushrooms OR ½ Tablespoon Navitas Organics Longevity Blend Cacao+Reishi mix
1 drop vanilla (optional)
1 frozen banana (optional)
Place ingredients in a blender and blend to desired consistency. Adding the frozen banana makes it fruitier and closer to a milkshake.
DIY "Sports Drink"
Sampson, from the Minnetonka wellness department, explains his favorite hydrating sports drink alternative to make.
See the video demonstration of his favorite DIY functional beverage.