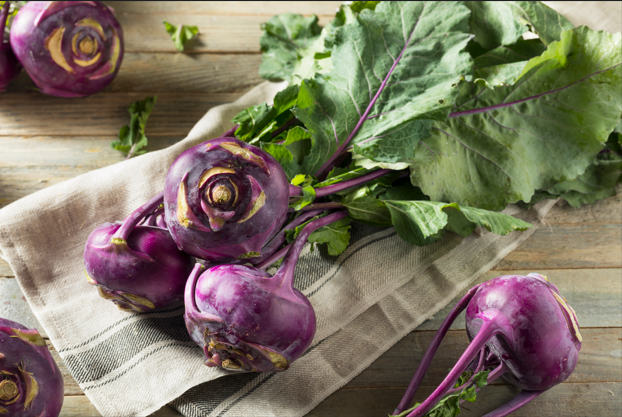 A peculiar looking vegetable with beautiful leaves on long stems growing upward from a round bulb — perhaps you've come across kohlrabi in your grocery store and walked right by because you weren't sure what it was! Or maybe you've seen a recipe for it and wondered "What is kohlrabi?" Kohlrabi is a member of the cruciferous vegetable family and originated in Northern Europe. Vegetables in the same family include broccoli, Brussels sprouts, cabbage, collards, kale, turnips, and more. Kohlrabi can be found or grown in green and purple varieties. Both varieties are a great source of vitamins B6 and C, fiber, and potassium.
Selecting kohlrabi
Sometimes kohlrabi is sold with the stems and leaves attached, and sometimes you'll find just the bulbs. When selecting kohlrabi there are a couple of things to keep in mind. If the kohlrabi has both stems and leaves, you'll want to check for and avoid any yellowing leaves and look for green or purple leaves. The second thing to consider is size — smaller bulbs tend to have more flavor and a better (less woody) texture.

Kohlrabi's flavor
Kohlrabi is crunchy with a delicate pepper zing similar to turnips, yet it's also mild and slightly sweet like cabbage. Kohlrabi translates to "cabbage turnip" from German, a perfect translation when you think about what kohlrabi tastes like!
Uses for kohlrabi
Kohlrabi is a low-calorie, versatile ingredient, making it a great addition to a wide variety of meals. Wash and peel it before using and enjoy it raw or cooked. The stems and leaves are edible and can be used as a substitute for collards, kale, and more. Use kohlrabi microgreens to add a mildly sweet crunch to salads and sandwiches.
---
If you're wondering more about what kohlrabi is and how to use it, here are some kohlrabi recipes to help you get started.

Kohl-slaw
2 cups kohlrabi, shredded or sliced into matchsticks
1 cup carrots, shredded or sliced into matchsticks
2 green onions, sliced
1 Tablespoon olive oil
½ Tablespoon apple cider vinegar
½ Tablespoon lemon juice
½ teaspoon caraway
½ teaspoon fresh dill or dried caraway
Salt & pepper to taste
Add apple cider vinegar, olive oil, lemon juice, and herbs together in a small bowl and whisk until combines. Salt and pepper to taste and set aside. Mix the sliced vegetables together in a bowl, stir in the dressing, and serve.
---

Kohlrabi fries
3 cups kohlrabi, cut into sticks
Olive oil
1 teaspoon Watkins spice mix
Preheat over to 425. Add kohlrabi sticks to a bowl and drizzle with olive oil and spice mix. Stir until kohlrabi is evenly coated, then spread onto a sheet pan in a single layer. Bake for 25-30 minutes, flipping halfway through, until evenly browned as desired. (Note: They won't get as crispy as traditional fries made with potatoes.)
---
More kohlrabi recipes
Roasted Root Veggies with Maple Mustard Glaze from Beth Dooley
Learn more about unique vegetables that you might find at the co-op, including What are sunchokes? and What is yuca?