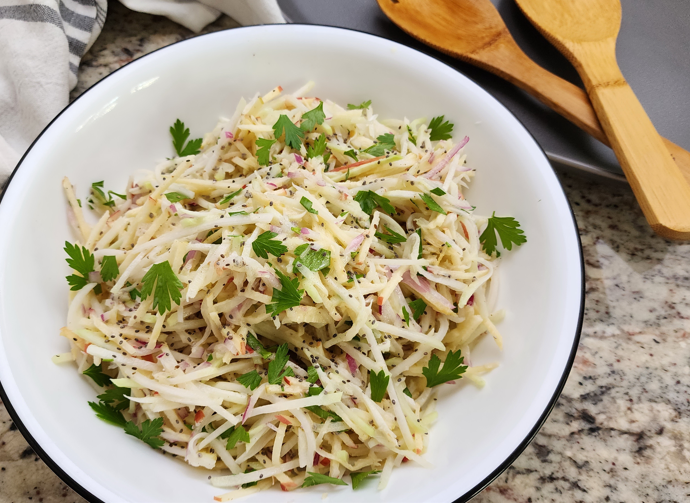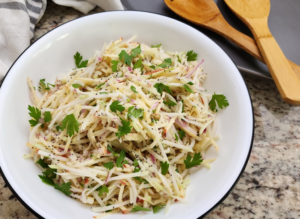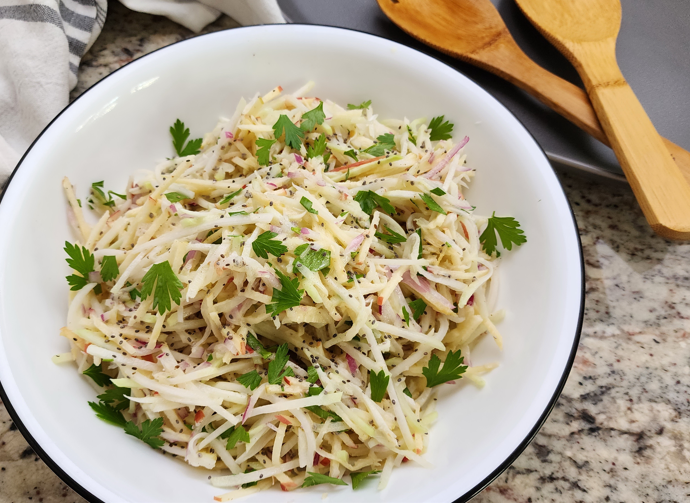 Print
Kohlrabi Apple Slaw
This Kohlrabi Apple Slaw is cool, crisp, crunchy, and absolutely crave-worthy. It's completely delicious on its own, and it's the perfect addition to grilled turkey brats. It's also great with burgers, sandwiches, and tacos of any kind. Serve as a side with grilled chicken, fish, and pork. Do go ahead and double the recipe because one helping is never enough, and any leftovers refrigerate well for two days or more.
Ingredients
Dressing
3 Tablespoons apple cider vinegar
1 Tablespoon neutral oil
1 Tablespoon mayo
2 Tablespoons flat leaf parsley, finely chopped
1 teaspoon Dijon mustard
½ teaspoon honey or sweetener of choice
¼ teaspoon kosher salt
¼ teaspoon fresh ground black pepper
Slaw
2 small kohlrabi, peeled and cut into matchsticks
1 Pink Lady or Granny Smith apple, cored and cut into matchsticks
¼ red onion, thinly sliced and chopped
1 - 2 teaspoons chia seeds
Instructions
Whisk the dressing ingredients together. Add the slaw ingredients to the dressing and toss well to combine.
Enjoy immediately or cover and refrigerate until ready to serve (up to 2 days).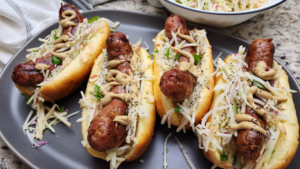 Notes
A mandolin or similar slicer makes this recipe makes this recipe a snap, but a sharp knife will also do the trick. Cutting everything into a small dice also works well.
If using a mandolin or slicer, you may end up with end "scraps" that are unable to go through the blade. Just slice them up by hand and add them to the slaw or cover and refrigerate them to use in other dishes.
The dressing alone is tart and vibrant. When tossed with the kohlrabi, the dressing flavors do mellow a bit and bring wonderful flavor to the finished salad.
Kohlrabi and red onion can be peeled and julienned or chopped up to 3 days ahead. It's best to prepare the apple right before serving. Toss the julienned/diced apple in the dressing first to avoid browning (although slight browning doesn't impact flavor and is not noticeable once the slaw is dressed).