Vegan Entrees for the Holiday
Photo credits: The Tofurky Company, Quorn USA, Field Roast
---
When you're planning your holiday feast, you may opt for family favorites and traditional recipes. If you have a guest coming who has a special diet, there's no need to panic or entirely revamp your menu! The co-op has a variety of vegetarian and vegan entrees you can add to your spread to easily include everyone at your table.
Whether your guest is vegetarian, vegan, or has a special diet, Lakewinds has a variety of plant-based entrees (specific items available while supplies last) to make your dinner more inclusive. We've done the work so you can choose a vegan entree with confidence. Stop by our frozen department to see our current selection of plant-based roasts, and grab some fresh, scratch-made sides from the deli, too! You can host an inclusive dinner without extra work.
Best Beginners Roast & Stuffing: Tofurky Plant-Based Roast with Wild Rice Stuffing
The Tofurky Plant-Based Roast has been a versatile, easy-to-prepare crowd pleaser since 1995.
This roast can be cooked on its own or with vegetables using the simple instructions on the box.

We recommend adding local Driftless Gem potatoes & Featherstone carrots.

This vegan entrée has a texture that's closest to white meat turkey and is wonderful for leftover sandwiches.
The tofurky gravy is sold separately — we recommend adding it!
---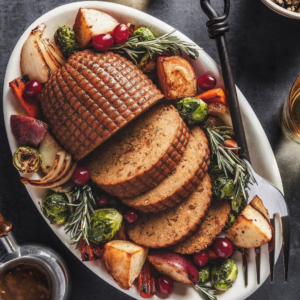 Best Dark Meat Alternative & Gravy: Field Roast Celebration Roast
The Field Roast Celebration Roast is softer and more savory, closer in texture to dark turkey meat.
The roast is stuffed with an aromatic sage and garlic stuffing that complements the indulgent meat substitute well.
The included porcini mushroom gravy is our choice for best-tasting, easiest-to-prepare vegan gravy — and the provided packet makes 2 cups of it, so there's extra for mashed potatoes.

Try it with an unexpected side like our deli's marinated mushrooms or warm mixed olives.
---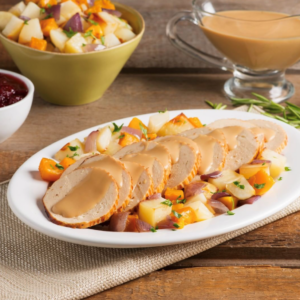 Best Quick & Easy Option: Quorn Meatless Roast (Vegetarian but NOT vegan)
The Quorn Meatless Roast is a smaller, vegetarian roast that cooks in just one hour from frozen, making it a great choice for smaller gatherings or last-minute vegetarian guests.
This roast is unstuffed and breaded similarly to Quorn's other meatless frozen options. The end result is a crispy, sliceable roast that can perfectly pair with brightly flavored sides.

Serve with the deli's fresh cranberry relish.
---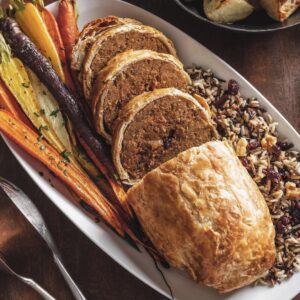 Best Showstopper: Field Roast Hazelnut & Cranberry Plant-Based Roast
For those wishing to impress, Field Roast's Hazelnut & Cranberry Plant-Based Roast is one of the most beautiful, delicious vegan entrees.
The meat substitute is seasoned with rosemary and ginger and surrounded by a vibrant cranberry hazelnut stuffing, which is all encased in vegan puff pastry.
Tip: Brush the pastry with vegan margarine for the last 15 minutes of cooking for a darker, golden crust.

This is a savory, indulgent main dish, so you may opt to balance the richness with one of our deli's freshly made salads as a side.
---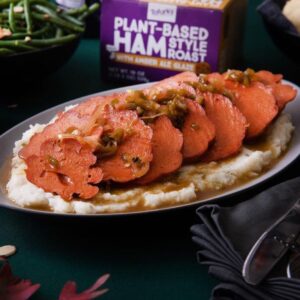 Best "Something Different" Option: Tofurky Plant-Based Ham Style Roast
If turkey isn't your preference, try Tofurky's Plant-Based Ham Style Roast.
The dense, smoky meat substitute is perfect for leftover sandwiches or can be cubed and added to an egg dish.
It comes with a glaze to add while cooking for added flavor and moisture.
---
There's no need to revamp your entire holiday meal plan if someone with a special diet is attending. You can easily add vegetarian or vegan entrées (based on their special diet), a deli side, and a vegan dessert (check the frozen aisle for a number of options). Your holiday meal can include your traditional favorites, with these vegan entrees helping make your table welcoming for everyone!
See simple how-to instructions for making a lovely cheese board this season – you can even make a smaller cheese board with vegan or gluten-free items for your guests with special diets.