Valentine's Day Gifts from the Co-op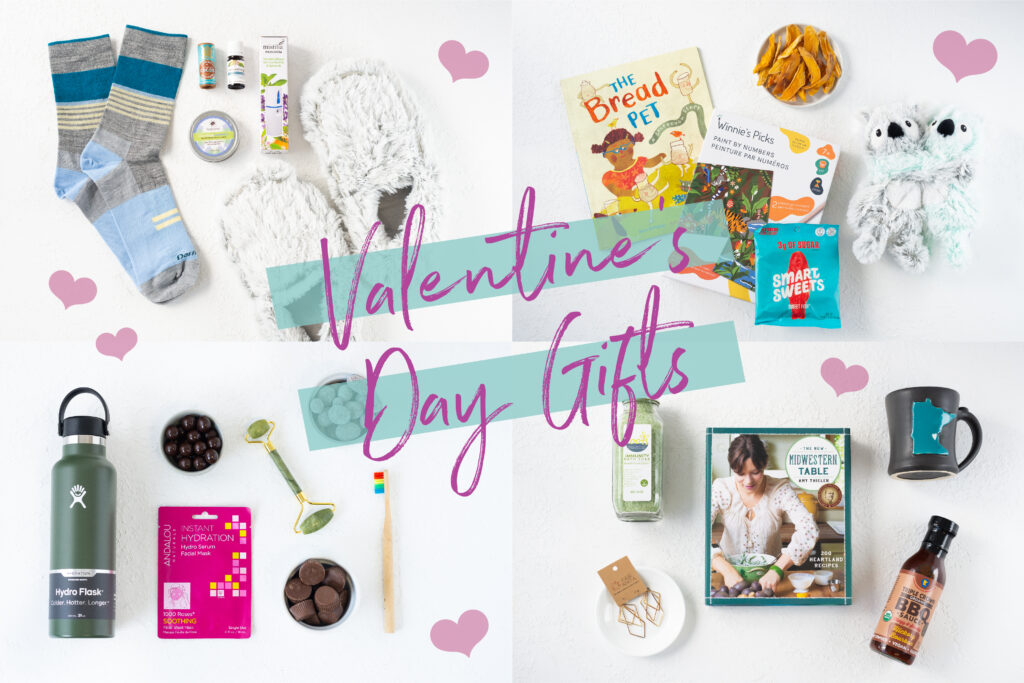 Valentine's Day is almost here! And it's not just for sweethearts: Many people use the holiday as an excuse to show their appreciation for friends, parents, kids, family members, and others who simply make life better. Here are some of our favorite Valentine's Day gifts. From eco-friendly household items to Fair Trade chocolates to luxurious, clean body care, there's something for any special person in your life!
Valentine's Day Gifts for Friends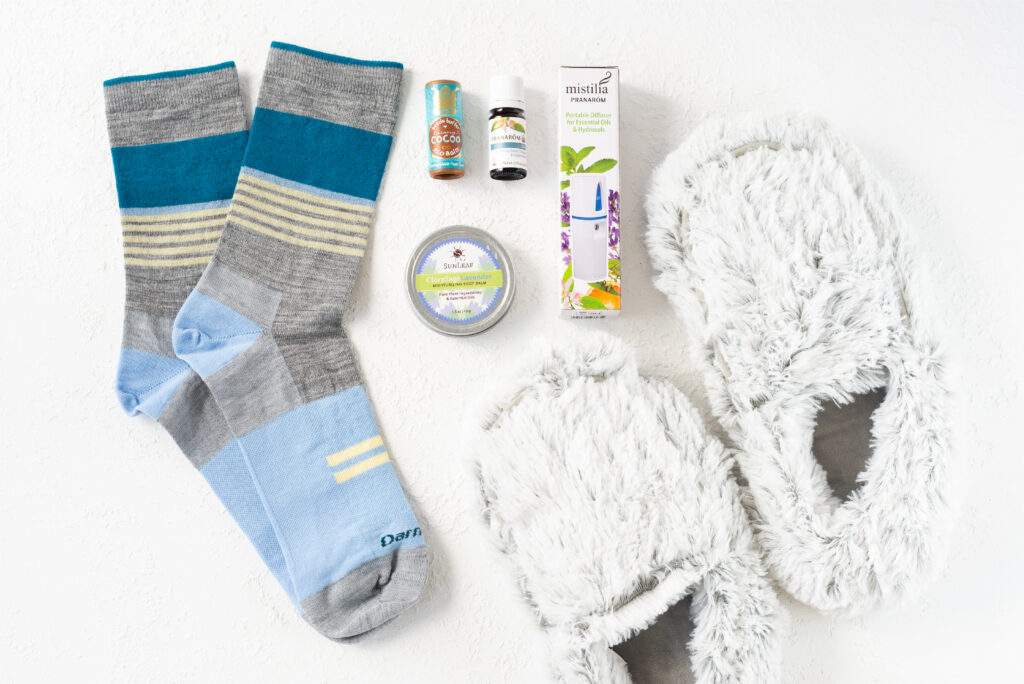 You know whether your friends have a sweet tooth or could use some TLC. These Valentine's Day gifts will encourage them to take time for themselves and stay warm and toasty.
Luxurious lotions are particularly welcome this time of year as winter weather takes a toll on skin. For locally made products, look for North Naturals body butter, SunLeaf body balms, and Beespa hand and foot cream.
Here in the Midwest, we know winter's not ending anytime soon. Keep your friends warm with high-quality woolens, including Darn Tough socks, which are guaranteed for life (available while supplies last).
All chocolate on our shelves is either Fair Trade certified or from companies that clearly prohibit child labor and unfair labor practices. Get your friends delicious chocolate that is sweet for them, and sweet for those who picked the cacao beans, too.
For on-the-go aromatherapy, the USB-rechargeable Mistilia diffuser from locally based Pranarom is easy to use, wherever your friend's day takes them.
Moisturizing lip balms are another "must have" this time of year. Booda Organics balms come in eco-friendly, compostable cardboard containers. A favorite of Wellness staffers is Evanhealy Whipped Shea Butter for Lips.
Warmies slippers are soft, comfy, and can be heated up in the microwave before wearing to keep your friends' toes warm and toasty.
---
Valentine's Day Gifts for Teens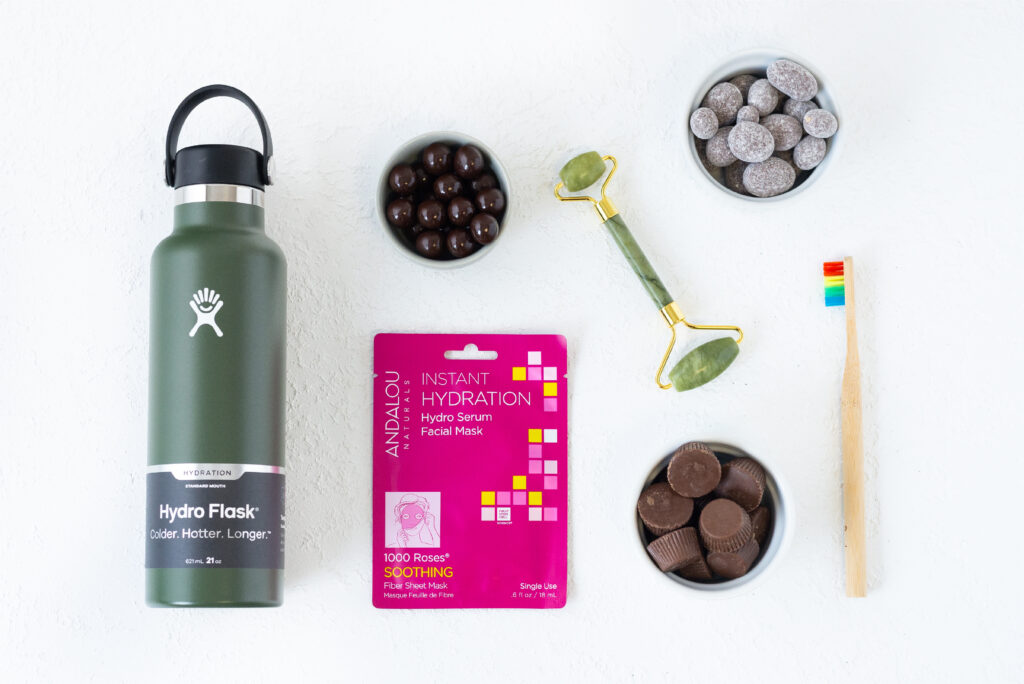 Avoid eyerolls from your teen with gifts they'll love (even if they don't admit it). Our ideas include:
Reusable water bottles from Hyroflask or Klean Kanteen (now made from 90% recycled stainless steel) help your teen stay hydrated and on trend.
Clean body care products, including luxurious lotions, nail polish, bath bombs, and hydrating facial masks, can encourage your teen to take some time for self-care.
Bright, eco-friendly bamboo toothbrushes add a pop of color and are biodegradable, keeping plastic out of landfills.
Crystal facial rollers from Kitsch are used to gently massage the face and help increase circulation
Candies and chocolates from the bulk aisle — get your teen's favorite candies and sate their sweet tooth with less packaging. Buy their favorites (separately) and then blend them together for custom, sweet treat.
---
Valentine's Day Gifts for Parents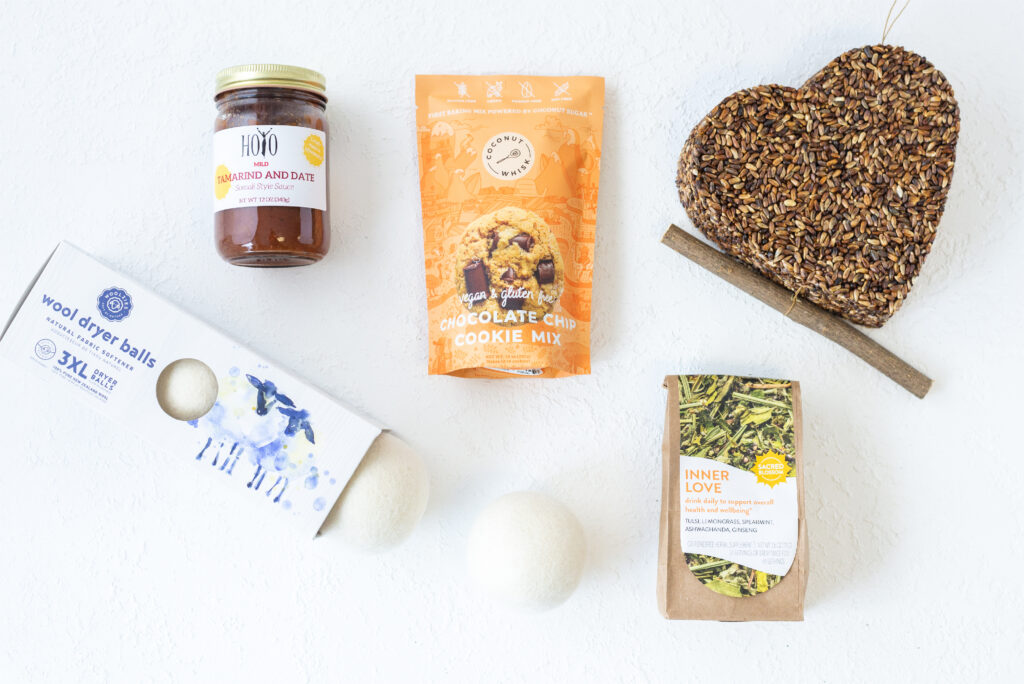 Parents can be hard to buy for, particularly if they already have everything they want. These ideas can make cooking more enjoyable or help them make eco-friendly choices.
Fun and unique condiments make dinner prep more fun! If your parent likes to cook, consider getting them a few unique condiments, such as Bachans Japanese barbecue sauce, or a local sauce, including Hoyo tamarind date sauce, Maazah aioli chutney, or GRLK sauce.
Items that are better for the earth make great gifts, too, like wool dryer balls. Add a favorite essential oil to the gift and it will replace dryer sheets for years while keeping laundry smelling nice and feeling soft.
Baking mixes help busy parents make something special, fast and easy, with many options for special diets. From brownies to cookies to pumpkin bread, they'll love having an excuse for something delicious, fresh from the oven.
A warming cup of tea can be just the thing to ward off winter's chill. Parents of all ages will love the unique, flavorful tea blends you can find at the co-op. From locally grown Sacred Blossom Inner Peace tea to local Wellcova's Blissful Belly tea, these holistic blends will elevate their tea ritual.
Decorative, heart-shaped birdseed feeders from Jules Loft are beautiful and help your parents' favorite feathered friends during the cold last month or two of winter.
---
Valentine's Day Gifts for Kids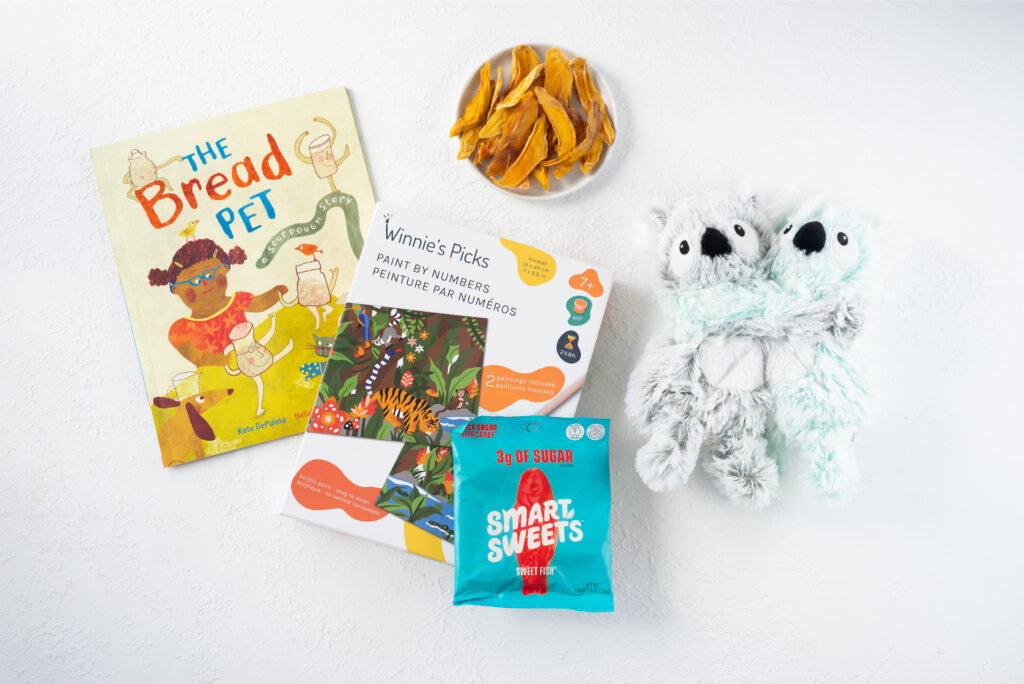 Kids get so excited for the day, whether they're celebrating at school or daycare or at home with you. Here are some favorites for your littlest valentines.
Snuggling down with your little one and a book is a true joy. The co-op has a rotating selection of children's books for you to browse and share.
Stuffies from Warmies are cuddly soft – there are even some that hug each other, perfect for Valentine's Day gifts.
Find sweet treats that kids love and you love giving. Lakewinds' product standards mean that the food sold throughout the store has no artificial flavors, no artificial colors, no high fructose corn syrup, no hydrogenated oil. The kids in your life might enjoy dried mango or papaya, fruit chews, crackers, and more treats at the co-op.
If the kiddo in your life likes art, show you care with some art supplies! Find a selection of markers, coloring books, and other kid-friendly items.
---
Valentine's Day Gifts for Significant Other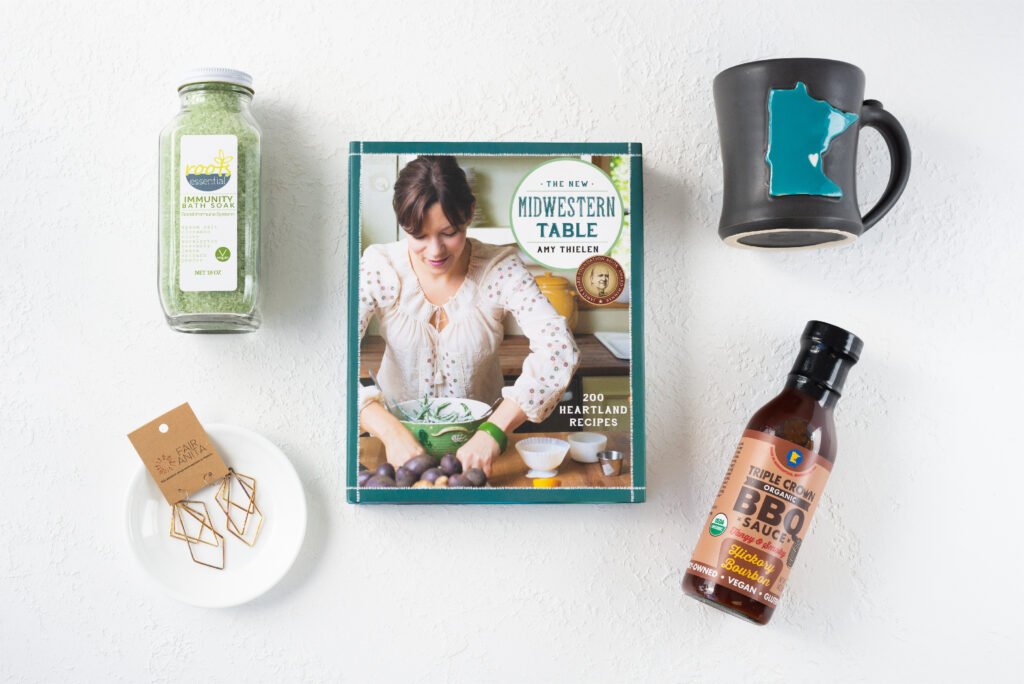 Last but not least, don't forget about your sweetheart! While you're picking up groceries, get their gift at the same time for an easy win.
Who doesn't love a night off from cooking? Check out the deli's selection of ready-made mains and sides, including maple glazed salmon, twice-baked potatoes, spinach pie, chicken almond salad, and more. Add on a delicious dessert made by the Bakehouse and your meal is done.
The co-op has a lovely selection of jewelry that's fairly, equitably made. Like locally based Fair Anita, which empowers women artisans around the world through jobs with dignity that pay a livable wage.
Your valentine might also like a bath soak, hydrating soap, or luxurious lotion. Find a range of clean skin care items that encourage them to take time for themselves.
Find interesting cookbooks, helpful cooking utensils, lovely bakeware and more for valentines who love to cook and bake.
If your valentine is longing for days on the deck grilling, get them ready with barbecue sauces, marinades, and rubs. Triple Crown barbecue sauce is a local favorite.
Make any morning better with a new, locally made mug and a coffee blend for your valentine.
Whether you're looking for a little gift for a friend or a special present for your significant other, find unique Valentine's Day gifts at the co-op!
If you're looking for activities and things to do together, see 10 Valentine's Day Ideas That Make the Day Special.