Lentil and Cauliflower Tacos with Avocado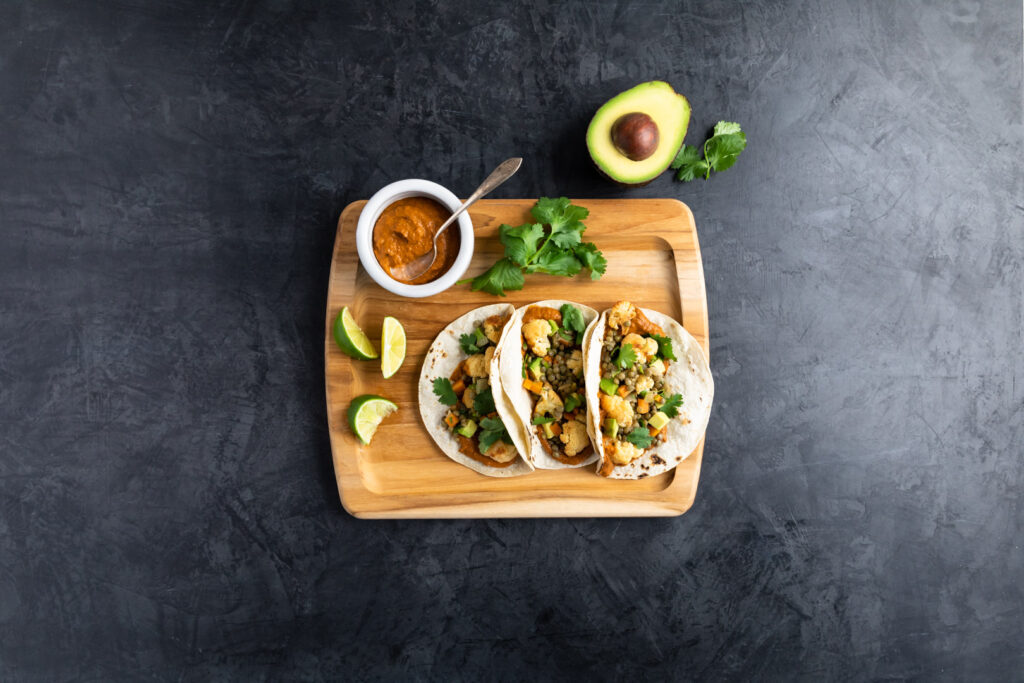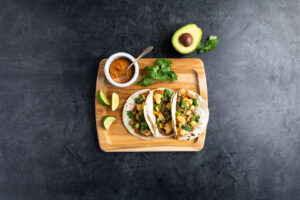 Print
Lentil and Cauliflower Tacos with Avocado
Yield 8 servings
These vegetarian tacos are made with roasted cauliflower, marinated lentils, and a curry mole sauce are a tasty, healthy, and quick dinner solution!
Ingredients
1 medium head cauliflower (2 lb), trimmed, separated into florets
2 tablespoons Riojana or California Olive Ranch olive oil
1/2 teaspoon salt
1/2 teaspoon ground cumin
1/2 teaspoon chili powder
8 yellow corn tortillas, heated as directed on package
1/4 cup Freak Flag Foods Curry Mole Sauce
1 1/2 cups Lemony Marinated Lentils
1/2 medium avocado, pitted, peeled and coarsely chopped
1/4 cup chopped fresh cilantro
Instructions
Heat oven to 425°F. Place cauliflower florets in a large bowl. Drizzle with 2 tablespoons oil; sprinkle with 1/2 teaspoon salt, cumin, and chili powder. Stir until evenly coated. Arrange on a large cookie sheet. Bake 15 minutes; stir. Bake 15 to 20 minutes longer or until cauliflower is tender and browned.
Spoon sauce on each tortilla; top with about 1/2 cup roasted cauliflower and 2 tablespoons marinated lentils and avocado. Garnish with fresh cilantro, if desired. Serve with remaining lentils.
Make it your own: add marinated tofu, cooked ground turkey, or steak for some added protein.
The cauliflower can be made ahead and refrigerated.