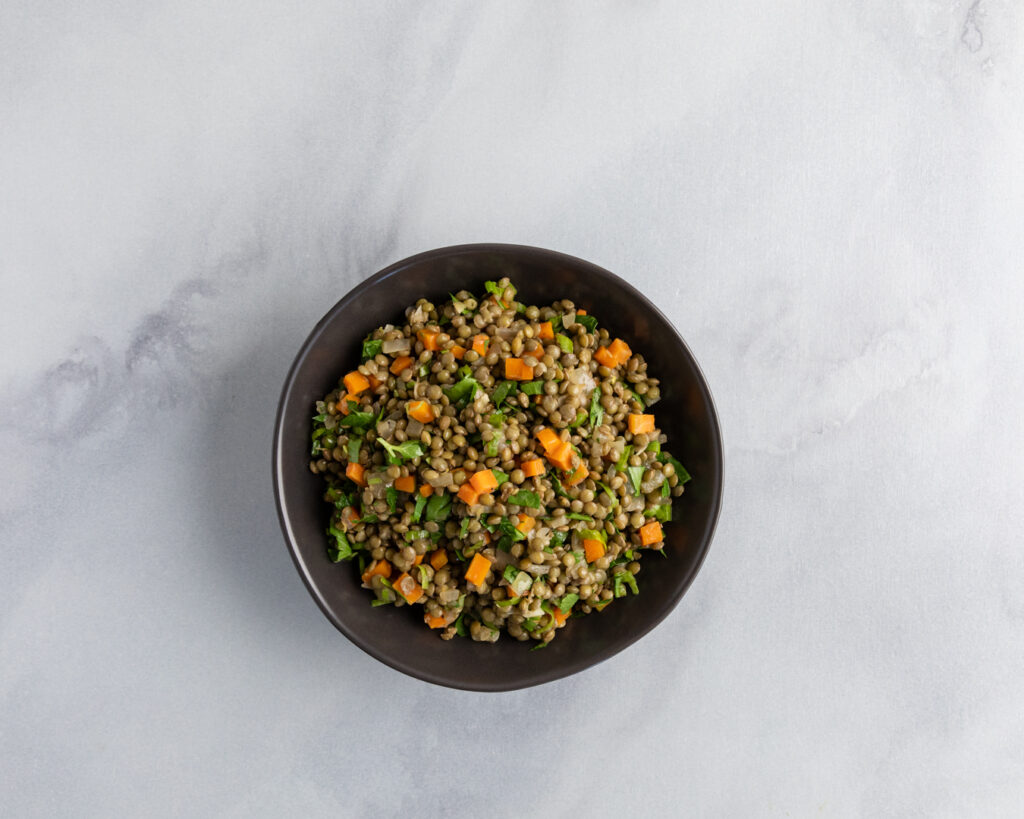 Lemony Marinated Lentils
Yield 9 cups
This big batch of flavorful lentils are healthy and delicious on their own but can be used as a base for tasty meals with minimal effort all week long.
Ingredients
6 cups bone broth
3 cups dried French green or black beluga lentils sorted, rinsed
2 carrots, finely chopped
1 medium yellow onion, finely chopped
2 cloves garlic, finely chopped
4 tablespoons olive oil, divided
1/4 cup red wine vinegar
2 tablespoons lemon zest
2 tablespoons fresh lemon juice
1 tablespoon Dijon mustard
2 teaspoons pure maple syrup
2 teaspoons salt
1/2 teaspoon pepper
1 bunch green onions, thinly sliced
1/2 fresh parsley leaves, finely chopped
Instructions
In a medium saucepan, heat broth and lentils to boiling. Reduce heat; simmer lentils until they are just tender yet hold their shape and have absorbed most of the broth, 18 to 22 minutes; drain well.
Meanwhile, in a medium saucepan, heat 1 tablespoon of the olive oil over medium heat, add the carrot, onion, garlic, and cook stirring frequently 5-6 minutes or until tender.
In a large bowl, whisk together the remaining 3 tablespoons olive oil, vinegar, lemon zest, lemon juice, mustard, maple syrup, salt, and pepper. Add the cooked lentils, carrot mixture, green onions, and parsley and gently toss to combine.
Serve immediately, or let cool slightly and then cover and marinate in the fridge for a couple hours or overnight. Stir well before serving.
Notes
Use this as a base recipe for: