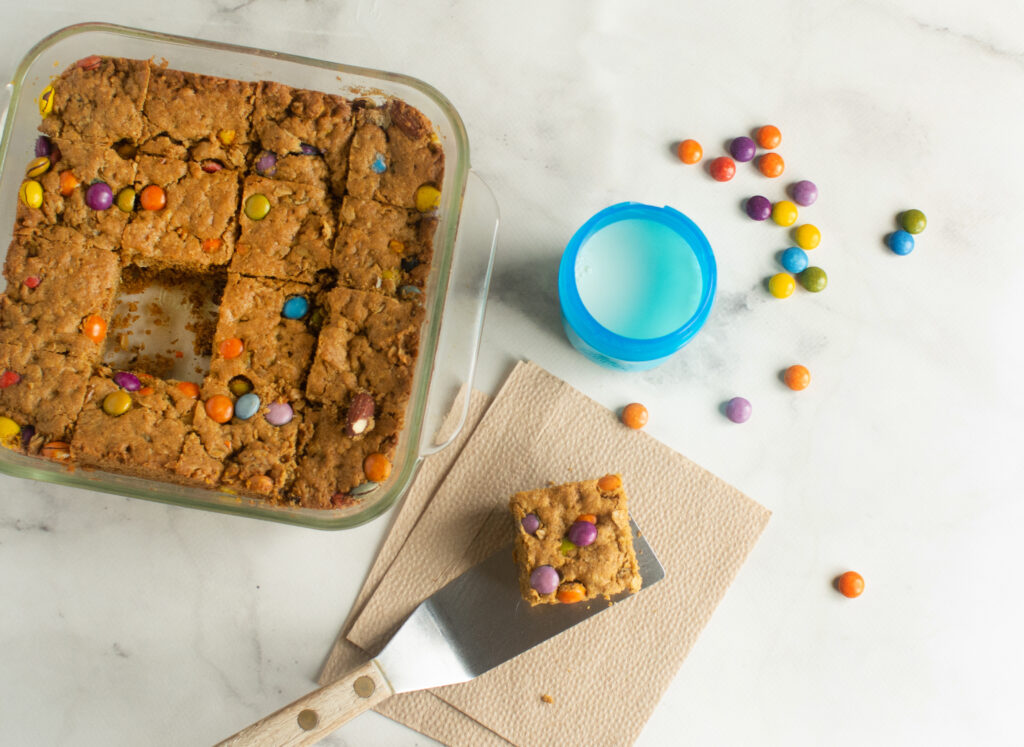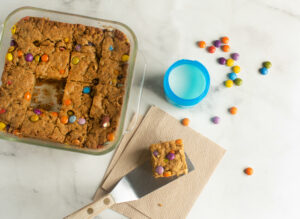 Print
Kernza® Monster Bars
Yield 16 bars
Ingredients
1 cup Perennial Pantry Kernza® flour
¾ cup all-purpose flour
1 teaspoon baking soda
Pinch of salt
1 cup granola
2 eggs
¾ cup (about 1-1½ sticks) butter, melted and cooled
⅓ cup dark brown sugar 
⅓ cup organic nut butter of your choice
1 teaspoon vanilla
1 cup Rainbow Drops, divided (find these in the bulk aisle)
½ cup golden raisin or other dried fruit (optional)
Instructions
Preheat oven to 350°. Grease an 8" x 8" baking pan using cooking spray, butter, or oil.
In a large bowl mix together the Kernza flour, all-purpose flour, baking soda, and salt. Add the granola and, using your fingers, break up any large chunks. In a smaller bowl, mix the eggs, butter, brown sugar, nut butter, and vanilla. Add it to the dry mixture and stir in half of the Rainbow Drops and dried fruit (if using).
Spread the batter into the greased baking pan. Top with the remaining Rainbow Drops, pressing them into the batter to prevent crumbling. Bake for 27-30 minutes, until the bars are golden on the edges and soft in the center. Be careful not to overbake.
Cool the bars completely in the pan, then invert onto a cutting board and divide into square.