Greek Chicken Bowl with Kernza Grains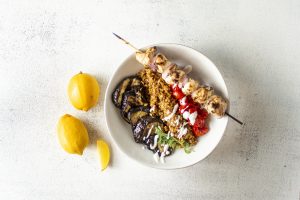 Print
Greek Chicken Bowls with Kernza Grains
Yield 4 servings
Ingredients
1 lb. chicken breast, cut in 1-1/2" pieces
1 - 2 eggplant, sliced into planks
1 pint cherry tomatoes
½ red onion, cut in half, separated into layers
Oregano and lemon wedges for garnish
1 cup Perennial Pantry Kernza® whole grains (soaked and cooked to package directions)
Marinade
½ cup Salad Girl Lemony Herb Vinaigrette & Marinade
Pinch of kosher salt
Zest of one organic lemon
3 cloves garlic, minced or grated
2 tsp fresh oregano, minced (or 1-1/2 teaspoons dried oregano)
½ tsp Kosher salt and fresh cracked black pepper to taste
Lemony Herby Yogurt Sauce
1/2 cup greek yogurt
2 Tbsp Salad Girl Lemony Herb Vinaigrette & Marinade
1 oz. fresh feta cheese, crumbled
Combine the sauce ingredients in a small bowl. Reserve sauce for drizzling over bowls.
Instructions
Combine the marinade ingredients in a medium-sized bowl.
Place the sliced eggplant and tomatoes on a rimmed sheet pan and brush all sides with half of the marinade. Slide the tomatoes onto skewers*.
Place cubed chicken in the bowl with remaining marinade, and let sit at room temp for 30 to 45 minutes (or up to 8 hours in the refrigerator). After marinating, thread the cubed chicken onto the soaked skewers, alternating each piece with a slice of red onion.
Heat your grill (or stovetop grill pan) to medium-high. Grill the sliced eggplant until tender and the slices acquire grill marks. Remove to a plate. Place the tomato skewers on the grill for about 3 to 4 minutes. Tomatoes grill up quickly — keep an eye on them so they don't fall off the skewer. You are just looking for a bit of char on the tomatoes. Set aside on a plate.
Grill prepared chicken skewers, turning every few minutes for a total of about 10-12 minutes, or until internal temperature reaches 160° F. Set aside.
Assemble bowls: Start with a scoop of the cooked Kernza Grain, a skewer of chicken, and the grilled vegetables. Garnish with oregano, lemon slices, and a drizzle of the Lemony Herby Yogurt Sauce.
*Soak the wooden skewers in water for at least 1 hour before grilling.