Chef Austin Bartold's Bison Ribeye Steaks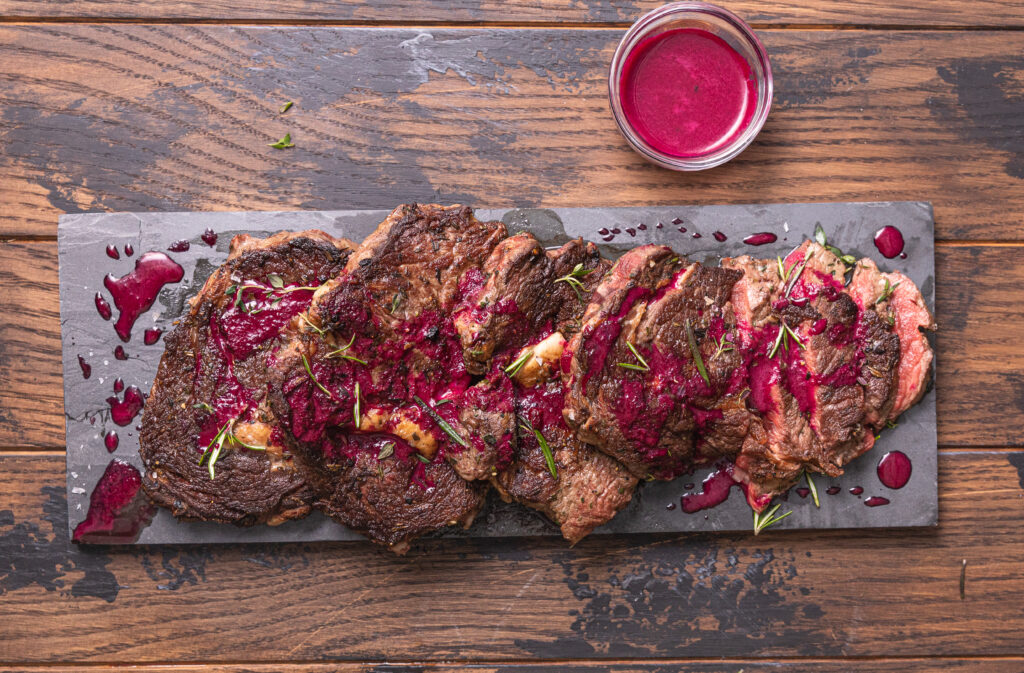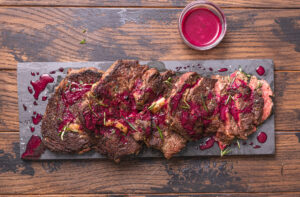 Print
Chef Austin Bartold's Bison Ribeye Steaks
Long before cattle were introduced, wild bison grazed Minnesota's prairies. This locally sourced recipe was crafted by Chef Austin Bartold and merges his classical culinary training with his Anishinaabe and Oneida heritage. Serve it alongside Chef Austin's Roasted Root Vegetables and Wild Rice Pilaf for a 5-star meal highlighting some of the best locally sourced and native-to-Minnesota ingredients.
Ingredients
For the steaks:
4 (8 oz.) bison ribeye steaks
2 sprigs fresh rosemary, chopped
3 sprigs fresh thyme, chopped
1 clove garlic, minced
⅛ teaspoon kosher salt
⅛ teaspoon black pepper
⅛ teaspoon vegetable oil
For the Beet Honey Drizzle
2 red beets, cut into ¼-inch pieces
1½ cup honey
¾ Tablespoon kosher salt
Instructions
Boil beets for 25 minutes or until fork tender. Add to blender with honey and salt and puree until smooth. Add a splash of beet water from the pot to thin if needed. Set aside.
Heat a small, well-seasoned cast iron skillet over medium high heat. Combine herbs, garlic, salt, pepper, and oil and rub into steaks. Add to the hot pan. Sear steaks for 3-4 minutes, then flip and cook another 3 minutes for medium-rare, or longer for desired doneness. Place steaks on a plate to rest for about 5 minutes.
Top with Beet Honey Drizzle and serve along with Chef Austin's Roasted Root Vegetables and Wild Rice Pilaf.