Seasonal Produce Pairings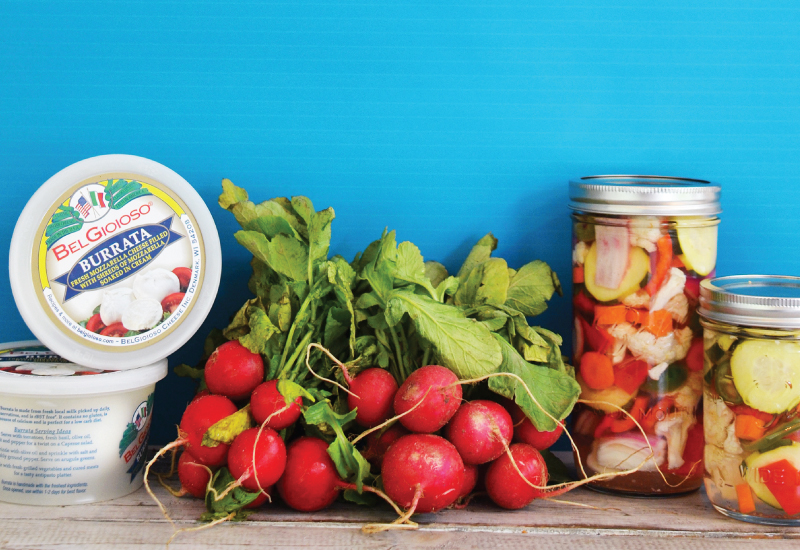 Fresh ways to serve up the season's hottest flavors.
Burrata
Made from either cow or buffalo milk, burrata is a variety of fresh mozzarella cheese  formed into a pouch and filled with soft, stringy curd and cream. Cutting into a ball of burrata releases the creamy interior, and eating burrata is often described as "eating fresh milk." Pair it up with heirloom tomatoes and basil, or try it with herbs, greens and even fruit.
With watermelon and Arugula Salad: Cover a plate with arugula and drizzle with olive oil and lemon juice. Place one large or several small balls of burrata on top of greens, then surround with cubes of watermelon. Finish with freshly cracked black pepper, and serve with crusty bread.
With Heirloom Tomato and Fresh Herbs: Using whole herb leaves, toss together basil, parsley, cilantro, tarragon, chervil, chives, dill, lemon balm – whatever's in your garden or at the co-op. Surround a ball of burrata with the herb salad and wedges of colorful heirloom tomatoes. Drizzle with a fruity olive oil-and-balsamic vinegar dressing and sprinkle with salt and pepper.
Radishes
This annual garden favorite is more than a salad ingredient. There are numerous varieties of radishes: French breakfast, Daikon, Cherry Bell, Easter Egg and Watermelon (sometimes called Beauty Heart). From mildly sweet to very spicy, there's a radish to please every palate and a preparation for plenty of meals and snacks. Did you know you could even eat the greens?
Appetizer: For a light and simple starter to any meal, take sliced baguette or crackers, spread with Hope Creamery Hi Fat butter, top with thinly sliced radish, and finish with a sprinkling of flaky sea salt.
Roasted: Cut radishes in half, toss with olive oil, salt and pepper, place cut side down on a  baking sheet and roast in the oven at 450° for 18-20 minutes, stirring occasionally. Finish with a squeeze of fresh lemon juice and some minced chives.
Beyond the Pickle
When the produce department and your garden are bursting with abundance, make a batch of quick pickles using this simple brine recipe — no hot-canning or special equipment necessary.
What can you pickle? Nearly everything! Go beyond cucumbers and try onions, carrots, cauliflower, radishes, peppers, zucchini, beans or asparagus. The solution for a fridge full of odds and ends: pickle a jar of chopped and pickled mixed vegetables to make your own "giardiniera."
This basic brine recipe makes enough for 2 quart-size jars of pickles. It's a typical "half-sour" combination, but you can use less sugar if desired.
Instructions
1) Make a brine using 2 cups white vinegar, 2 cups water, ½ cup sugar (or less), and 4 tablespoons sea salt.
2) In a large sauce pan, bring brine to a simmer.
3) Place washed and sliced or chopped vegetables into jars. Using a wide-mouth funnel, ladle hot liquid into jars and leave ½ inch space at top. Screw lids on tightly and immediately turn upside down on counter top. After one hour, transfer to refrigerator. Best after a few days, terrific after a few weeks.
Flavorful add-ins: Whole heads of dill. Sliced onion. Peeled garlic cloves. Chili flakes or whole dried chilies. Bay leaves. Pickling spice blend. Mustard seed or celery seed. Peppercorns.