Plastic-Free Shopping Tips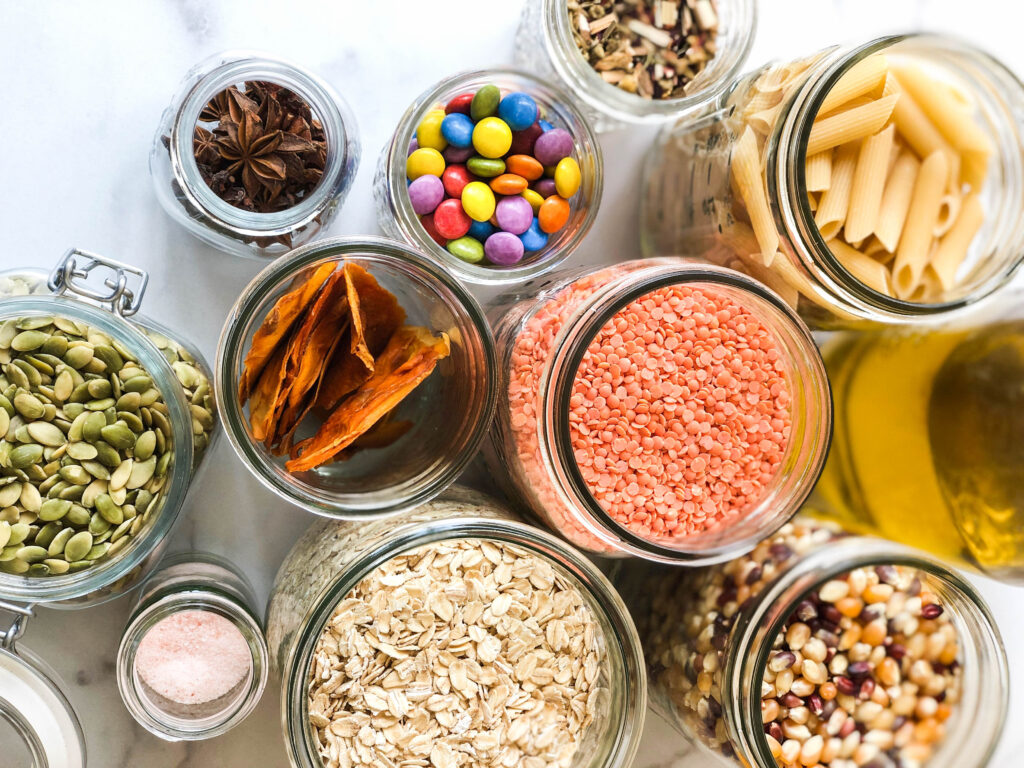 Plastic packaging is everywhere. It's a significant problem because, despite recycling efforts, the vast majority of plastic waste in the US doesn't get recycled. The best ways to make an impact are: reduce the amount of packaging you buy and reuse plastic whenever possible. Zeroing in on these two goals is key to shopping plastic free.
At the co-op, we're always striving to make eco-friendly shopping easier. Here are some top tips for shopping plastic free.
Produce:
Skip the bag. Many produce items like bananas, citrus, and avocadoes come with natural protection, so you don't need to bag them. You can also skip the bag if the item is getting cooked.
Bring bags from home. Cotton mesh or muslin bags are perfect for produce that's eaten as-is, like apples, kale, and scallions. If you must use plastic, paper, or compostable produce bags, consider saving them to reuse during future visits.
Buy whole fruits and veggies. Chopped and prepared produce is usually packaged in plastic. Reduce your footprint by buying whole and chopping it yourself. In addition to reducing your footprint, you'll get extra knife practice!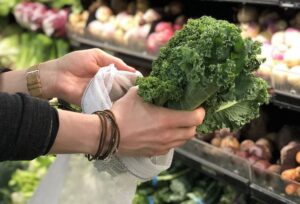 Bulk:
Bring your own jars and containers. Put together your own bulk shopping kit with mason jars, containers, and linen bags to use for items you buy in the bulk aisle. Visit the customer service desk for help with properly weighing and labeling your from-home containers. We also offer a variety of bulk soaps for laundry, dishes, and personal use in the cleaning aisle at our Minnetonka and Richfield stores (sorry, not available at Chanhassen).
Buy just what you need. Buying prepackaged spices, grains, and beans can leave your pantry filled with extra food (and plastic). One of the cools things about the bulk aisle is that you can buy exactly what you need, reducing the chances that food will go to waste.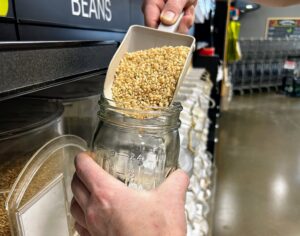 Meat and Seafood:
Shop from the service counter. The steaks, shrimp, chops, and fillets you buy from the counter are wrapped in biodegradable (but not compostable) waxed paper. While this paper ends up in the trash, it breaks down naturally (unlike plastic). Due to food safety regulations, we are currently unable to accept reusable containers for meat and seafood items.
Wellness:
Choose better packaging. Many brands in the wellness department skip plastic packaging. Look for deodorant, floss, and shampoo bars packaged in recycled and compostable cardboard.
Choose better materials. Instead of plastic, seek items made from renewable and biodegradable materials. For example, you can find everyday items like toothbrushes, clothing, and kitchen utensils made from fast-growing, water-saving, earth-friendly bamboo.
Skip the liquid. Products like shampoo and conditioner are usually made from mixing dry, active ingredients with water and bottling it up in plastic. Companies like local HiBAR have created salon-quality hair care soap bars packaged in recycled and compostable cardboard. In addition to reducing plastic waste, bar shampoo is much lighter than liquid, reducing its carbon footprint when transporting it to stores and homes.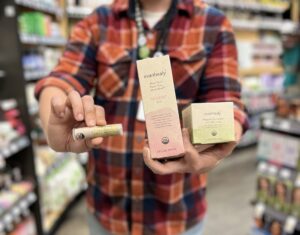 Deli:
Go compostable. Ask for a compostable to-go box when ordering from the deli counter. These containers work just as well for most entrées and sides and can be thrown in a commercial compost bin or composted at home. If you do choose plastic containers, wash them out and reuse them — they make excellent bulk containers!
General Tips:
Bring your reusable tote. Paper and plastic single-use shopping bags are not great for the environment. We recommend keeping a variety of reusable totes in your car, purse, or backpack so you're always prepared. Forgot your tote? Lakewinds sells a variety of environmentally friendlier tote options! Choose from organic cotton totes, which require far less water and resources to make than paper and conventional cotton bags (and are biodegradable), and two options made from recycled water bottles.
Make your own cleaning solutions. Mixing your own surface and floor cleaners is easy and allows you to reuse the same plastic or glass spray bottle over and over. We sell concentrates and tablets for making cleaners at home. Or create your own using dish soap, water, and peppermint, lemon, or orange essential oils.
Skip the liquid (Part 2). Like liquid shampoo, liquid laundry detergent is packaged in large plastic bottles. Ditch the liquid soap and opt for powdered laundry detergent packaged in recyclable and biodegradable cardboard. You can also go extra-green with laundry detergent sheets that require very little packaging and can be transported with a minimal carbon footprint.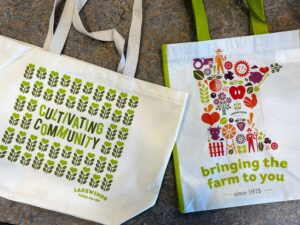 ---
Learn about how co-op brands are ditching plastic in our interview with HiBAR shampoo and conditioner co-founder Nora Schaper. Interested in more shopping tips? Learn about budget shopping at the co-op!