New at the Co-op, November 2020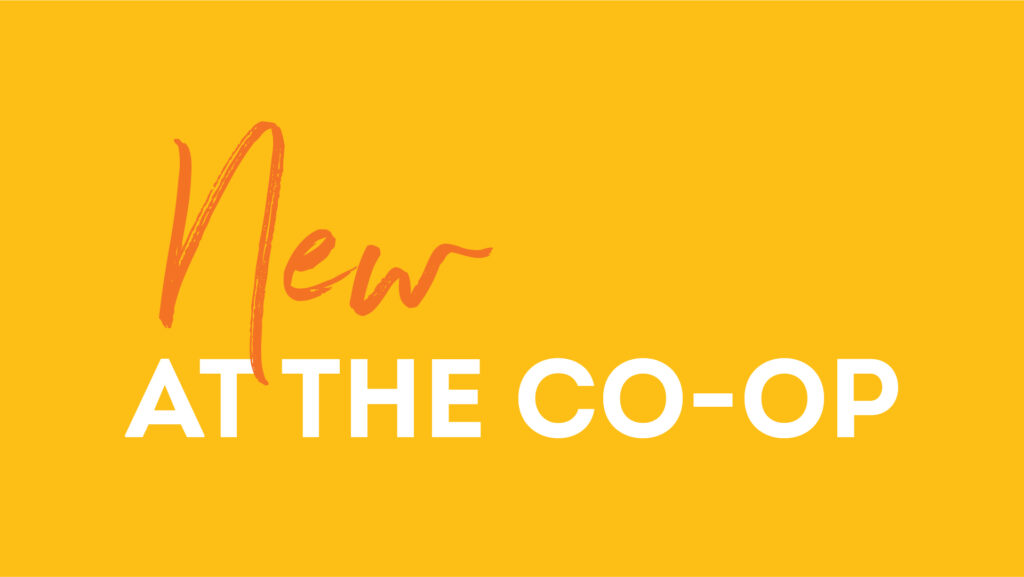 We're always adding great new items from local makers, farmers, and growers. Read on to learn about what's new at the co-op for November, 2020!
GROCERY
---
Coffee Solidarity blend from Just Coffee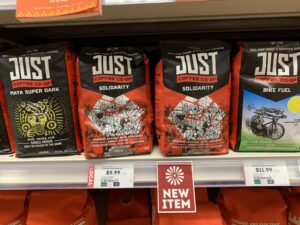 Just Coffee is a B-Corp certified roaster that sources organic, Fair-Trade coffee from around the world. Solidarity is a single-origin, value-priced co-op exclusive blend with notes of caramel, vanilla, and milk chocolate.
Look for it on the packaged coffee shelf for $9.99.

---
Happy Tummiez from Go Squeez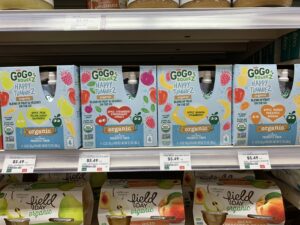 These gut-friendly juice blends are conveniently packaged for toddlers and boast 2.5 grams of prebiotic fiber per serving. Available in bold, nutrient-dense combos like Apple Strawberry Pomegranate Spinach and Apple Pear Yellow Carrot Raspberry.
Find them with baby food, $5.49 each.
---
WELLNESS
---
Cosmetics from Evan Healy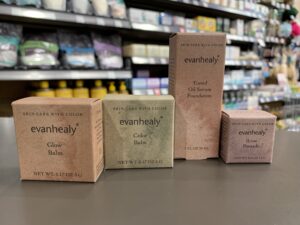 Organic beauty products free from preservatives, parabens, artificial fragrances, sulfates, and silicon. Evan Healy is women-owned and sourced from small family farms and co-ops.
Find them in Wellness, $9.99-$29.99.
---
MegaFood Relax + Calm Magnesium Chews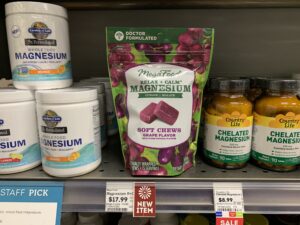 These grape-flavored soft chews are designed to help ease muscle tension and promote a sense of calm and relaxation. They're also vegetarian and gluten-free.
Look for them in the Wellness department, $17.99.
---
HOLIDAY ITEMS
---
As we enter into the holiday season, you'll find many new and returning seasonal items to help you celebrate!
Grocery
Boom Chicka Pop Seasonal Flavors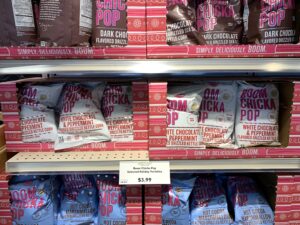 New festive and seasonal flavor combos like Pumpkin Spice, White Chocolate and Peppermint, and Marshmallow Hot Cocoa from Angie's are now available. Angie's Boom Chicka Pop is made locally in Osseo.
Check for them on end-caps and in the snack aisle, $3.99.

---
Festive flavorings for your morning coffee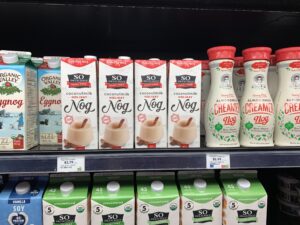 We've got plenty of options, including:
Eggnog from Organic Valley, $5.49.
Nog-flavored Almond Milk Creamer from Califia, $5.99.
Coconut Milk Holiday Nog from So Delicious, $3.79.
Snickerdoodle Oat Milk Creamer from So Delicious, $3.49.
Peppermint Mocha Almond and Coconut Milk Creamer from Nutpods, $4.49.
Cinnamon Swirl Oat Milk Creamer from Nutpods, $.4.49.
---
Meatless Holiday Entrees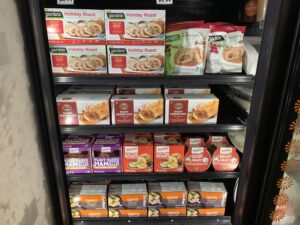 For our vegetarian and vegan friends and family, we've got plenty of flavorful roasts and meat-free alternative entrees that are sure to please.
Look for them in the frozen section.
Gardein Savory Stuffed Turkey, Meatless Holiday Roast, $9.99 and $18.99.
Quorn Meat Free Turkey, $7.99.
The Field Roast Grain Roast Hazelnut Cranberry, $15.49.
Tofurky Mush Giblet Gravy $4.99, Vegan Roast $12.99, Ham Style Roast $12.99.
---
Frozen Holiday Desserts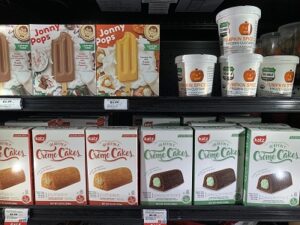 This year skip the baking but not the flavor. We've got a number of delicious frozen holiday desserts to enjoy, including for special diets.
Find them in the frozen aisle.
Katz Gluten-Free Bakery Pumpkin and Peppermint Creme Cakes for $5.99.
Pumpkin Pie and Peppermint Hot Cocoa Johnny Pops for $4.99.
---
Wellness
Holiday-themed Froth Bombs, Lotions, and Soap Slime from Pacha Soap Co.

Pacha soaps are handmade in the USA, cruelty-free, and free from synthetic fragrances, parabens, and sulfates. Their holiday offerings make perfect stocking stuffers for everyone on your shopping list!
Look for the whole line in the Wellness department, $5.99-$10.99.
---
Ornaments from dZi Handmade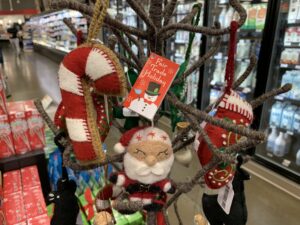 Made with care from certified Fair Trade textiles, these adorable ornaments and Christmas stockings are an annual favorite at the co-op.
Look for them in the holiday display at your local store, $6.99-$39.99.
---
USA Pans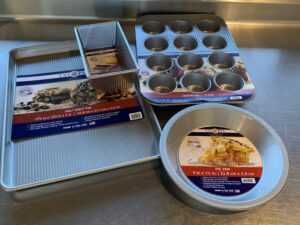 Pans for all your holiday baking needs made with domestic materials in America's steel capital, Pittsburgh.
Find them with cooking supplies, $14.99-$20.99.
---
Cookie Cutters from Ann Clark

Made in the USA since 1989, these cute and durable cookie cutters are available in several seasonal designs.
Available with cooking supplies, $1.49 each.
Read more about why we think supporting local is so important, and keep checking back every month to see what new items have been added to our shelves!