A Chat with Lakewinds Cheesemongers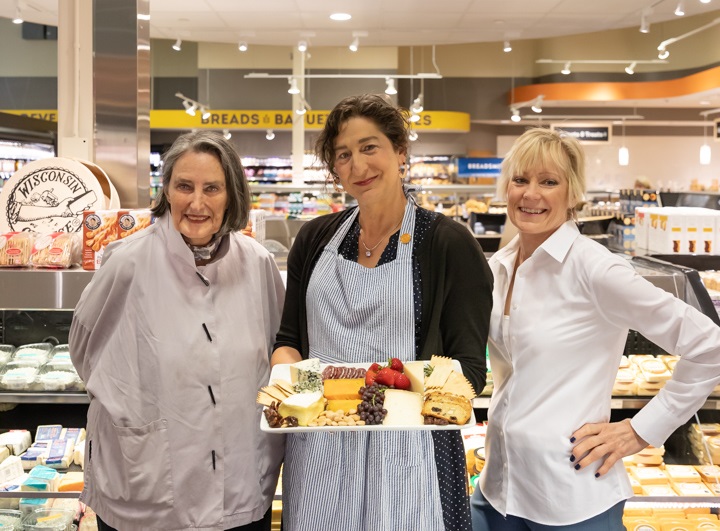 At Lakewinds, you'll find passionate experts with deep knowledge of our products and how best to enjoy them. Our cheesemongers Judy, Freya and Jayne share what delights them about cheese, one of the world's most varied and cherished flavors.
Q: What do you love about leading your cheese department?
Judy: Cheesemaking is a melding of art and science — it's craftsmanship. To witness the amount of work involved, from milking the cow to delivery, creating these artisanal cheeses, there is so much work by so many people.
Freya: The cheese world is all about an artisan approach. It's loaded with history and tradition. A cheese display is like a little tour of the world. Here's France, here's Spain, here's Greece, here's Wisconsin. (Laughs.) This gives me a chance to keep expanding my quest to try, taste and, explore.
Jayne: It's fun to make recommendations to people having a party — and for them to come back and tell us it was a hit!
Q: What's your favorite tip?
Freya: You don't need a whole lot of knowledge to make great food. You can cook by your instincts if you just listen to them a bit. Ask some questions, taste things, take a stab, and see what you like.
Jayne: Hard cheese has a different flavor when you serve it at room temperature—it makes all the difference in the world.
Judy: My tip is to try the beautiful dessert cheese, mascarpone — bring it to room temperature and mix it with fresh or frozen berries or a liqueur, like Cointreau, Grand Marnier, or Crème de Cassis. You can also add a local shrub, and serve it with lemon or almond shortbread cookies. I like Mother Rucker's or Walker's. Keep that on hand for guests, or for brunch or an afternoon tea.
Q: What's your favorite cheese?
Freya & Judy: Shepherd's Way Sogn Tomme.
Jayne:  Collier's Welsh cheddar at room temperature.
Q: Favorite accompaniment?
Jayne: For a sheep cheese or Spanish cheese, try Marcona almonds. For dessert, I love the blueberry-vanilla goat cheese with Mother Rucker's lemon cookies.
Judy: I love pairing cheese with Marcona almonds and olives, prosciutto or the Olli salami. Hard cheese is wonderful with a quince paste, cherry or plum jam.
Freya: I love cheese and fruit. There's the classic cheddar and apple, but also try fresh fig, pear, persimmon, or champagne grapes.
More tips from Judy:
Don't forgo inviting people to your table because you don't have a full spread like you've seen in a magazine. There are wonderful, simple things people would love to share in your company.
One all-time favorite is plain Havarti. It's just wonderful. Take a piece of Havarti, leave it out for a couple of hours so it comes to room temperature, and it will taste better than a spectacular cheese. Add a great accompaniment like a delicious loaf of bread or a mini baguette and people will be happy and full. Keep it simple.
There's a lot of misinformation out there. People who are lactose intolerant may not realize that if cheese is modestly aged, it loses its lactose. There are misconceptions about what the cows eat and how they're taken care of. For years, co-ops have had a policy that all our milk and milk products be free of added growth hormones, and I've been able to witness the compliance by the cheese-makers.
More tips from Freya:
We're living in a really rich time for artisan foods. Like my cooking—it ramped up when I discovered better grades of salt. I was like, what is it with this pink salt? I tried it and thought "holy cow this is amazing"—there's flakey salt, sea salt, mineral salt. When you start exploring tastes, a whole world opens up.
Our selection of cheese is like a library. We can't have everything that's ever been written, but we have a collection with a certain range that we've curated into to a well-balanced array. We try to emphasize classic cheeses, imported and local, and artisan cheeses from local craftspeople.
There's a zest for life that's inherent in exploring and sharing food together. That's what fascinates me about cheese.
See if your favorite cheese is on sale by checking out our sales page.