Growing Food Access Close to Home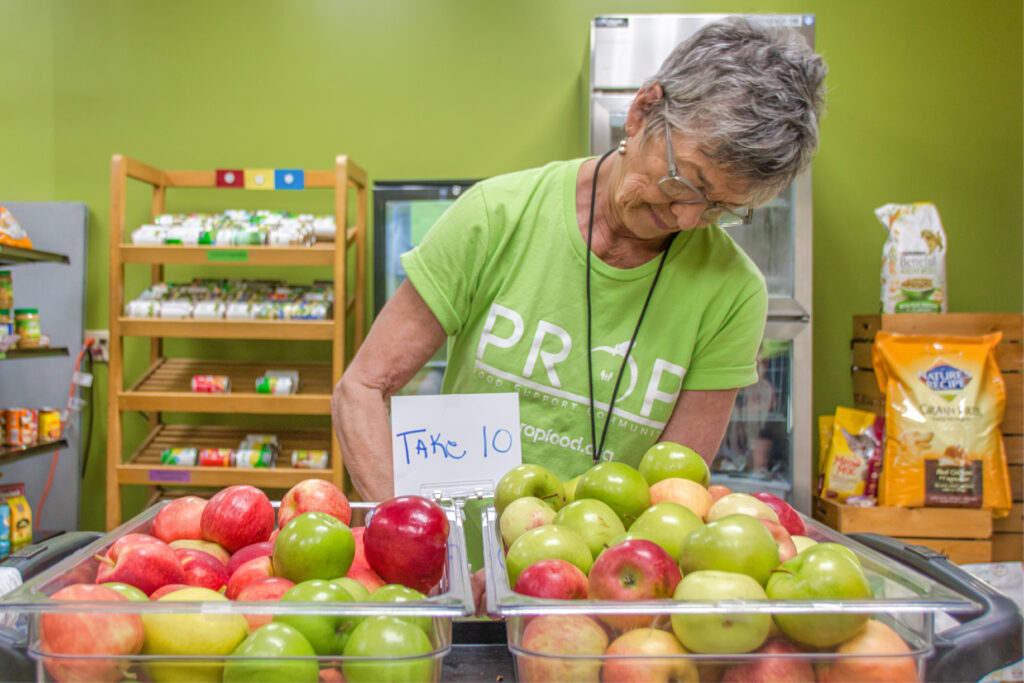 Food access is a hurdle for many in the communities we call home. In each of our communities, there are neighbors in need. Providing assistance in the way of dollars and food donations is a top priority at Lakewinds. Access to healthy food is a cornerstone for our community giving programs, and we've cultivated partnerships with local food shelves to help support them year-round in impactful ways.
Lakewinds cultivates partnerships with community food shelves, from sponsorships and fundraising events to donations of food and hygiene products and beyond. When you shop at the co-op, you're supporting these food access partnerships.
Minnesota FoodShare Campaign
Every March we participate in the Minnesota FoodShare campaign, raising thousands of dollars for our food shelf partners through our Community Giving Round Up program and food shelf donation cards available for purchase at the register. In this way, Lakewinds shoppers can donate to local food shelf partners, ICA, VEAP, and PROP.
In 2021, our shoppers donated $24,987 and unlocked another $13,000 Lakewinds match divided between the 3 food shelves, bringing the grand total to $37,987 donated to our main food shelf partners, ICA, VEAP, and PROP. Thank you!
New this year is our plan to "spread the love" a little and include a second food shelf near each store location in our fundraising efforts. During March, the secondary food shelf partner will receive Lakewinds match donation funds, which are unlocked incrementally. Here's how it works:
Lakewinds is offering match donations of up to $5,000 per store to help incentivize donations and have a bigger impact. All match funds would go to the new FoodShare partners. At our Chanhassen store, we're raising funds for Bountiful Basket Food Shelf, at Richfield for Tubman's Chrysalis Center food pantry, and at the Minnetonka store funds will go to WeCAN's mobile food shelf. The Lakewinds match funds are unlocked incrementally:
$1,500 donation unlocked at $3,000 reached in shopper donations.
Another $1,500 donation unlocked at $5,000 reached in shopper donations.
An additional $2,000 donation unlocked at $7,000 reached in shopper donations.
Learn more about our main food access partners.

Founded in 1971, ICA food shelf serves Hopkins, Minnetonka, Excelsior, Shorewood, Deephaven, Greenwood, and Woodland. At their main food shelf location, clients select the food they want for their families, adding more dignity to their experience and ensuring higher usability of groceries. Their mobile food shelf and home delivery services serve folks who may experience transportation challenges and other barriers to access.
"In the past year, ICA has proven to be and continues to be resilient and adaptable as we weather the pandemic and the increased economic need that it brings. ICA's hunger relief programs have recently expanded through the creation of a new school-based food shelf and resource center where students and families are able to access food as well as receive case management and referrals to other resources onsite. The school-based model increases access by breaking down the transportation and language barriers for our clients, many of whom are from immigrant communities. School-based markets allow us to reach families in a familiar setting and with the aid of family liaisons who are from Somali, Latinx, Native American, and Hmong communities. The first Market and Resource Center officially opened on Wednesday, October 27 at Gatewood Elementary, one of the Hopkins Public School's elementary schools, and we have plans to open additional sites in additional schools throughout 2022."
— Patti Sinykin, advancement director at ICA

People Reaching out to Other People, or PROP, was founded in 1971 on the principle of neighbors helping neighbors by donating time, food, and money to those in need. PROP serves people in Chanhassen and Eden Prairie. Their primary services include a food shelf, short-term financial help, support for low-income families with children and teens, and support for seniors and individuals with disabilities.
"The investment Lakewinds makes in PROP each year during this time is a lifeline. March can be one of our lower donation months, so the customer giving program at Lakewinds fills many gaps and provides financial support we truly need to serve the local communities of Chanhassen and Eden Prairie. Thanks to Lakewinds for all you have done for PROP Food Shelf. You have been one of our strongest local partners and we are so grateful."
— Mary Brown, director of development at PROP

VEAP is a basic needs organization serving Bloomington, Richfield, Edina, and South Minneapolis. Founded in 1973, VEAP's programs include access to healthy foods, social services, housing stability and supportive services. Their mobile food pantry and home delivery service remove potential transportation barriers for people facing food insecurity.
"Springtime is generally a period of lower donations to food pantries across the state, so the March campaign and Lakewinds shoppers really help us keep our food pantry fully stocked during this season. Food insecurity doesn't take a break so we very much rely on our community's support!
Every donation we receive has such a huge impact! And financial donations allow us to really stretch every dollar that comes into our facility due to our purchasing power — $1 equals 3 meals. Lakewinds shoppers understand the importance of healthy and nutritious food and the impact that food security has on our community. We are so grateful to be a part of this amazing effort and appreciate every dollar we receive."
— Caley Long, marketing and digital manager at VEAP Food Shelf
Learn about our newest FoodShare partners.

Serving Mound, Minnetrista, Rockford, Spring Park, St. Bonifacius, Tonka Bay, Navarre, Minnetonka Beach, Maple Plain, Loretto, Independence, and Greenfield with a mobile food shelf option to serve the needs of individuals and families who face barriers to accessing a traditional food shelf.
"Currently we offer a curbside pickup option for folks who live close to our office and/or have a vehicle available, as well as our Mobile Market option, which currently serves 3 apartment complexes in the Western Hennepin area with bi-weekly grocery drop-off. Expanding our mobile services is the highest need, as there are many folks with limited resources and/or access to healthy affordable food options in our rural areas.
The funds raised by Lakewinds shoppers will increase the sustainability of our program, particularly the mobile market; as we look to partner with more sites we will need more resources. WeCAN is grateful to be a part of this generous community, and we are hopeful that the kindness we have seen so much of continues to grow and spread."
— Katrina Busick, food programs manager at WeCAN

Serves Carver, Chanhassen, Chaska, & Victoria, providing hunger relief and distributing over 400,000 lbs. of food in a typical year. For increased accessibility, Bountiful Basket makes food available to several partner sites in addition to their main food shelf location in Chaska.
"We are so blessed to have the support of such a caring and generous community. Due to the continued support we receive we were able to feed over 12,000 individuals by distributing over 300,000 lbs. of food to the more than 4,000 families we served!"
— Brittany Waulters, food shelf manager at Bountiful Basket Food Shelf

Located inside Tubman's Chrysalis Center, this food pantry serves people who've experienced violence and exploitation and have turned to Tubman for crisis and support services. Clients can visit the food pantry, sign up to receive pre-packed food bags, and staff bring food to clients when they do home visits.
"Support from Lakewinds during March FoodShare will greatly impact our ability to serve clients experiencing food insecurity. Because much of our funding is designated for specific programs (such as shelter or legal services), we have very limited sources for food pantry funding.
COVID has made domestic violence, mental illness and addiction worse, as pandemic stressors and isolation reduce resilience and increase risks of abuse. Now more than ever, your donation directly helps survivors by eliminating food insecurity, removing one urgent barrier to their progress toward healing. The funds you contribute help nourish courageous survivors of domestic violence and exploitation as they heal from trauma. Our clients are disproportionately BIPOC, have low incomes, work in environments that place them at higher risks of COVID-19, yet persevered to seek help and begin their long journey toward healing from violence and trauma."
— Alison Hobson, director of development at Tubman
Access to wholesome food is a major area of need in the communities we call home. With your help, the co-op is supporting the work of local food shelves through financial donations each spring and beyond. Show your support for the work of these food access organizations by rounding up your grocery bill in March and by purchasing food shelf donation cards throughout the year.
Learn more about our ongoing food shelf partners, or read about our hunger-fighting partnership with local farmers and The Food Group food bank.