Camping Hacks from the Co-op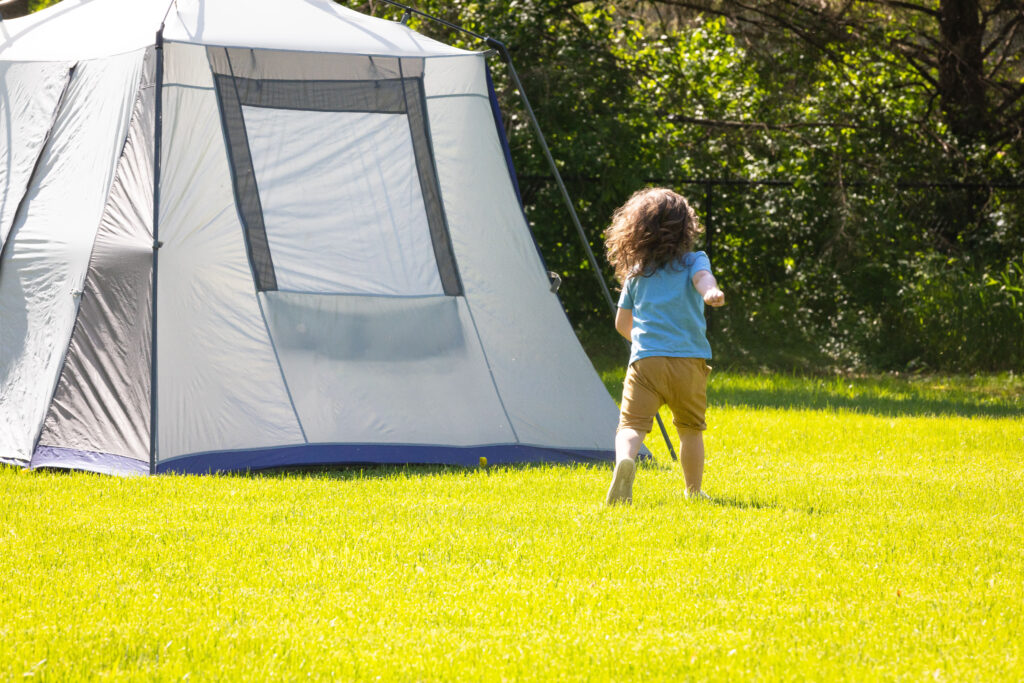 Camping is one of the best ways to enjoy summers in Minnesota (though some brave folk even enjoy camping in the winter). There's nothing quite like sleeping under the stars and rising with the sun. And with plenty of options for accommodations, there's a way to camp at just about every comfort level. Whether you're a seasoned pro or just beginning, there's always something new to learn. Here are some of our favorite camping hacks from the co-op!
---
Pack It Out
Whether you're camping next to your car in a state park or paddling far from civilization in the Boundary Waters, trash is something you'll have to manage. The best plan is to bring as little waste along as possible by following these easy steps:
Prepack your snacks in reusable Stasher Bags. This will cut down on the chances of plastic packaging accidentally becoming litter. You can also rinse and reuse them as many times as you need.
Choose ingredients with packaging that's easier to pack out. For example, canned tuna leaves behind a heavy container and a lid with sharp edges that can cut through your trash bag. Instead, select tuna packaged in pouches, like the wild-caught albacore from Safe Catch.
Avoid glass at all costs. Not only is glass heavy, if it breaks you'll have a lot of sharp pieces to pick up and carry out. In fact, glass is banned in many parks for that very reason.
---
Keep It Simple
One of the more daunting challenges for camping is how to prepare meals without the convenience of a kitchen. You might be surprised at the meals you can make with just a camp stove or a roaring fire, but camp cooking isn't the same as cooking from home. To adapt, plan meals with fewer ingredients, ingredients that don't require refrigeration, and ingredients that don't take as long to cook. Here's an example of a popular homemade meal prepared with camping in mind.
Easy Trail Fajitas
6- 8 flour or corn tortillas
2 Tablespoons neutral oil
1 white or yellow onion, chopped
1 large green pepper, chopped
1 Tablespoon fajita seasoning, pre-measured in a small reusable jar
2 packages shelf-stable Mexican beans such as Somos spicy refried beans
Optional: hot sauce, Plant Boss plant taco southwest meatless crumbles, chopped cilantro, shredded cheese, sour cream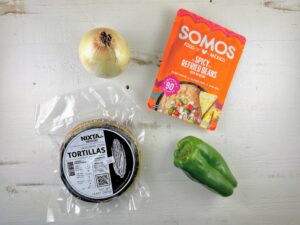 Over a hot fire* or camp stove, heat the oil in a skillet. Once the oil is shimmering, add the chopped onion and pepper and fajita seasoning. Stir until veggies are evenly coated with oil and seasoning, then sauté until pepper is soft and onions begin to turn translucent. Once cooked, remove from pan and cover until ready to serve. Add the refried beans to the pan and cook, stirring frequently, until warmed through. If you have a second pan and room on the fire or stove, you can warm the tortillas up as well. Spoon beans and veggies into tortillas, garnish, and serve.
This recipe works great for backcountry camping because it's quick, simple, and doesn't create a lot of waste to pack out. If you omit the optional dairy ingredients, everything in these fajitas is safe to pack without refrigeration. But even car campers may love this camping hack for how easy it is to make and clean up!
---
Here are a few other quick and easy food tips for camping.
Nothing beats a hot cup of coffee to sip while you watch the sun rise over a peaceful lake or prairie. But lugging extra equipment along just to make your morning joe can be a drag. Instead, bring a few packets of instant mushroom coffee from Four Sigmatic. They're blended with powdered mushrooms like lion's mane and turkey tail for added functional benefits.
---
While it can be fun to devote a morning to making classic breakfast fare like pancakes, these meals require a lot of more time and planning when cooking in the woods. Therefore, you may want to keep your morning meals nice and simple. Instant oatmeal is a classic camp breakfast that's easy to make all your own. Swing by the bulk aisle to stock up on your favorite toppings like dried fruit, mixed nuts, chocolate chips, brown sugar, maple syrup, local honey, coconut flakes, and peanut butter cups.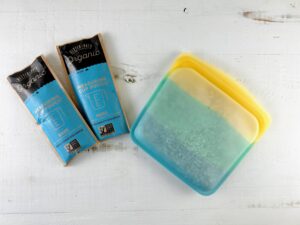 ---
When you're out on the trails and paddling lakes, it's important to stay fueled up. When it's time for lunch, efficiency is key. Jerky, trail mix, protein bars, crackers, and fruit are all great for recharging your batteries without leaving you feeling lethargic. A little sugar will give you an immediate lift, while slow-burning carbs and protein will get you through the day. And don't forget to drink plenty of water!
*For the best cook fire, use small twigs and branches. While they burn faster than logs, they also burn hotter. You'll also want to make sure that three sides of your cook fire are protected against the wind. This will also help trap heat in your makeshift stove, helping to keep your cooking surface hot.
---
Pest Defense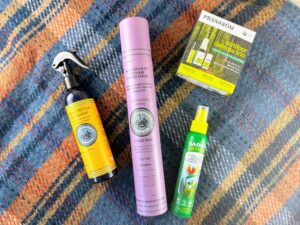 Another major hurdle for many campers is dealing with mosquitoes and ticks. While bug bites are inevitable when camping in Minnesota, there are a few things you can do to help defend yourself:
Avoid camping near swamps, ponds, and marshes. Mosquitoes hatch from eggs laid in small bodies of water, so it's best to avoid spending the night nearby.
If possible, look for campsites with strong breezes. Not only will the wind keep the bugs away, it can help keep you cool on steamy summer nights.
Ticks prefer dry, grassy terrain, so wear pants when hiking through prairies and meadows. And make sure to do a thorough tick check every few hours.
Tick bites do happen, so it's best to bring a pair of tweezers along to help remove them.
When the bugs get particularly bad, you can also rely on all-natural insect repellent for a little extra protection.
Conventional insect repellent may be effective, but it also relies on harsh chemicals like DEET that many don't feel comfortable putting on their skin. Luckily, the co-op has the perfect camping hacks for this! Bug sprays from Badger and Pranarom are powered by essential oils for a natural solution to keep you safe from pesky insects. You can also set up an protective perimeter around your campsite with bug-repelling incense sticks from Nantucket Spider.
---
Embrace the Challenge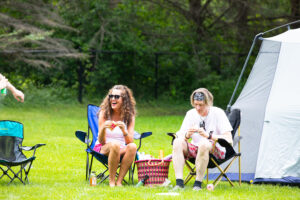 Camping may be a bit more challenging than staying in a hotel or cabin, but there are several reasons why it's worth the effort. For starters, camping is often the most affordable way to travel. Camping can be a great way to learn new skills, like how to navigate using a map or build a fire. The challenges that come with camping can also help build confidence and resilience. Lastly, camping gives you access to nature in a way that sleeping indoors can never replicate. Sleeping and eating outdoors for days at a time provides a more intimate connection to the land and wildlife, leading to a greater appreciation for why nature matters. With these co-op camping hacks, the challenges of camping won't hold you back. Get out there this summer!
---
For more great tips, check out this beginner camping guide from the Minnesota Department of Natural Resources. You can also learn more about reducing your waste while camping with our Plastic-Free Shopping Tips!