2019 Maker to Market Products in Stores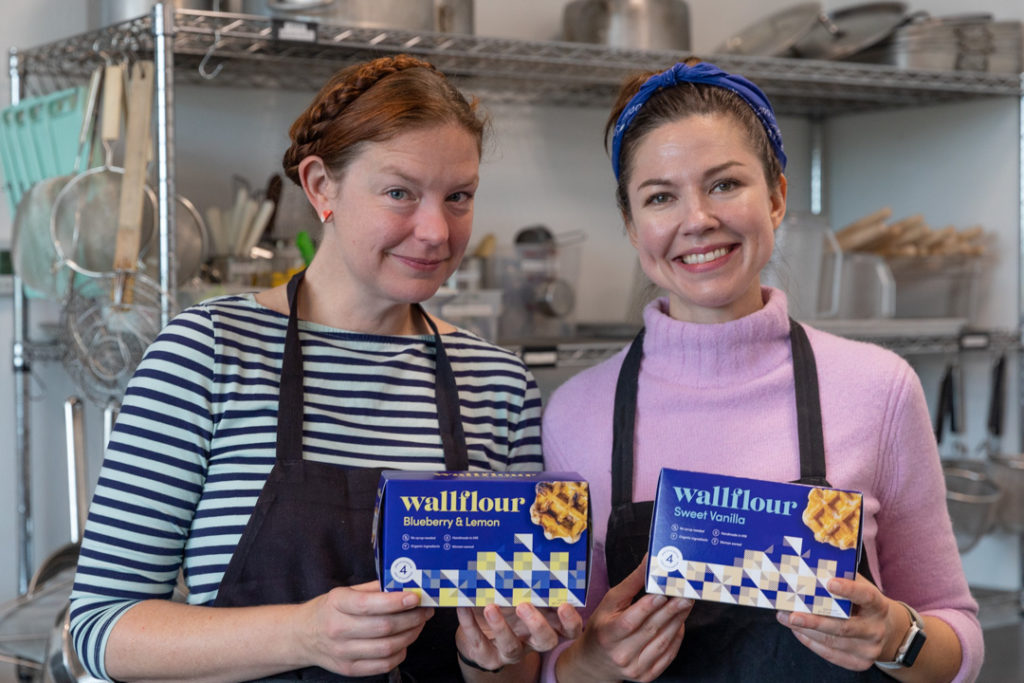 After months of hard work, from finding the right packaging to measuring, mixing and creating in The Good Acre kitchen, our 2019 makers are now in stores!
Wallflour Liege-style frozen waffles and Northern Harvest Crisp apple and berry crisps are in the frozen section at all three Lakewinds Food Co-op locations. Owners can find coupons in the Fall Newsletter to save on these new local items, too.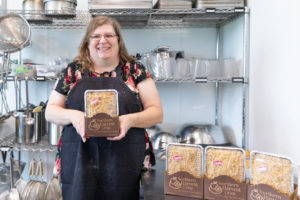 "It's amazing," says crisp maker Patricia Parks about the Maker to Market accelerator. "It's such hard work but totally worth it to get there." Parks makes small-batch, handcrafted, take-and-bake apple and berry crisps. She says about her crisp: "It's locally made, locally sourced, it's delicious. It's easy to make and so convenient—and I say claim it as your own because you did technically bake it!"
The Maker to Market food accelerator takes home cooks who are making amazing products and helps them get onto stores' shelves. Lakewinds and The Good Acre provide makers with subsidized commercial kitchen space, training, and other support. Makers must follow Lakewinds' product standards, which don't allow certain ingredients, such as artificial colors or flavors, high fructose corn syrup, or hydrogenated oil, and more, on our shelves.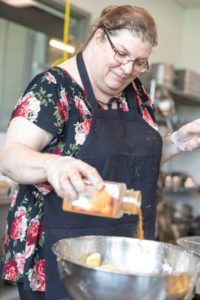 For the makers, it's an intense program, and it takes a tremendous amount of work to make enough small-batch, handcrafted product to sell at stores.
"We spent 12 hours in the kitchen, and at the end I felt like I was hit by a truck," says waffle maker Amanda Zweerink. "No one prepares you for that. It's daunting to go from pop-ups to selling at a store. But for us it's a dream come true that happened faster than we ever thought possible."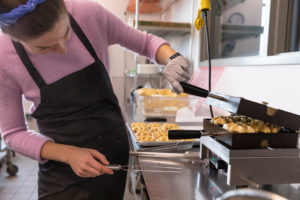 For Lakewinds, the Maker to Market accelerator is an important investment in our local food system. It supports local entrepreneurs. It supports local farmers, who grow some of the ingredients in the products. And it brings our customers unique, delicious, locally sourced (as much as possible) food that they can't find anywhere else. Maker to Market items are exclusive to Lakewinds for 6 months. After that, we encourage the makers to sell their items at other co-ops or local grocers when they're ready.
"Lakewinds feels strongly about growing our local food economy," says Carrie Miller, Lakewinds purchasing manager. "This program is one way we express that commitment. We're excited to be able to partner with these companies and get delicious food into the hands of our shoppers."
Once these small businesses are up and running, they help support the local economy and other small businesses. Wallflour is very intentional about how they go about supporting other. "The fact that we're a Minnesota Benefit Corporation sets us apart," says Zweerink. "Every decision we make supports other female entrepreneurs. Our lawyer's a woman, our designer's a woman, our photographer's a woman, our insurance broker is a woman. As we grow we can support more women."
Learn more about Maker to Market accelerator and makers from past years.