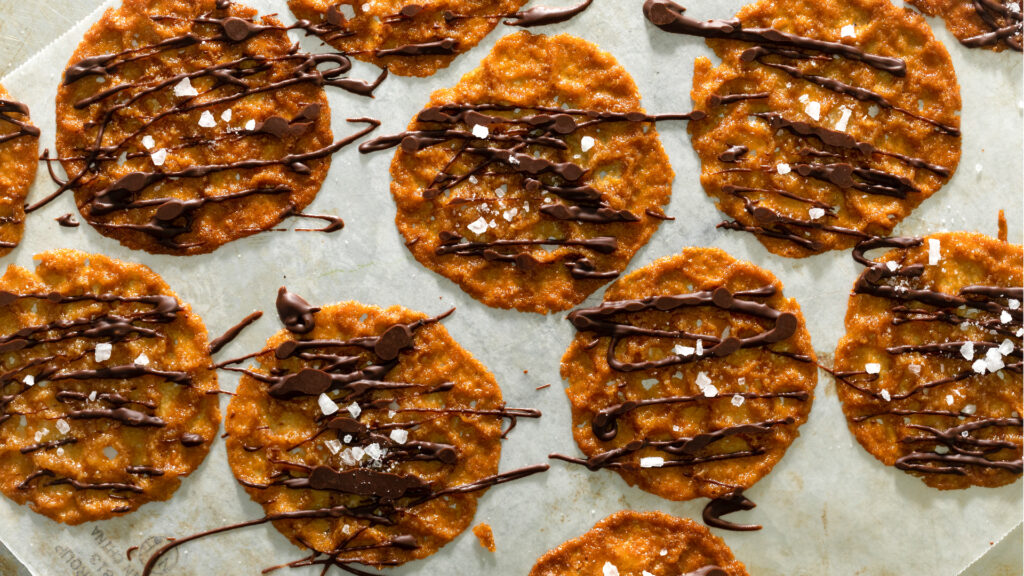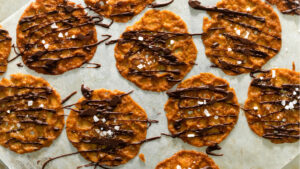 Print
Vegan Lacey Cookies
Yield 60-65 cookies
This cookie may become your new family favorite. Fun to make and full of flavor, this vegan, gluten-free cookie is crispy and indulgent. Sure to please — and surprise everyone on your list.
Ingredients
½ cup vegan butter
¾ cup dark coconut sugar
1 Tablespoon dark or light agave nectar
¾ cup almond flour
2 Tablespoons gluten-free flour
½ teaspoon baking soda
¼ teaspoon salt
Pinch of nutmeg
1 teaspoon pure vanilla extract
3 ounces (½ cup) semisweet chocolate chips
Coarse salt to garnish
Instructions
Preheat your oven to 375° and line two baking sheets with silicone baking mats or parchment paper.
Heat the butter, sugar, and agave nectar together in a small saucepan over medium-low heat. Remove from the heat once the butter has completely melted, and whisk in the almond flour, gluten-free flour, baking soda, and salt. Heat for about 1 minute until everything is well combined. Add vanilla and combine.
Drop about ½ teaspoon of batter per cookie onto your prepared baking sheets. Place them a few inches apart, the batter will spread and be very thin.
Bake the Laceys for 4-5 minutes until they are caramelized and bubbly, keeping a close eye on them while they are in the oven. Wait about three minutes for the crisps to cool and solidify before removing from baking sheet. They become very crispy as they harden, so be gentle!
For the chocolate drizzle: Melt the chocolate in the microwave in 30-second intervals, stirring thoroughly until completely melted and smooth. Using a fork, drizzle the chocolate all over the individual cookies, allow to set before serving. Sprinkle with sea salt to garnish.
Store cookies in an airtight container in the fridge.