Squash, Sausage, & Kale Harvest Bowl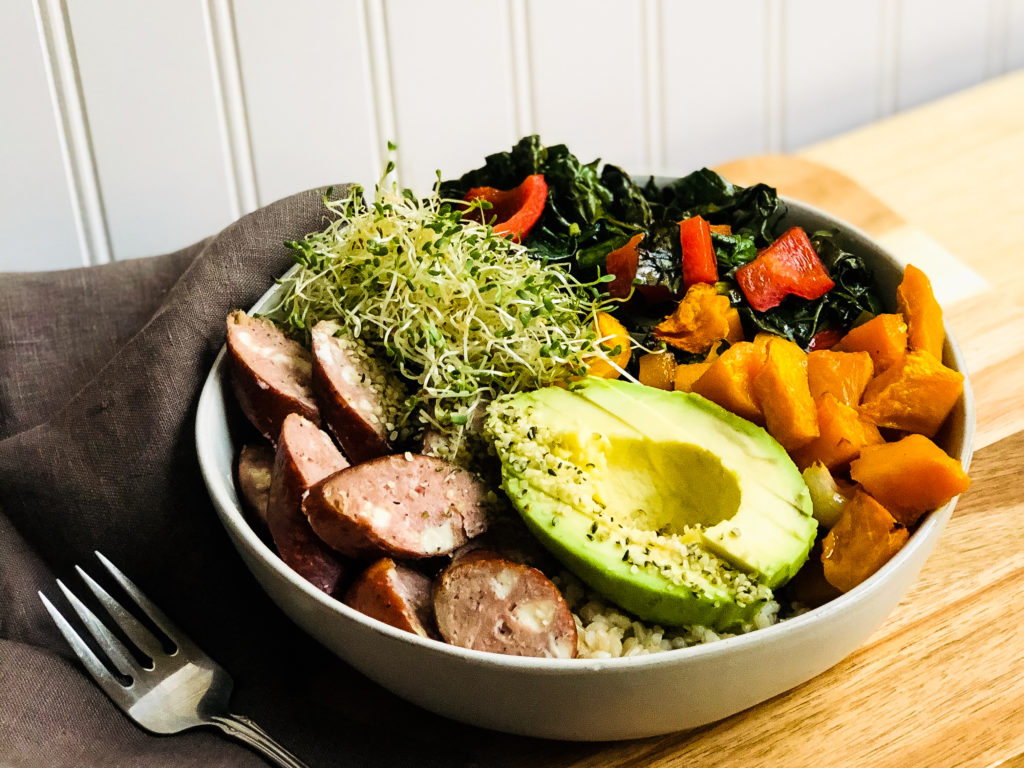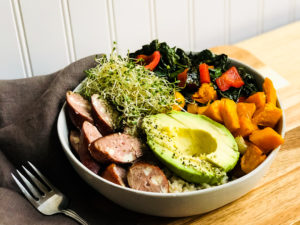 Print
Kuri Squash, Ferndale Turkey Sausage, & Kale Harvest Bowl
Yield 4 servings
As the temperature drops and the days get shorter, here's a comfort food recipe to add to your menu. Our harvest bowl is made with local Ferndale uncured smoked turkey Rachel sausage and sweet, buttery Kuri squash. It's a hearty, savory delight that will appeal to all ages and tastes and just might help ward off the cold—for a little while.
Ingredients
1 medium red kuri squash
3 Tbsp avocado oil, divided
2 cups brown rice, prepared
1 package Ferndale uncured smoked turkey Rachel sausage
1 red bell pepper, chopped into 1" pieces
1 bunch Lacinato kale
1/2 small white onion, finely diced
1 ripe avocado, quartered and peeled
1 package alfalfa sprouts
Salt and pepper to taste
Optional: 4 Tbsp hemp hearts
Instructions
Using a paring knife or sharp peeler, peel the red kuri squash. Cut the squash in half and use a spoon to scoop out and discard the seeds. Slice the halves into 1" long strips and chop strips into 1" cubes. Place on a parchment-lined baking sheet and toss with 2 Tbsp avocado oil and salt and pepper. Place in oven and roast for 25-30 min or until tender.
Place the Ferndale sausages in a cast iron skillet and pour water into the skillet so that y ½" of water covers the bottom. Turn the heat on med-low and allow the sausages to heat, turning when needed, about 15-20 min.
Pour 1 Tbsp avocado oil into another skillet and turn to med-low. Add diced onion and chopped red bell pepper. De-stem the Lacinato kale and chop the stems into fine, ¼" disks. Add to pan and cook for approximately 5-10 min, stirring. Chop the remaining kale leaves into 1" strips and add to the pan once the vegetables are tender. Cook for approximately 5 more minutes.
Assemble the bowls: Place 1 cup of rice in the bottom of each bowl and top with sliced turkey sausage, ¼ of the avocado, a serving of the kale and pepper mixture, and a small portion of alfalfa sprouts. Drizzle creamy Dijon dressing over each bowl and serve. Enjoy!
Optional: sprinkle 1 Tbsp of hemp hearts over each bowl for an additional healthy serving of fats
Creamy Dijon Dressing
Ingredients
4 Tbsp extra virgin olive oil
2 tsp Dijon mustard
2 tsp honey
4 Tbsp sauerkraut brine
1 garlic clove, finely minced (optional)
Salt and pepper to taste
Instructions
Combine all ingredients in a jar with a lid and shake to combine. Pour over each individual harvest bowl and store remainder in refrigerator for up to two weeks.
Tip: If you like your dressing more acidic, try adding another Tbsp of sauerkraut brine to the mixture. If you like it sweeter, add an extra Tbsp of olive oil.