Springtime Sweet Potato Enchiladas with Cilantro Farro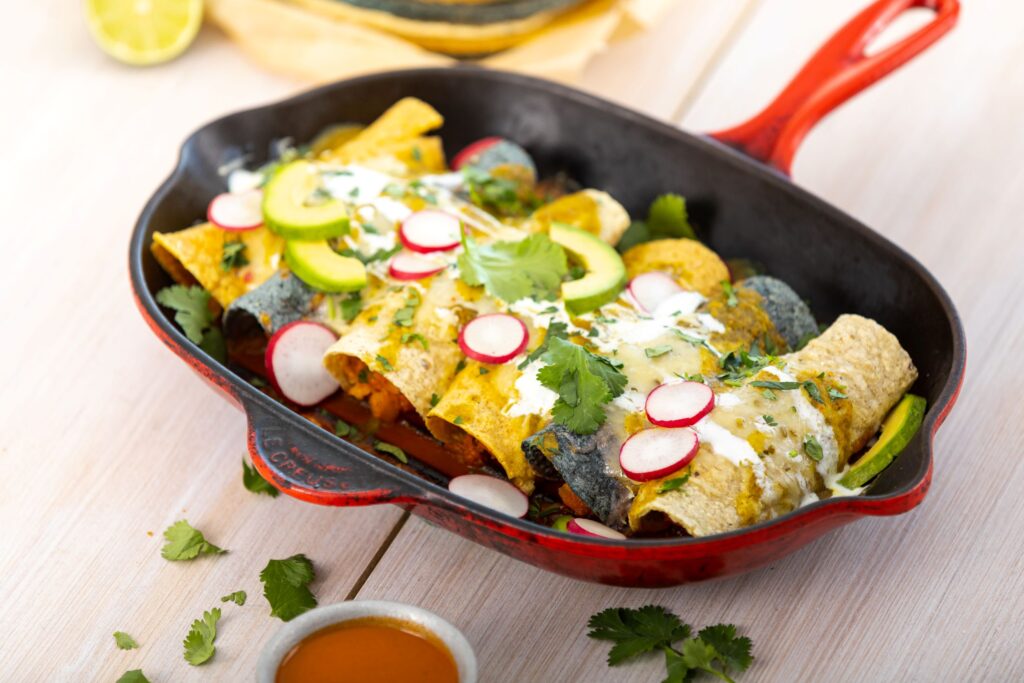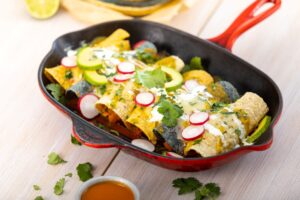 Print
Springtime Sweet Potato Enchiladas with Cilantro Farro
These vegetarian enchiladas are made from a blend of traditional and unconventional ingredients for a new take on the cantina classic. This dish uses our base recipe for chickpeas and farro.
Ingredients
4 cloves garlic, with skin
1 small onion, with skin, quartered
1 lb. sweet potato, with skin
2 cups cooked chickpeas (see base recipe)
2 Tablespoons Frontier Mexican Fiesta seasoning
½ teaspoon kosher salt
1 Tablespoon apple cider vinegar
8 oz. Laack's pepper jack cheese, shredded and divided
¾ cup loosely packed cilantro, roughly chopped and divided
2 cups Siete red and/or green enchilada sauce, divided, plus extra for garnish
12 Nixta tortillas
4 Tablespoons sour cream + 1-2 Tablespoons water
6 radishes
2 cups cooked farro (see base recipe) 
2 Tablespoons lime juice (from about 2 limes)
1 Tablespoon olive oil
1 teaspoon kosher salt
Hot sauce, if desired
Instructions
Preheat oven to 400°. Wrap the garlic and onion in foil, place with sweet potato on a rimmed baking sheet and roast one hour until sweet potato is soft. Discard skins and mash together in a large bowl, then add the chickpeas, seasoning mix, salt, ⅓ of the cheese, and ½ cup of the cilantro. Stir in the vinegar and mix well.
Lower oven temp to 375°. Spray a 9" x 13" baking pan with cooking spray and spread ¾ cup enchilada sauce on the bottom. To soften tortillas, brush water on both sides, then add to a pan heated medium-high for about 15 seconds per side. Keep warm in a towel.
Working with one tortilla at a time, spread about ⅓ cup of sweet potato/chickpea filling down the center of each tortilla, roll both sides over the filling, and place in the baking pan seam down. Repeat for all of the tortillas. Top with remaining enchilada sauce and cheese. Bake for 30-40 minutes until sauce is bubbling and the cheese is lightly golden.
Let the enchiladas cool for about 5 minutes. Whisk the sour cream and water together, drizzle it over the enchiladas, then top with sliced radishes and garnish with cilantro. Give it a kick with your favorite hot sauce if desired.
In a separate bowl, combine the farro, ¼ cup cilantro, lime juice, olive oil, and salt to taste. Serve with enchiladas.