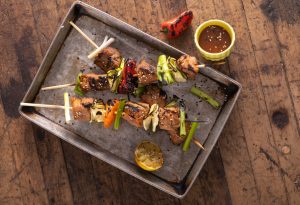 Print
Pork Tenderloin Kabobs
Yield 4 servings
When it comes to kabobs, the magic is in the mix. For these Southeast Asian-inspired kabobs, juicy cubes of garlic-ginger marinated pork and flame-kissed onions, peppers, & zucchini create a rainbow of delightful summer flavors melded into one bountiful meal.
Ingredients
1½ lbs. pork tenderloin, trimmed of silver skin, cut in 2-inch cubes
2 teaspoon sesame oil
2 Tablespoons soy sauce
2 Tablespoons ginger juice, or 1" of fresh ginger finely grated
2 cloves of garlic, minced
2 Tablespoons brown sugar
1 Tablespoon unseasoned rice vinegar
1 Tablespoon sriracha (optional)
4 green onions, cut in 3" pieces
2 zucchinis, ribboned or thinly sliced
2 medium red peppers, cut into 2" pieces
Thai Peanut dipping sauce
Toasted sesame seeds
4-6 12" wooden* or metal skewers
Instructions
In a glass baking dish or bowl, mix the ingredients for the marinade and add the pork. Cover with a plate and refrigerate for at least 4 hours (up to 12).
When ready to cook, remove the pork from the fridge. Skewer the meat, alternating each piece with a piece of green onion, a folded ribbon of zucchini, and a piece of pepper. Place on a rimmed baking sheet until ready to grill.
Preheat grill to high, then reduce to medium-high. Clean the grates well to prevent sticking.
Place the skewers on the grill, cover, and cook for a total of 10-12 minutes, turning every few minutes.
Remove from the grill, place on a platter, and sprinkle with toasted sesame seeds. Serve with the Thai Peanut dipping sauce.
Notes
*Wooden skewers should be soaked in water for at least 1 hour before grilling.