Pork Chops with Cranberry Citrus Chutney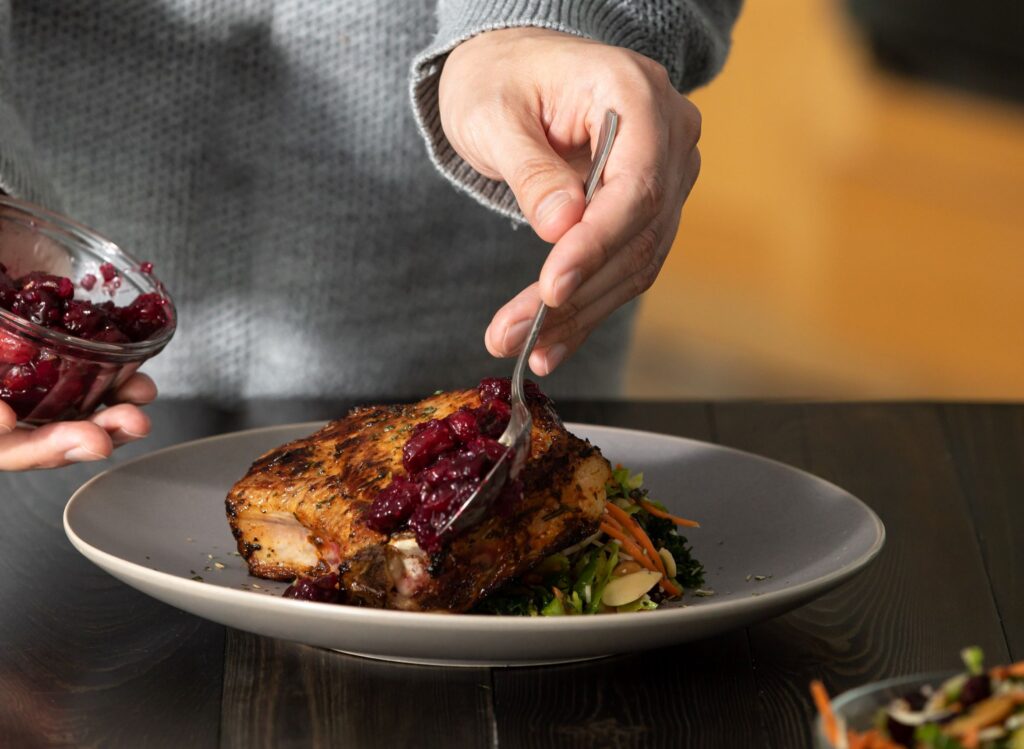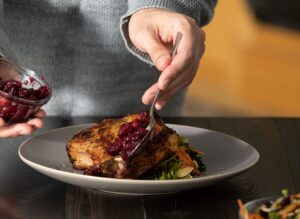 Print
Pork Chops with Cranberry Citrus Chutney
Yield 4 chops
Ingredients
Cranberry Citrus Chutney
1 tablespoon olive oil
1 large shallot, minced (about ½ cup)
8 ounce bag of frozen cranberries, thawed
Juice of one orange
¼ cup sugar
1 strip of orange peel
½ cup of red wine or beef broth
1 cinnamon stick
2 teaspoons freshly grated ginger
Salt & pepper to taste
Pork Chops
4 ½-inch thick bone-in pork chops (about 2 pounds), patted dry with paper towels
1 teaspoon kosher salt
½ teaspoon freshly cracked black pepper
½ teaspoon of baking soda
4 tablespoons olive oil, divided
1 garlic clove, finely grated
1 tablespoon Dijon mustard
1 teaspoon fresh rosemary, minced
Instructions
For the chutney
Heat olive oil in a saucepan over medium heat. Add shallots and saute until soft, about 5 minutes. Reduce heat to low.
Add the thawed cranberries to the pan. Add the orange juice, sugar, orange peel, wine or broth, cinnamon stick, and ginger to the pan. Cook, stirring occasionally, until the sugar dissolves, about 12 minutes.
Simmer for 10 minutes until the chutney is thick. 
Add salt & pepper to taste then cool to room temperature before serving.
For the pork chops
Preheat oven to 400°.
Mix salt, pepper, and baking soda in a small bowl. Use mixture to season chops on both sides.
In another small bowl combine 1 tablespoon olive oil, minced garlic, Dijon mustard, and minced rosemary. Slather on both sides of the chops.
Heat 2 tablespoons oil in a large, ovenproof skillet over medium-high heat. Carefully add the chops to the pan and cook until deeply browned all over, about 4-5 minutes per side.
Place the skillet in the oven and cook until internal temperature reaches 145°, about 10 minutes. Remove skillet from oven and let chops rest for 10 minutes.
Serve each chop with a spoonful or two of chutney on top.
Notes
Chutney can be made and refrigerated up to 2 days in advance.
Baking soda helps the chops achieve better browning.