Pink Grapefruit Shortbread Cookies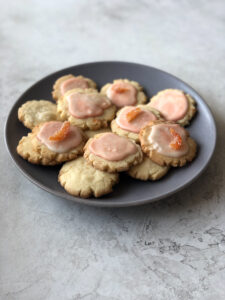 Print
Pink Grapefruit Shortbread Cookies
Yield 48 cookies
Ingredients
For the shortbread:
1 cups + 2 tablespoons unsalted butter, brought to room temperature
1½ cups confectioners or powdered sugar
2 tablespoons corn starch
1 tablespoon grapefruit zest
¼ teaspoon sea salt
1 teaspoon vanilla bean paste or vanilla extract
2½ cups all-purpose flour
For the icing:
1½ cups powdered sugar
2 tablespoons freshly squeezed grapefruit juice
For the candied grapefruit
2 grapefruits
½ cup sugar
¼ cup water
Instructions
For the shortbread:
In a stand mixer with paddle attachment cream together the butter, sugar, corn starch, grapefruit zest, and salt on medium-high speed until well combined, about 1 minute.
Reduce speed to low and add the vanilla and flour. Beat until no dry flour remains in the bowl. You may need to use your hands to pack it into a dough.
Cover and refrigerate for 30 minutes.
Preheat oven to 350°.
Line two baking sheets with parchment paper. Make balls using roughly one tablespoon of dough and place on baking sheet about 2 inches apart.
Dip the bottom of a glass or jar in powdered sugar and then press down on each dough ball until about ¼ inch thick.
Bake until edges turn light golden, about 15 minutes.
Remove from oven and allow to cool completely.
For the icing:
Stir together the powdered sugar a bit of the grapefruit juice. Don't add all the juice at once.
Stir, adding more juice until thick enough to stay in place on a cookie but thin enough to glide even to the edge. 
Separate icing into two bowls and add natural food coloring to your liking, then swirl the two colors of icing together onto the cookies.
Allow to set completely before storing or serving.
For the candied grapefruit
Using a paring knife, cut off the tops of the grapefruit, then cut the peel into 4 vertical segments.
Pull the segments off the grapefruit and thinly slice (grapefruit flesh can be stored for eating or juicing).
Gently boil the sliced peels in water for 15 minutes then remove the pot from heat and set aside until it cools to room temperature. Bring the same pot of water and peels to a second boil for an additional 15 minutes.
Bring ¼ cup of water and sugar to a boil in a medium saucepan.
Once the sugar has dissolved add the peels.
Reduce heat and simmer for 45-60 minutes.
Remove the peels and toss them in more sugar until coated.
Spread out on a paper towel or cooling rack.
Use immediately or store in a cool, dry place until ready to use.
Notes
This recipe can be frozen, halved, or doubled.
Dough can be refrigerated for up to one week or frozen for up to 3 months. Icing can be refrigerated for up to two weeks.