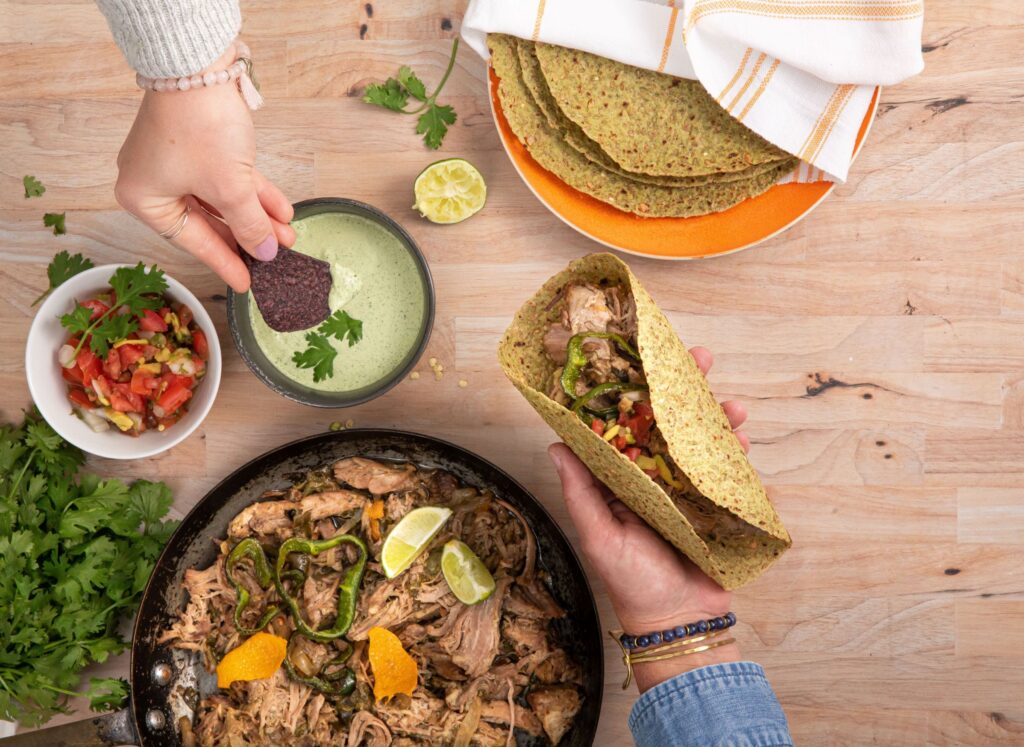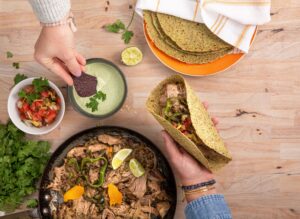 Print
Siete Pork Carnitas
This mostly hands-off recipe yields falling-apart-tender pork shoulder after hours in the slow-cooker. Premixed seasoning from Siete delivers all the flavor with fewer steps. Finish in locally made spinach wraps from Angelic Bakehouse or your favorite tortilla. Leftovers can be reheated for days and tossed in grain bowls, hash browns, and sandwiches.
Ingredients
2 lbs. bone-in Pastures a Plenty pork shoulder roast
Siete Carnitas seasoning packet, divided
4 poblano peppers, seeds and ribs removed, sliced
1 large onion, sliced
5-6 cloves garlic, sliced
Three 3-inch orange peels*
Juice of one orange (about ½ cup), divided
1-2 Tablespoons Epic Duck Fat (optional)
4-6 Angelic Bakehouse spinach wraps or your favorite tortillas
Poblano Crema (see recipe)
4 Tablespoons Francisco's Pico de Gallo
Lime wedges
Instructions
In a slow cooker, layer in poblanos, onions, garlic, orange peel, and about ¼ cup of orange juice. Season the pork with one Tablespoon Siete seasoning. Place pork on top of the vegetables.
Cook on low for 6 to 8 hours, until fork tender (pulls apart effortlessly).
Move pork to a large cutting board and discard the bone and orange strips. Strain off the cooking liquid, keeping the onions and poblanos. With two forks, shred the pork into about 2-inch pieces, then return to the slow cooker and stir in the remaining Siete seasoning and orange juice. Turn to low until ready to serve.
Optional step: In a large cast iron skillet, over medium-high heat 1 Tablespoon Epic Duck Fat. Add about one-third of the meat to evenly cover the bottom of the pan. Don't move it around until it gets browned and crispy. Turn a few times to crisp up, then repeat with the other meat servings.
Warm the wraps over a flame or in a skillet. To assemble, place meat on the wrap, add a spoonful of poblano crema and a spoonful of Pico de Gallo. Serve with a wedge of lime.
* Use a vegetable peeler to remove only the top layer of orange skin (you don't want any white pith). Try to keep peels in one piece to retrieve after slow cooking.