Jian Bing (Chinese Savory Waffles)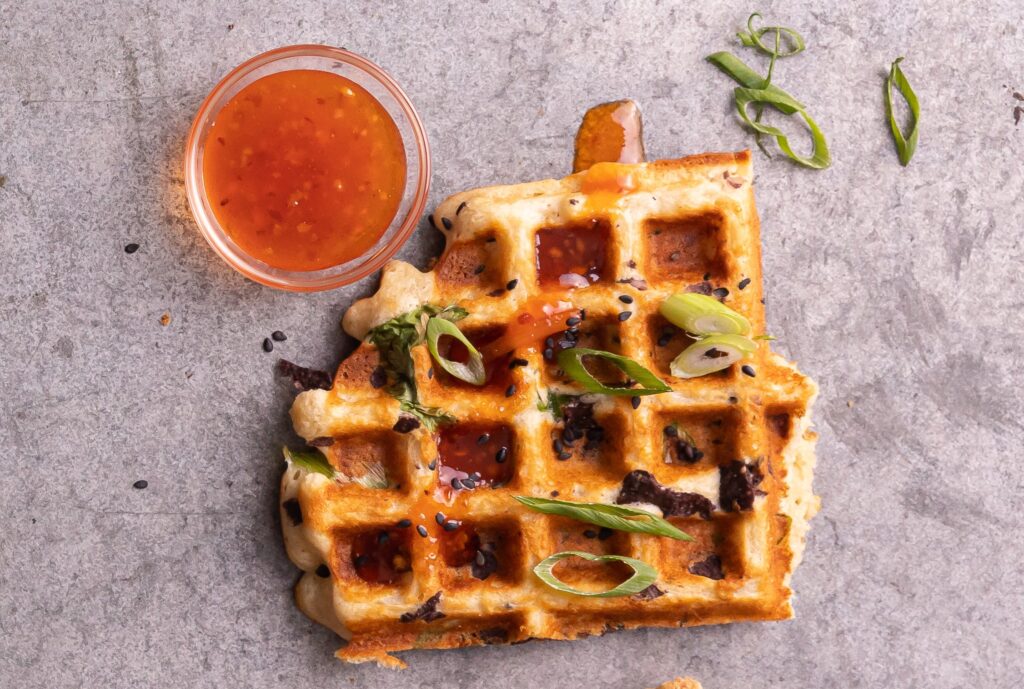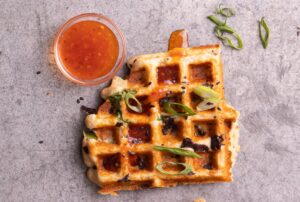 Print
Jian Bing (Chinese Savory Waffles)
A popular street food in many parts of China, traditional jian bing is a savory pancake wrapped around fresh veggies, roasted meat, and fried wontons. This vegan take is inspired by the flavors of the original, but easily made at home. To achieve the desired texture, a waffle iron is used instead of a piping hot griddle. This helps these savory waffles achieve a crispy exterior while maintaining their pillowy interior. 
Ingredients
For the dipping sauce:
⅓ cup garlic chili sauce
1 teaspoon toasted sesame oil
For the waffles:
4 green onions, sliced very thin at an angle
2 Tablespoons black sesame seeds
½ cup cilantro leaves
1 cup tortilla chips, crushed
One batch of Vegan Waffles 
Instructions
Combine garlic chili sauce and sesame oil to make the dipping sauce. Set aside.
Make the Vegan Waffle batter and let it sit for about 15 minutes while you heat the waffle iron. Lightly spray oil on the waffle iron, then add ¼ cup (or the amount recommended by the manufacturer) and sprinkle over the top 1 Tablespoon green onions, ½ teaspoon sesame seeds, 2 teaspoons cilantro, and some crushed tortilla chips (used to mimic the traditional fried wontons) on top of the batter. Close the lid and wait for the steam to subside.
Serve warm with dipping sauce.