Herb and Garlic Marinated Mushrooms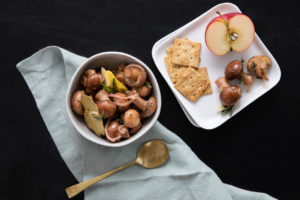 Print
Herb and Garlic Marinated Mushrooms
Yield 8 servings
Ingredients
3/4 cup olive oil
1 pound small cremini or baby bella mushrooms
1 shallot, thinly sliced
2 cloves garlic, thinly sliced
1 tablespoon fresh lemon juice
1 strip (about 2-inches long) lemon peel without the pith
4 thyme sprigs
2 bay leaves
2 tablespoons fresh rosemary
1/2 teaspoon salt
Pinch sugar
Pinch red pepper flakes
Instructions
In a 12-inch skillet, heat 2 tablespoons of the olive oil over medium heat.
Add the mushrooms, shallots, and garlic. Cook 3 to 5 minutes, stirring frequently until the shallots and garlic are softened.
Reduce heat to low, add the remaining olive oil and ingredients; stir well. Cook an additional 5 minutes, stirring frequently to blend the flavors.
Remove from the heat and cool for 15 minutes. Spoon into resealable container and refrigerate at least 6 hours or up to a week.