Grilled Tuna Steak with Mango Salsa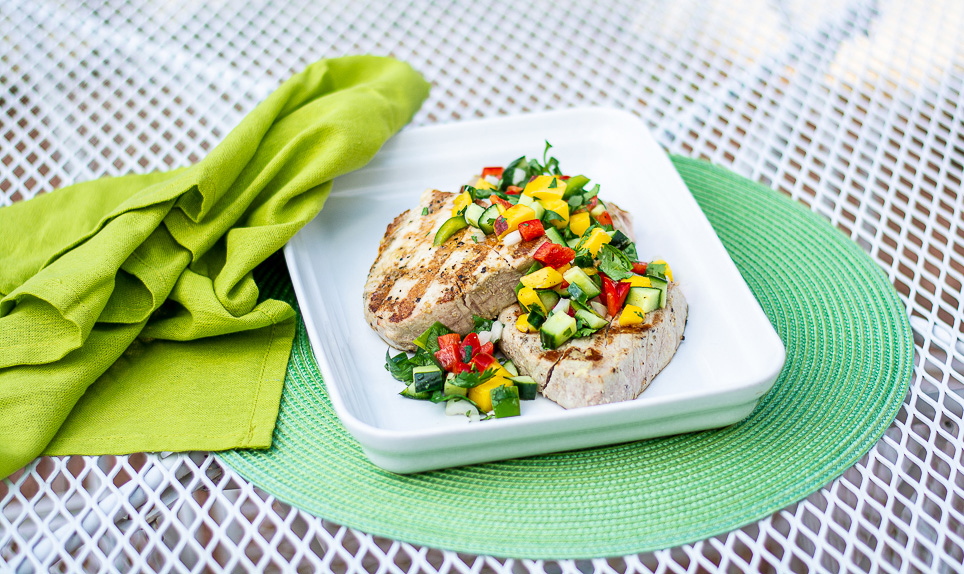 Print
Grilled Tuna Steak with Mango Salsa
Enjoy the flavors of summer with a grilled tuna steak topped with sweet-spicy mango salsa. 
Ingredients
For the marinade
¼ cup rice vinegar
1 Tablespoon canola oil
2 Tablespoons grated ginger root
For the salsa
2 Tablespoons vinegar
1 ripe mango, peeled and diced
½ red bell pepper, diced
½ green bell pepper, diced
1 jalapeño, seeds removed and diced
½ cucumber, peeled, seeded, and diced
½ bunch cilantro, minced
¼ cup onion, chopped
Salt and pepper to taste
Instructions
Whisk the rice vinegar, canola oil, and grated ginger together. Add tuna steaks and marinate for 30 minutes.
Combine the salsa ingredients and set aside. Grill the tuna 3 minutes per side, basting with the marinade. Cook until steaks reach desired doneness.
Top each tuna steak with salsa and serve.