Falafel Chickpea Sandwiches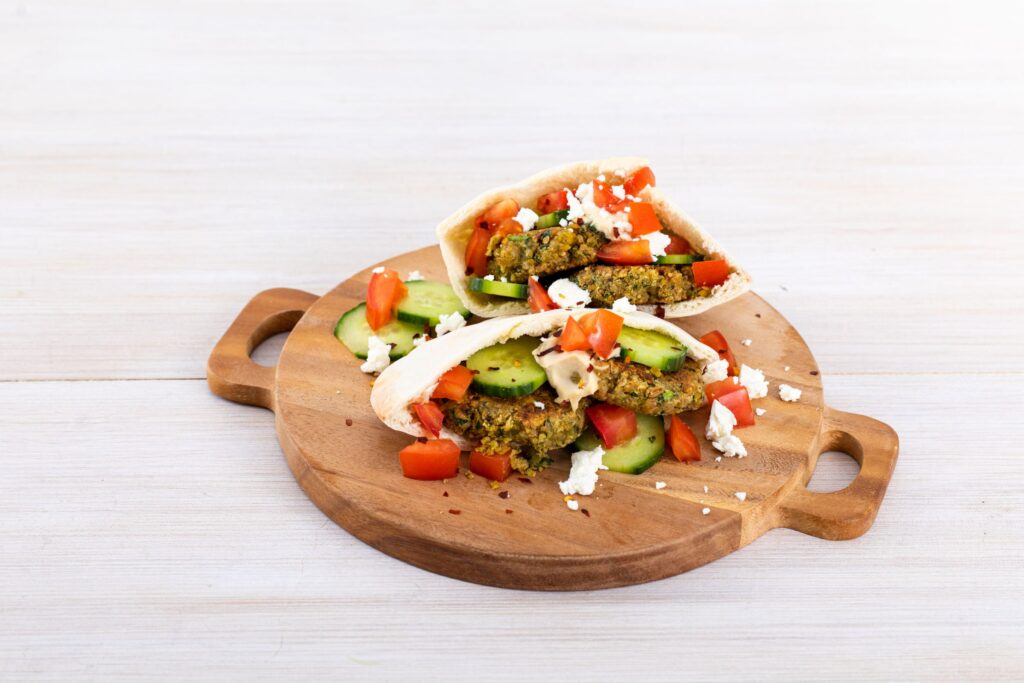 Print
Falafel Chickpea Sandwiches
Yield 4 sandwiches
When perfectly cooked, falafel achieves a crispy browned exterior while staying moist and crumbly on the inside. These falafel balls are made with our base recipe for chickpeas and farro. The addition of nutrient-dense farro gives them a delightful, extra-nutty flavor. We serve them packed in local pitas with fresh veggies and hummus, but these falafel balls can also be crumbled over salads or served with tzatziki as an appetizer.
Ingredients
1 cup Doubting Thomas rolled oats
2 cloves garlic
2 cups cooked chickpeas (from the base recipe)
1 cup cooked farro (from the base recipe)
½ cup green onions (white and green parts), cut in 1-inch pieces
½ cup lightly packed fresh cilantro leaves
½ cup lightly packed fresh flat-leaf parsley leaves
2 Tablespoons olive oil
2 Tablespoons tahini
2 teaspoons ground cumin
1 teaspoon kosher salt
Pinch red pepper flakes
Freshly ground black pepper, to taste
1 egg*
For serving:
4 Baba's pita pockets
Cucumber, thinly sliced
Tomatoes, sliced
Baba's hummus
Feta cheese
Instructions
Combine oats and garlic in a food processor and pulse until oats look like fine meal. Add the chickpeas and farro, pulse about 8 times, then add green onion, herbs, and remaining ingredients plus the egg. Pulse until the mixture holds together and can form into a patty. Cover and refrigerate for about 1 hour. Scoop out about ¼ cup and firmly shape into a 2-inch patty. Repeat to make 8 total patties.
Heat 2 Tablespoons oil in a large skillet over medium heat. Place the patties in the pan, cover, and cook until golden brown (about 4 minutes), then flip and cook another 4-5 minutes until cooked through. Tip: To soften the pitas, steam them on top of the falafel patties during the last minute of cooking.
Place two cooked patties into each pita pocket and top with hummus, cucumbers, tomato, and crumbled feta.
Notes
* For a vegan egg alternative, mix 1 Tablespoon flaxseed with 2-3 Tablespoons water and let sit for a few minutes before adding to the mixture.